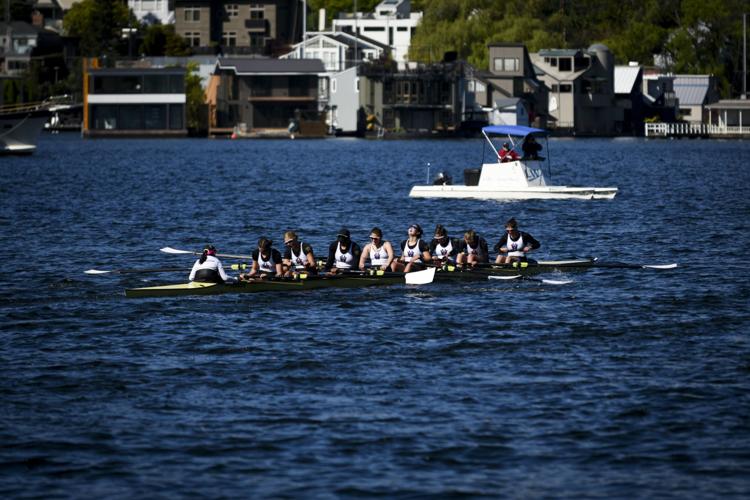 On a partly cloudy morning, the No. 1 Washington women's rowing team fell to No. 2 California in the Cal Dual varsity eight.
"The competitiveness of that varsity eight is incredibly heartening for us," UW coach Yasmin Farooq said. "I just think [Cal] rowed a really solid race and earned the win today."
The UW raced out to an early lead in the initial 500 meters. Washington continued this strong start in the first half of the race, leading Cal by just over two seconds midway through the race.
The Golden Bears pushed ahead during the back half of the race and continued to stretch their advantage over the Huskies during the latter half of the race. Washington made a final surge in the last 200 meters but fell just a tad short at the finish. Cal crossed the line in 6:40.739 and Washington finished just behind with a time of 6:42.925.
Farooq mentioned there was a particular turning point in the varsity eight that made all the difference for the top-2 teams.
"I didn't think they were gripping it as well as they could for those conditions and that's where Cal got ahead," Farooq said.
In the third varsity eight, Cal led at the 500 meter mark, about a second ahead of the Washington boat. The UW's 3V8+ captured a 3-second lead at the halfway point and cruised to an open-water victory with a time of 6:59.601. Cal finished second at 7:10.864 and Washington's novice 8 crossed the line in 7:13.086.
The Huskies' varsity four maintained a slim lead throughout their race over the Golden Bears. Cal closed the gap after trailing by about 3 seconds at the halfway point but Washington (7:41.124) prevailed over Cal (7.42.808) in the end.
Washington trailed Cal at 500 meters in the second varsity eight. The Huskies took control the rest of the way and won by open water with a time of 7:01.786 to the Golden Bears' 7:12.911.
Next up for the Huskies is the annual Windermere Cup.
Reach reporter Evan Wong at sports@dailyuw.com. Twitter: @evan_wong29
Like what you're reading? Support high-quality student journalism by donating here.