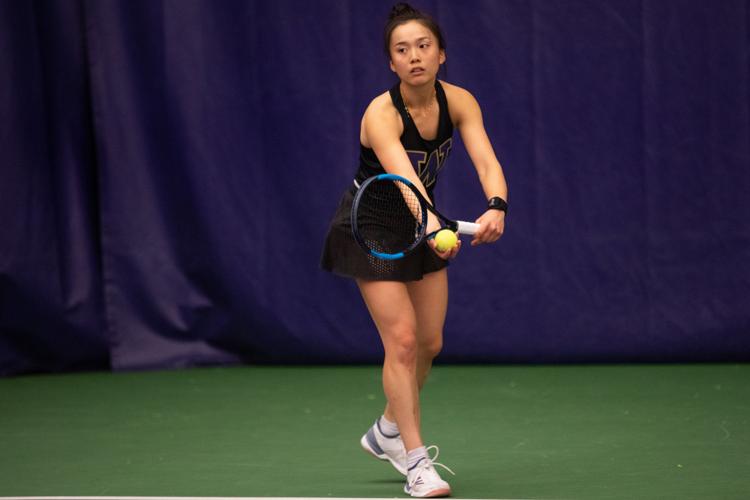 The No. 23 Washington women's tennis team was upset by Kansas in the final game of its road trip, losing 5-2.
The Huskies (8-3) failed to show the form that they've been playing with throughout the month, getting blown out by the Jayhawks (3-4). Although the Dawgs managed to start strong in doubles, winning the opening point, the Jayhawks dominated the singles matches.
In singles, the Huskies lost five of six matches, the most surprising result being junior Vanessa Wong's defeat. After winning her opening 10 matches to start the season, she lost for the first time this season 4-6, 2-6. 
Four of the UW's singles losses came in straight sets. Sophomore Sedona Gallagher — who came into the weekend undefeated — fell 3-6, 3-6 at No. 3 in just her second loss this season. 
Senior Katarina Kopcalic and sophomore Zoey Weil both took losses in straight sets as well by scores of (3-6, 3-6) and (1-6, 3-6) respectively. Kopcalic has struggled a bit, posting a 6-4 record.
A bright spot for the Huskies in singles was senior Natsuho Arakawa's victory 6-4, 7-6, extending her unbeaten run to 11 matches.
The Huskies have made doubles a point of emphasis this season and showed their strengths early in the match. Wong and Arakawa had an impressive victory over the No. 28 doubles pair in the country, winning 6-2. However, despite the importance of the doubles point, the Huskies' off day in singles meant they lost their first match this match after winning the doubles point first. 
The Huskies' next match will be back at the Nordstrom Tennis Center against Illinois on Feb. 23.
Reach reporter Luka Kučan at sports@dailyuw.com. Twitter: @luka_kucan
Like what you're reading? Support high-quality student journalism by donating here.