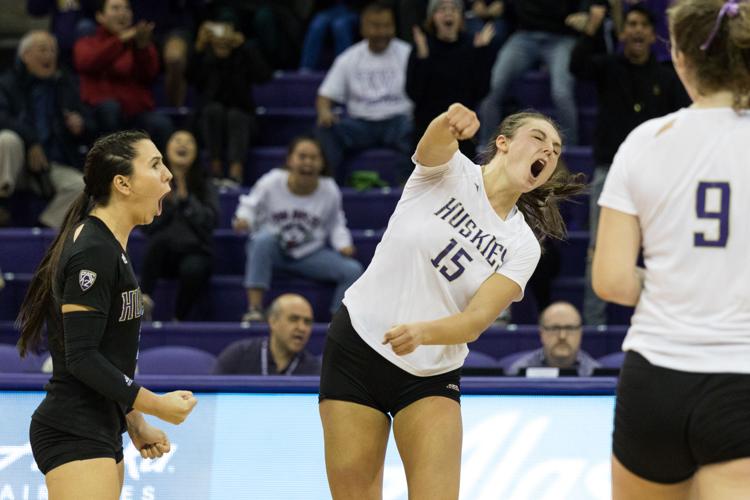 In a game that would break the tie for second place in the Pac-12, the No. 13 Washington volleyball team narrowly overtook No. 15 Utah in five sets (25-18, 20-25, 18-25, 25-14, 21-19).
Utah got to match point at 14-11, but three straight UW points brought the match back to a tie. From there, it was a back-and-forth battle in front of an energized crowd at Hec Ed, before Kara Bajema finally sealed it way beyond the 15th point with a solo block.
All told, Washington fought off seven match points in the fifth set.
Bajema finished with a game-high 26 kills; eight of them came in the final set, and four came after the Utes reached 14 points. She also added two aces, seven blocks, and 10 digs.
The Huskies (21-5, 12-4 Pac-12) dominated in the first and fourth sets, but errors in the middle sets meant the game went to five. A late comeback secured a win for the Huskies. 
The Huskies stormed to a dominant first-set lead, 24-13, but set point was the first sign of things going wrong. Utah fought off a Washington victory five times before sophomore Claire Hoffman sealed the set with a kill. 
In the second set, those problems showed up earlier. Utah, which had a weak first set, came to play, siding out at 62%. The teams hit an identical .226, with the Huskies putting up more kills and less errors, but service errors were a big problem that cost the UW the set. 
In the third set, the Utes sided out at an even higher rate, 77%, and the Huskies added even more service errors. The Dawgs fought back on the block, adding five blocks in the third set alone, but it wasn't enough against a strong Utah defense and an offense performing just a bit better than Washington's.
In the fourth set, the Huskies who started the match returned. They dominated the Utes, siding out at nearly 80% to Utah's 43%, hitting .412. Senior Kara Bajema had eight kills in the fourth set alone without a single error to lead the Huskies to a fifth set. 
Reach Engagement Editor Hailey Robinson at sports@dailyuw.com. Twitter: @haileyarobin
Like what you're reading? Support high-quality student journalism by donating here.