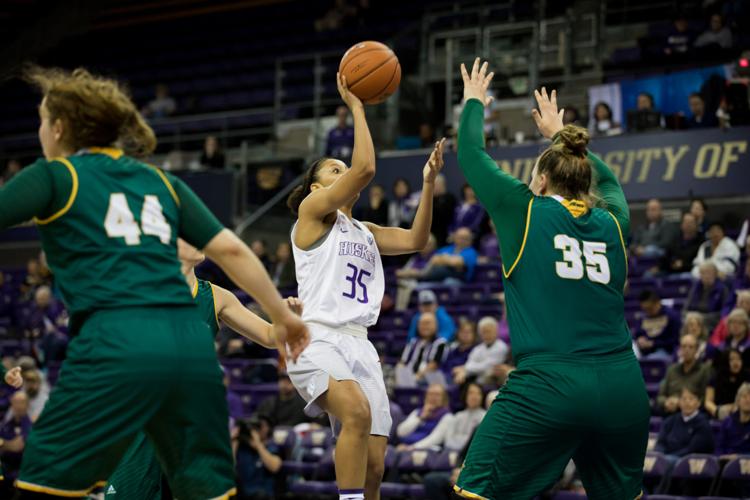 In its first trip away from Seattle in over a month, the Washington women's basketball team fell to No. 5 Oregon in Eugene, 84-71 to drop its second conference game.
The common saying among basketball fans rang true in tonight's game between the Pacific Northwest rivals: this was a game of runs. In fact, it was a game of some pretty extreme runs.
For awhile, this game looked like a carbon copy of the Huskies' (7-7, 0-2 Pac-12) matchup against No. 8 Mississippi State, in which they were mostly outmatched from the start and fell behind a huge hole quickly. After just eight minutes of action at Matthew Knight Arena, the Ducks (12-1, 1-0 Pac-12) already held a 23-6 advantage.
However, maybe that game against the Bulldogs earlier this season helped the Huskies respond, as the Dawgs went on a 18-0 run heading into the second quarter to actually take the lead on the road. At the half, the UW only trailed Oregon by one in a game where they were heavy underdogs.
Vaulted by sophomore guard Alexis Griggsby's career-high 21 points in the first half, the Huskies weren't just in this game — they had a legitimate chance to steal a win.
Another strong Oregon run in the opening minutes of the third quarter looked like it would doom Washington again. The Ducks went on a 14-0 run to take a 55-41 lead, but the Huskies just wouldn't quit. This time, it was junior Amber Melgoza who brought the Dawgs back, and with five minutes to go in the fourth, Washington was down just three.
However, the Ducks would go on a game-clinching 16-6 run in the final minutes to take the victory. Both of Oregon's superstars, Sabrina Ionescu and Ruthy Hebard, notched double-doubles for the Ducks, but it was transfer Erin Boley who helped Oregon the most tonight, scoring 28 points with eight three-pointers.
Griggsby ended up leading Washington in scoring with 26 points, the first Washington player to score more than 20 points — other than Melgoza — since Jenna Moser did against Idaho last season. She's just the third player in the Jody Wynn era to score more than 20 points in a game.
Melgoza contributed 23 points of her own to help the Huskies stay close down the stretch.
Next, the Huskies will take on No. 11 Oregon State has they continue the gauntlet of Pac-12 games with five teams ranked in the latest AP poll.
Reach Assistant Sports Editor Alec Dietz at sports@dailyuw.com. Twitter: @AlecDietz