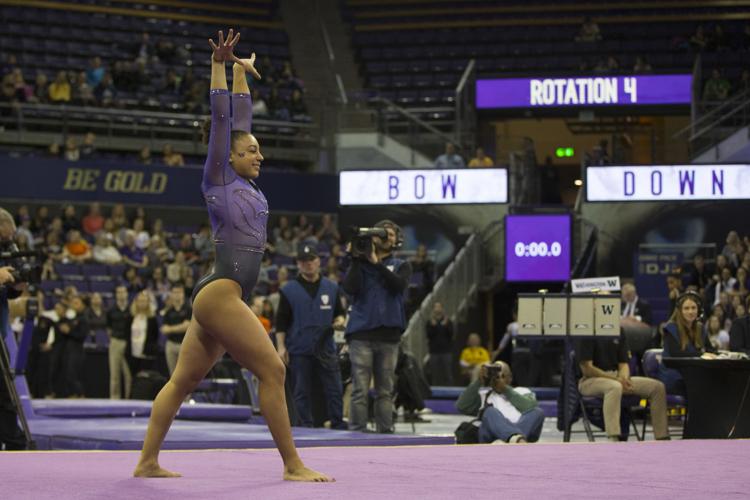 The No. 18 Washington gymnastics team fell short of its goal for a season-best meet at the Pac-12 Championship in West Valley City, Utah, scoring a 196.175, but there were still bright spots, provided by junior Maya Washington. The UW's place in the Pac-12 will be determined at the end of the evening session, when all eight teams have finished competing.
The Huskies, the top seed in the first session of the championship, chose to compete in Olympic order, starting on vault, moving to bars, then beam, and finishing on floor. It wasn't until floor where the Huskies were competing at the level where they wanted to be, and even then, only three gymnasts did so.
Freshman Amara Cunningham and sophomore Geneva Thompson both scored career-high 9.900s. In both gymnasts' first collegiate season, they've seen consistent improvement, and it showed in their performances and scores.
Then Maya Washington took the floor, and it was clear as soon as she finished her final tumbling pass that it was her best performance yet. She had the best score in the afternoon session with a career-high 9.950, tying the best score of the night from any gymnast with ASU's Cairo Leonard-Baker.
For the first time, the Pac-12 tournament was a chance to practice on podium. That meant all apparatus were lifted up rather than straight on concrete or wood, and everything was slightly bouncier. This led to some struggles on landings for Washington, as both junior Michaela Nelson and senior Kristyn Hoffa stepped out on the floor. As a team, the Huskies scored a 49.000.
The Huskies added Meaghan Ruttan to the end of the vault lineup for insurance, but didn't end up using her. It wasn't one of Washington's best vault rotations, with three gymnasts under a 9.800, but head coach Elise Ray-Statz likely decided her vault wouldn't improve the UW's team score of a 48.900.
On bars, junior Madison Copiak led the Huskies with a 9.900. Senior Monica Riley's 9.850 was close behind. All five counted scores for Washington were over a 9.800, giving the team a 49.175.
On beam, Maya Washington led the Huskies with a 9.850 score. It was a tough day on beam for all four teams in the session, with at least one gymnast from every team falling. Five Washington gymnasts hit their routines, meaning they didn't have to count a fall, but the team recorded a score still slightly lower than they wanted, finishing with a 49.100.
Now, the Huskies are on to the postseason. The Pac-12 Championship technically counts as a regular season meet, and now Washington has two weeks before regionals. The Dawgs aren't likely to move up in the rankings enough to be one of the sixteen teams that gets seeded, and their regionals location will be decided geographically. The two-day competition, consisting of a regional and a super regional, will likely take place in Corvallis.
Reach Social Media Editor Hailey Robinson at sports@dailyuw.com. Twitter: @haileyarobin