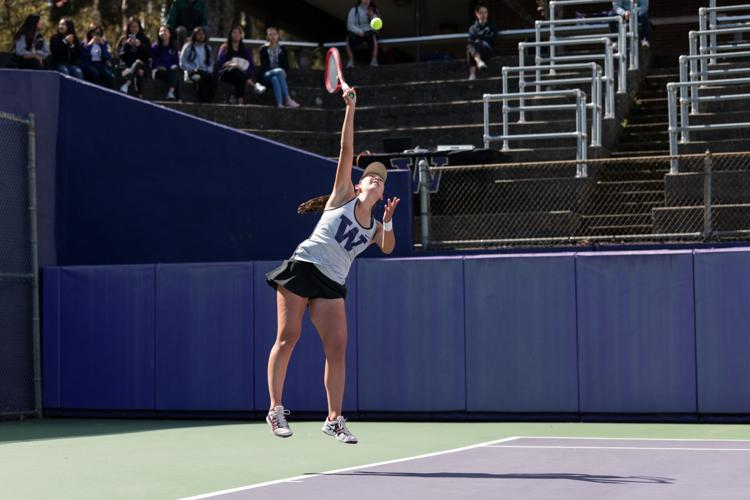 The Washington women's tennis team fell to UCLA 4-3 in the semifinals of the Pac-12 tournament on Friday.
The Huskies (19-4, 8-2 Pac-12) fought hard to rally back from a 3-1 deficit, but fell just short in a tough one-point loss, putting an end to a spectacular conference season that saw the Huskies capture the most conference wins in program history, and advance to the Pac-12 semis for the first time as well.
Senior Stacey Fung performed well at No. 1 singles, defeating No. 42 Jada Hart 1-6, 7-6, 6-1. After quickly losing the first set, Fung had to regain her composure and did so, coming back to win the second set in a tiebreaker 7-5. After winning the second set, Fung had exhausted Hart and was able to breeze through the third set.
At No. 2 singles, sophomore Vanessa Wong played in another three set match, coming up with a big victory over No. 29 Elysia Bolton 5-7, 7-6, 6-2. Similar to Fung, Wong was able to fight back after losing the first set to take two straight sets to take another point for the Huskies.
In the final match of the night, junior Katarina Kopcalic lost in a tough three set fight to decide the match. Kopcalic won the first set 6-3, but lost 5-7 in the second set tiebreaker after a couple hard fought points. Once Kopcalic had dropped the second set, she fell in the third 1-6.
The Huskies played well Friday, and nearly pulled off the win over a No. 9 UCLA team that had recently defeated the Dawgs 4-1 in a much more dominating fashion.
The Huskies aren't done yet, as they will almost certainly secure a postseason berth in the NCAA Championships and look to make a splash among the nation's elite. 
Reach reporter Caden Conder at sports@dailyuw.com Twitter: @cadenmconder