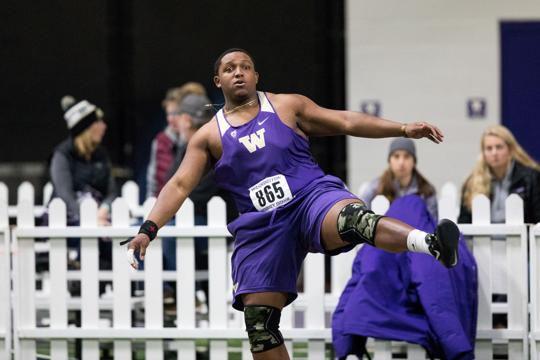 With under two weeks until the championship part of the season, the Washington track and field team is split in its approach for this weekend.
Many athletes have already put up marks that they suspect will hold up enough to qualify them for the NCAA West Preliminaries, so those athletes may not be competing in this weekend's Ken Shannon Invitational.
Right now 22 athletes have marks good enough to get them to the next stage. While some may be on the bubble, redshirt freshman Elijah Mason has his ticket all but punched for the next stage.
In the discus, he recently launched a new career best of 199 feet at the Beach Invitational, the UW freshman record for that event. That throw still holds at fourth best in the West region.
"Definitely in discus you can feel when something's gonna be really far, it was just a feeling I've been trying to create for awhile, and I've only really done it that one time, and I'm still trying to do it again," Mason said.
Even with such a successful start to his Washington campaign, complacency is not in this thrower's mindset.
"I'm still taking it day-by-day, and whatever happens, happens," Mason said. "Obviously I want to do the best for me, so with throwing a mark of 60 meters, I don't wanna be the one guy who doesn't want to live up to that mark again."
Of the athletes qualified for the regionals, only three are slotted to compete at this week's meet on Montlake. This offers a chance to get a week of hard work in and time to recover for next weekend's Pac-12 championship meet.
"This week is really hard, really heavy lifting, and heavy practicing so we can lay back and be a little bit better and you're body's not sore going into [Pac-12s]," Mason said.
For those athletes that do not have their spots cemented into the West regional, this weekend's meet provides an opportunity to capture that mark to qualify.
This Saturday starting at 10 a.m. the Huskies will take on their last home meet of the season in this year's installment of the Ken Shannon Invitational.
Reach reporter Josh Eddy at sports@dailyuw.com. Twitter: @JoshTreEddy
Like what you're reading? Support high-quality student journalism by donating here.