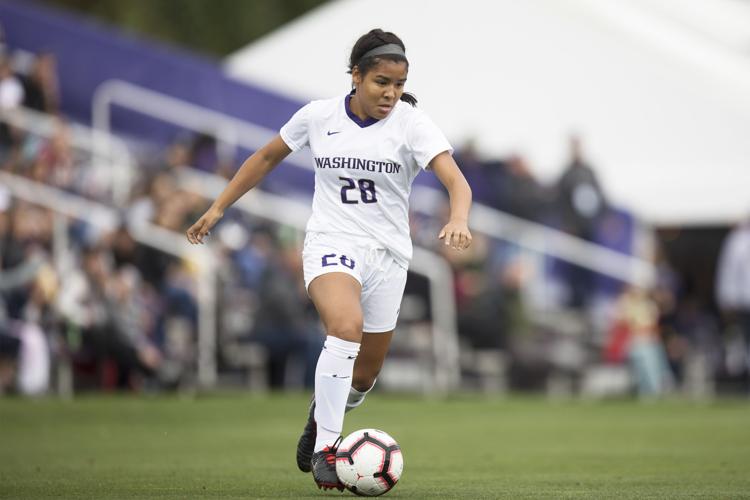 Freshman Makena Carr has emerged for the Washington women's soccer team as a playmaker in only her first year with the team.
Carr saw her first start of the season against UC Irvine, and was able to get a shot off in just 29 minutes of play. She said she was excited in her first start, but also that it was a little nerve-racking. Carr was then taken out of the starting lineup for the next four games, but still saw minutes off the bench.
Oct. 4, she logged a career-high 62 minutes and put up another shot at Utah. Although the Huskies lost to the Utes 2-0, senior Pascale Dumesnil noticed the freshman's effort in the game.
"I feel like she's gotten a lot more confidence going forward and taking people on, especially in the Utah game," Dumesnil said. "She had a really good game and she was able to go forward and find some good crosses."
Being an outside forward, Carr likes to make plays for her team, including taking opportunities to get down to the end line, then cross the ball into play to create scoring chances for her teammates.
Head coach Lesle Gallimore saw those skills showcased in the Utah game and awarded Carr with another start just three days later.
"She earned the start against Colorado because she was active and dangerous in the attack versus Utah and has given us some really good minutes this year," Gallimore said.
Carr only saw 29 minutes against Colorado, but still helped her team get to overtime against the No. 20 team in the nation.
"When I got the second start I knew what to expect, it was definitely an experience for the first time, but it also had a learning curve," Carr said.
The freshman has not seen play time since that game, due to a hamstring injury that kept her sidelined in the team's previous game against No. 10 UCLA. Gallimore describes her progress as a rollercoaster due to the injury.
"Makena is a handful to defend against, has a great soccer brain, and now that durability piece of competing day in and day out at this level is what needs [to] click in for Makena; it's all a part of the soccer maturing process that players go through at this level," Gallimore said.
Carr and the rest of the Washington team now head south for games against Arizona Thursday Oct. 18 at 7 p.m. and Arizona State Sunday Oct. 21 at 1 p.m.
Reach reporter Josh Eddy at sports@dailyuw.com Twitter: @JoshTreEddy