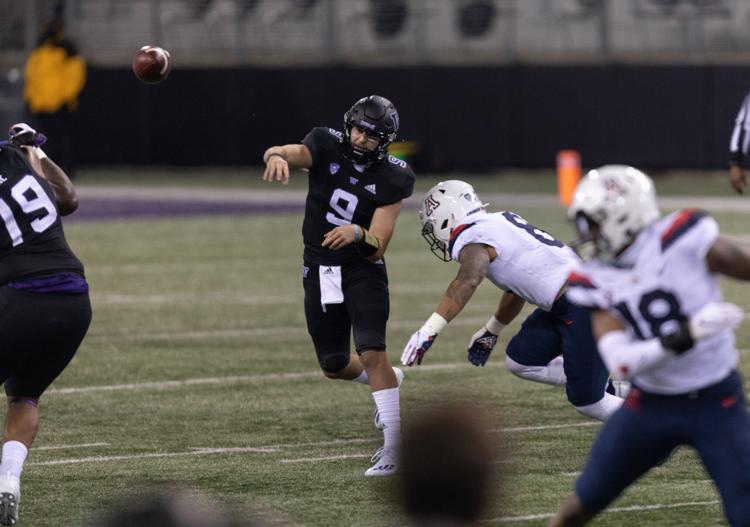 The Washington football team put on a clinic Saturday night at Husky Stadium, demolishing Arizona, 44-27. The Huskies (2-0) outgained the Wildcats (0-2) 472 to 331 yards and won in every aspect of the game.
After surrendering 167 rushing net yards to Oregon State in its first game, the Washington defense swarmed Arizona running back Gary Brigthwell, limiting him to 55 yards, as the Wildcats only managed 72 net rushing yards.
On the offensive side of the ball, Washington quarterback Dylan Morris impressed, throwing for 230 yards and two touchdown passes. For the second straight game, the Huskies accumulated over 200 yards on the ground, behind a spear-headed attack of four running backs and a team-high 81 yards from sophomore Richard Newton.
The turning point
On Washington's first drive of the game, it lined up to punt on a fourth-and-one from its own 31-yard line. Instead, the snap went to upback Jackson Sirmon, who rushed for four yards, and a Washington first down.
Three plays later, Washington quarterback Dylan Morris hit wide receiver Puka Nacua for a 65-yard catch-and-run touchdown, as the Huskies took a 7-0 lead early in the first quarter.
From there, the Huskies never looked back, shutting out Arizona in the first half and scored 37 consecutive points before the Wildcats finally scored early in the fourth quarter.
One key stat: 2
Third-down conversions by the Arizona offense.
The first third-down conversion, a 30-yard touchdown pass, didn't come until there was only 12:54 left in the game, and by then it was too late. Washington had already taken a commanding 37-0 lead.
All-in-all, the Wildcats were 2-for-13 on third-down, and struggled to do anything on offense until scoring 27 garbage-time points late in the fourth quarter.
UW player of the game: Zion Tupuola-Fetui
In his second straight start, edge rusher Zion Tupuola-Fetui caused problems for Arizona quarterback Grant Gunnell all night long.
The sophomore had three tackles, two sacks, and multiple quarterback pressures, utilizing his speed and athleticism to get into the Arizona backfield.
Tupuola-Fetui didn't start a single game last season. He wasn't even atop the depth-chart heading into Washington's first game, but an apparent injury to Laiatu Latu resulted in Tupuola-Fetui's first career start last weekend versus Oregon State. He also recorded two sacks against the Beavers.
What's next?
Next Friday, Washington travels across the state to Pullman for the 113th Apple Cup. At least that is the plan for now.
Washington State's game versus Stanford this weekend was cancelled due to COVID-19 cases and contact-tracing. With the game just six days away, the Cougars may be unable to resolve any contact-tracing issues.
Even if the game is played, WSU will be without quarterback Jaden de Laura, who reportedly tested positive for COVID-19.
The Huskies have won the past seven matchups, and will look to tie the longest winning streak in the history of the Apple Cup, at eight.
Reach reporter Anthony Edwards at sports@dailyuw.com. Twitter: @edwardsanthonyb
Like what you're reading? Support high-quality student journalism by donating here.