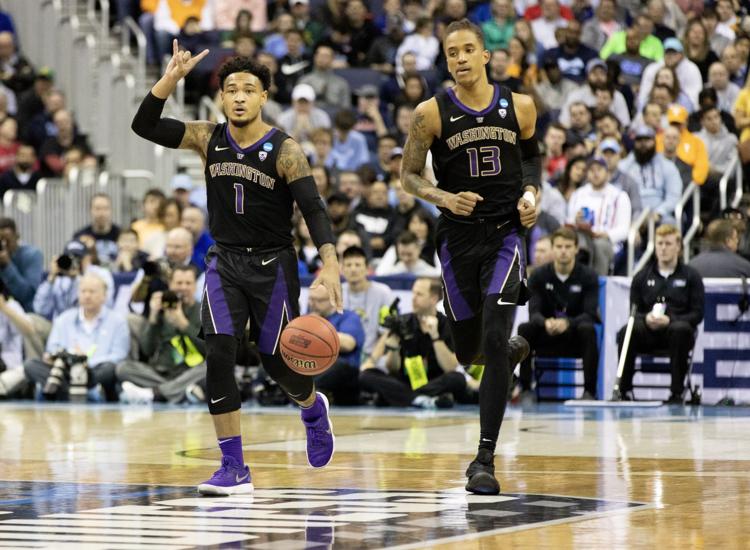 The Washington men's basketball team could not pull off the upset against No. 1 seed North Carolina, losing by a score of 81-59. The Tar Heels' outside shooting, dominance in the rebounding department, and overall experience against the Syracuse-style zone the Huskies play proved too much for the Dawgs as their 2018-19 season comes to an end in Columbus.
The turning point
Coming out of halftime, Washington was down just eight, and less than a minute into the second half David Crisp hit a three to cut the deficit to five. It was at this point that North Carolina, which led wire-to-wire, started to take full control over the game. Just six seconds after Crisp's three, the Tar Heels quickly moved the ball up the floor and answered with a three of their own from Cameron Johnson. Johnson hit another jumper a minute later, and then Luke Maye scored seven points over a minute and half.
Meanwhile, the Huskies didn't score for five and a half minutes, missing five field goals and six free throws over that span.   
UW player of the game
In a game that saw Washington miss 37 shots, Noah Dickerson was once again the best and most efficient player on the floor for the Dawgs. His stat line on paper is not as impressive as his performance against Utah State, but Dickerson went 4-for-6 from the field once again held his own against the trees in the paint for UNC. He even incidentally chipped the tooth of Tar Heels forward Garrison Brooks while sweeping his elbow from left to right on a post move.
One key stat
Rebounding has been a struggle all year for an undersized Washington team, and North Carolina, third in the country in rebound margin, exploited this weakness all game. The Tar Heels outboarded the Huskies 48-24, and came up with 22 rebounds in the first half leading to 10 second-chance points.
Where does Washington go from here?
Back home to Montlake, and into the offseason. Today's loss to North Carolina means the journey in purple and gold is over for Crisp, Dickerson, and the rest of the seniors, and the Huskies will fly back to Seattle and regroup for the 2019-2020 season. Mike Hopkins continued to improve the program in his second season as head coach, and all eyes will be on him to see what he does with a new-look team next year.
Reach reporter Chris Angkico at sports@dailyuw.com. Twitter: @chrisangkico
Like what you're reading? Support high-quality student journalism by donating here.