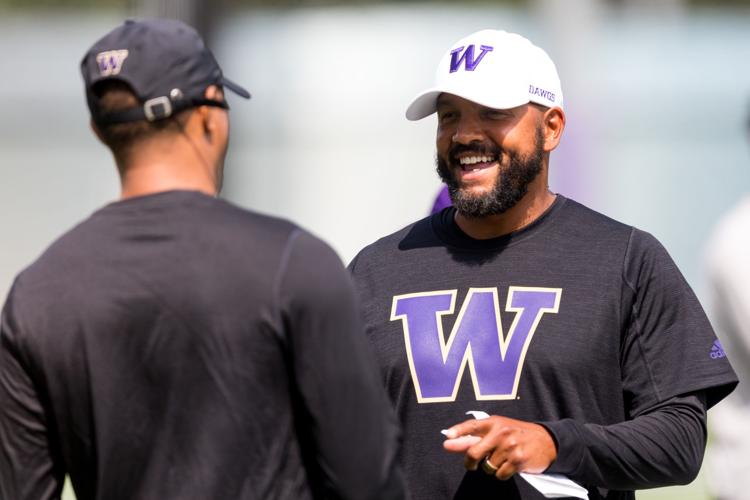 Jimmy Lake still remembers what it's like to be an FCS team, even one as successful as perennial favorites Eastern Washington, facing a Power 5 team on its own field. 
"It's probably a feeling of you have nothing to lose,'" Lake said. "You're going into the game like, we want to show these guys that 'we can play with you.' That was the case when I was at Eastern Washington."
In Lake's first ever game coaching, when he was in charge of defensive backs at Eastern Washington in 2000, the Eagles lost by a close margin, 21-19, to an Oregon State team that would go on to win the Pac-10 title. 
"We wanted to play at the highest level and show our families and friends that we could play at the highest level," Lake said.
Lake started his coaching career at EWU at the turn of the century. He played four years there as a strong safety and became a graduate assistant immediately after graduation. The next year, he was put in charge of Eastern's defensive backs. 
"[I was] just going through how to run a meeting, how to run a practice, how to be efficient with time," he said. "How to present efficiently to players and make sure they understand what we're installing that day. There was a lot of bumps in the road along the way."
Eastern was also where Lake first met Aaron Best, a center for the Eagles at the time, and now their head coach. Best graduated a year after Lake, and they were on the coaching staff at EWU together for a few years before Lake left for his first stint at Washington. 
"He was that guy you always wanted on your team," Lake said. "He was tough, he was nasty. He played through the whistle — not to the whistle, through the whistle. He was a leader and you see the same characteristics with his football team."
After his eligibility was up, Lake stayed on with Eastern as a student assistant to finish his degree. Instead of a career in business administration, which he studied at Eastern, that led to a now 20-year career in coaching. 
"As a player, you're just worried about your position and executing your assignments," Lake said. "When you become a coach, you're worried about all the guys you're in charge of. You feel a little more weight on your shoulders, but that's what I love to do."
Eastern's past two meetings with Washington have both resulted in wins for the Huskies, but only by a single score. Lake certainly isn't underestimating his former team when they come to visit.
"The story is we have a big time opponent coming in here," Lake said. "They're going to try and beat us like we're going to try to beat them."
Reach Engagement Editor Hailey Robinson at sports@dailyuw.com. Twitter: @haileyarobin
Like what you're reading? Support high-quality student journalism bydonating here.