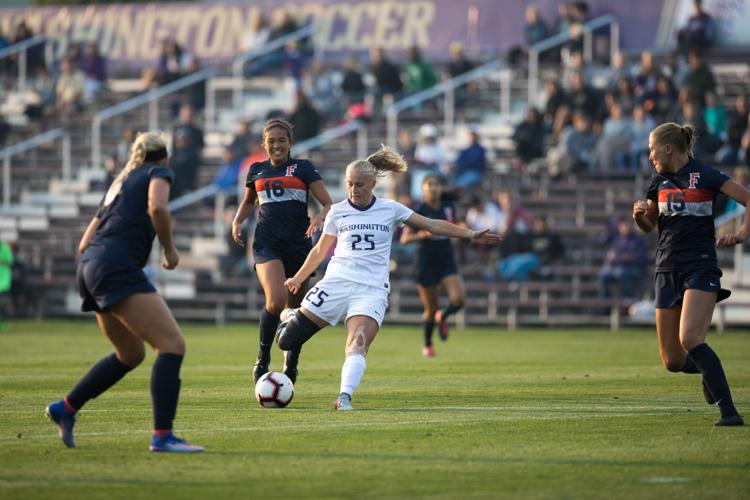 The young Washington women's soccer team faced another test on Thursday night battling a tough Wisconsin team into overtime.
Washington (2-2) lost their second game of the season 2-1 after a golden goal from Wisconsin (3-1) forward Cameron Murtha's in the 95th minute.
"That last goal there was disappointing," head coach Lesle Gallimore said. "I felt we were hesitant defensively too many times in the game and that's what ended up costing us."
Gallimore feels tonight's loss and defensive breakdown in the final play provided an opportunity to improve.
"For our young team, early in the season, that's something we have to correct." Gallimore said. "We can't go passive when it comes to defending, ever."
For the first time this season, the Huskies rolled out a different lineup, with three new starters for the season, including two with their first career starts in Asia Brisco and Laura Roberts.
"I thought Laura Roberts came in and filled a really nice role for us, and did a great job," Gallimore said. "Asia hasn't played a ton of games for us, I feel she started the game well and her minutes were outstanding minutes."
Both teams were aggressive out of the gates, with a quick tempo creating 17 combined shots in the first half. The play hardly slowed in the remaining 50 minutes, as 31 total shots were put up in the match.
The physical back and forth and six shots on goal from the Badgers provided a good test for the Huskies early in the season
"I'm proud of how we played and I'm really, really disappointed we didn't get a tie out of it," Gallimore said. "Really happy with how we battled physically with a big strong team like Wisconsin."
The UW's goal came from freshman Summer Yates, who scored for the second time of her young career. Olivia Van der Jagt's assist adds another point to her season score, which still leads the team with five.
Up Next:
Washington faces off against Michigan State 2 p.m. on Sunday for its second match of the Husky Nike Invitational. Michigan State won its first matchup of the weekend over Portland with a golden goal.
Reach contributing writer Josh Eddy at sports@dailyuw.com Twitter: @JoshTreEddy