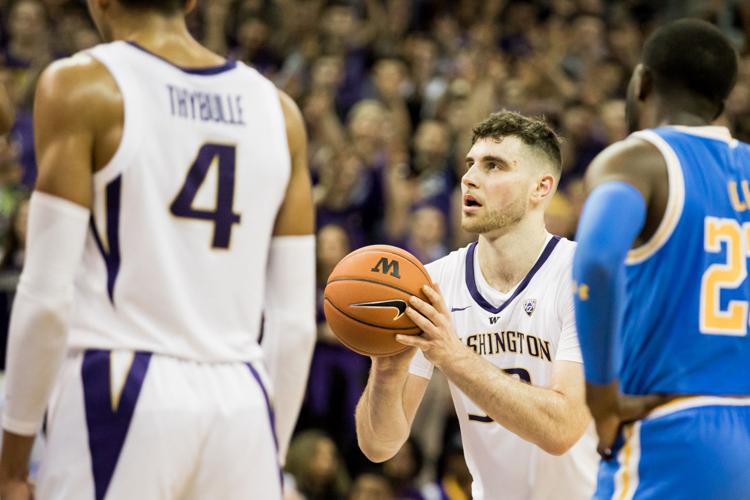 Junior Sam Timmins had his best game of the season Feb. 2 against UCLA. In 24 minutes of play off the bench, he scored nine points, blocked three shots, and threw down a put-back dunk that garnered "MVP" chants from the crowd at Hec Ed.
"You see, he's one of the fan favorites," senior Matisse Thybulle said after the game. "He's our guy, so he's one of our favorites. When he's got it going, we're an even better team. I don't think anyone's happier to see Sam playing like that."
It was a breakout game for Timmins, and with his father Brendon in attendance, he solidified his role as a spark plug off the bench for a Washington team now seeking to advance to its first NCAA Tournament in the Mike Hopkins era.
However, in his hometown of Dunedin, New Zealand, basketball takes a back seat to rugby and growing up with a father who was a professional rugby player, this was even more so the case for Timmins. New Zealand's national rugby team, the All Blacks, is revered by every sports fan in the region and when Sam was young, he was very much in this camp.   
"My sporting idol for basically all my childhood was a guy called Joey Rokocoko, and he was the winger for the All Blacks," Timmins said. "I remember when I was little and the All Blacks played in Dunedin and they played against South Africa, and he had a hat trick and I was just like, 'Whoa!', and from then on that guy was my idol."
His idolization of the All Blacks and his dad's strong connection to rugby were massive indicators at the time that Sam was prepared to follow in his dad's footsteps. He became heavily involved with the sport, playing it until he was 12.
"As soon as I could walk, I had a rugby ball in my hands, and that was just dad," Timmins said. "Right up until high school, I thought I was going to play rugby."
Then his plans changed.
"I'd played basketball before just with my friends and mini ball teams in primary school," Timmins said. "We have five years of high school in New Zealand, so it wouldn't have been until about my second or third year of high school that I thought I was going to try to make something out of basketball."
Rugby taught Timmins how to handle physicality at a young age and become accustomed to large scrums of people in close quarters. However, as Sam transitioned into basketball, it was his mother who helped him develop the skills he would use every day on the court.
Karen Timmins played netball, a variation of basketball played mostly by women in Australia, England, and New Zealand. Derived from early versions of basketball, it features a hoop without a backboard and does not allow players to dribble, making passing the best and only way to move the ball downcourt.
"You really had to learn how to cut off the ball and get open and be able to get passes that sometimes don't seem like they're open to your man," Timmins said. "Netball's really good for working off each other and playing off the ball."
Timmins found success very early on in his basketball career, becoming the youngest player to ever suit up for the Otago Nuggets of New Zealand's National Basketball League (NBL) when he was 15. When he was 17, he attended Otago Boys' High School for basketball and helped the team defy the odds to win its first ever National Schools Championship in 2014.
When it came time for Timmins to find a place to play college basketball, Washington struck him as a team reminiscent of the Otago Boys squad he turned around.
"The biggest appeal to me about Washington was it was a team that had great history and a great program, but hadn't been as successful as it usually is over the past however many years," Timmins said. "My high school teams and all the teams I've played on growing up were underdogs, and I love the mentality of being the underdog and turning it around. Being a part of getting Washington back to where it was was a big part of what drew me here."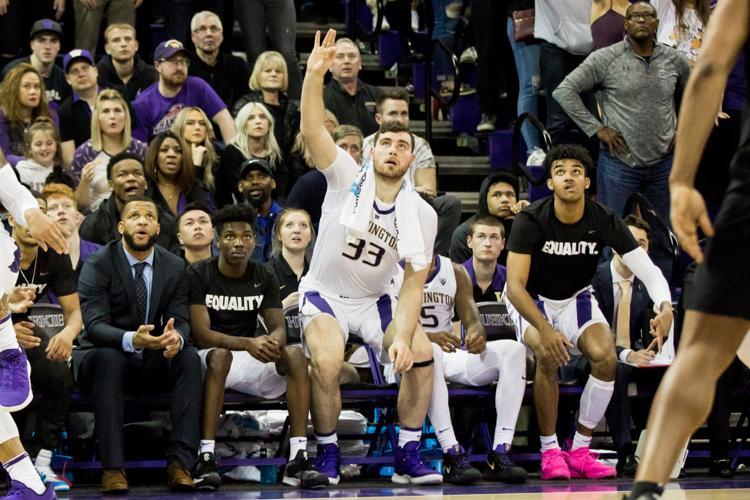 In his first year as a Husky, he was redshirted by former head coach Lorenzo Romar and then played one year before Romar was fired and replaced by Hopkins. When Hopkins first took over and was evaluating the players he had just inherited, he wasted no time utilizing Timmins, starting him in every game in 2018. He didn't put up the stats that some of his other teammates managed, but the new coaching regime's goal with Timmins' development was more mental than it was skill-based.
"With him, I think more so the development was getting him to believe that he's a difference-maker," Hopkins said. "The game is 10 percent physical and 90 percent mental. You have the balance of 6'11, 270 pounds, be a monster down there, defensively, offensively, you own this paint."
Although he has not been an every-game fixture in the starting lineup this year, Timmins has become a key addition to a deep Washington bench. Along the way, he has gotten a few teammates on board with New Zealand slang and learned how big of a factor pure, unadulterated energy can be.
"[Hopkins'] energy is infectious, and it's something that I never really thought about as being as big of a deal as it is," Timmins said. "In New Zealand, we're just by nature a whole lot more laid-back and I've definitely learned from him that there is a time and a place to just be overly energetic."
During Washington's Feb. 23 win over Colorado, a "Big Sam Energy" sign was front and center in the Dawg Pack, along with a New Zealand flag.
"It's awesome," Timmins said. "Everyone gets love from the Dawg Pack and it's the coolest thing about home games. My mom was here the past week and she was pretty stoked to see that stuff too. It was probably even cooler for her than it was for me to see my name in the Dawg Pack, so I was happy she got to see that."
Timmins defied the odds in his youth and became a success story for New Zealand basketball, and now, his Washington team will need the energy he can provide if it wants to succeed in the postseason.
"Every game's going to come down to us," Timmins said. "And there's no one that we can't beat if we're on our game."
Reach reporter Chris Angkico at sports@dailyuw.com. Twitter: @chrisangkico