Sustaining a season-long injury can be one of the most disheartening feelings for many athletes, especially at the beginning of a collegiate career. For sophomore gymnast Hannah Vandenkolk, it was essentially like starting over.
"Coming back from such a long injury basically meant I was starting at scratch," she said.
Prior to her freshman season, Vandenkolk suffered a sacral stress fracture in her back which ruled her out of the lineup entirely. 
The expectations surrounding a back injury can be scary for an athlete and there is a general understanding that there will be pain in the return to competition. For Vandenkolk, her path to recovery was about the emotional, mental, and physical comeback.
Competing in gymnastics at the collegiate level had been her dream since she was 8-years-old. Following the injury though, her aspirations were nearly put on pause and entering her sophomore season, Vandenkolk wasn't even sure she wanted to continue competing.
"She went through the darkness of not knowing if she wanted, or could, come back to gymnastics," head coach Elise Ray-Statz said. "But she made it through that incredibly challenging time because she made the decision to. She became stronger, more resilient, more communicative, she trusted the coaches more, and especially trusted herself more."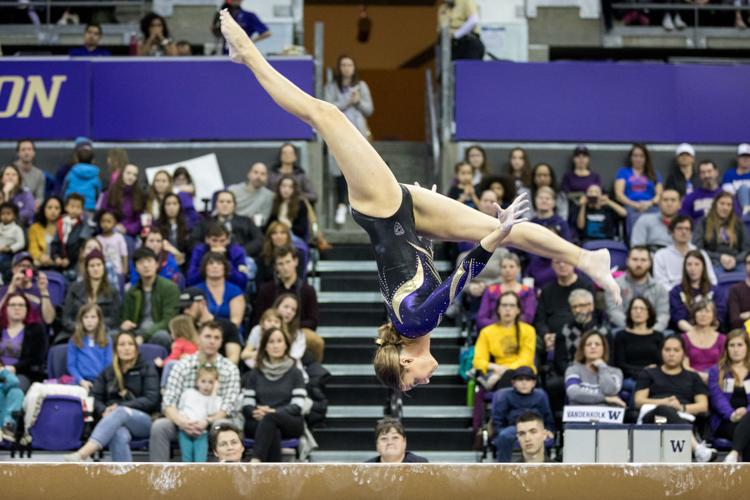 Vandenkolk's injury meant she went from consistent training to starting over at the beginning of her physical recovery. It required her to heal before physical therapy and then strength training with the gymnastics conditioning coach Chris Dresher.
Starting from ground zero, Dresher began by working with Vandenkolk on low-level cardio exercises such as biking and incline walking on the treadmill to achieve a proper fitness level to move onto strength.
"The ultimate goal for her was to get her back in the lineup," Dresher said. "We needed to turn her fitness into strength and flexibility."
Even though getting back on track and regaining her physicality was important, Vandenkolk's communication with the coaches and her teammates and mindset drove her dedication in training.
"I think that there's a challenging expectation to know that there's going to be pain with return sports, especially with back injuries," Dresher said. "And it can be really scary. So I think the communication between herself and me in the athletic trainer was a really big part of it."
Vandenkolk also had her team as a support system on and off the mat, and they provided her with advice and help. It was essential in knowing where she needed to be, and the guidance she received from her teammates, coaches, and nutritionist helped her achieve that objective of making an appearance in the lineup.
"With a long injury, it's easy to forget the feeling of competing, of reaching goals, and how valuable you are to the team outside of performance," Ray-Statz said.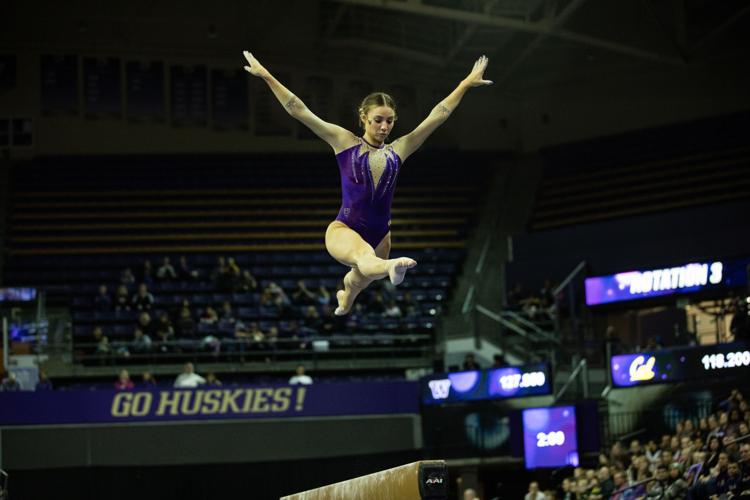 It was a grueling process for Vandenkolk, but she finally saw all the details and hard work come together about a year after injuring her back when she was finally able to practice her beam routine during the preseason. 
To kick off Vandenkolk's first collegiate season, she only performed on the beam. Focusing on one event allowed her to grow in performance and lessen the risk of any other injuries.
Vandenkolk was as consistent a gymnast on the beam as the Huskies could have asked for. In her first collegiate meet, she started the season strong with a 9.800 at Michigan in January.
"Pushing through an injury that lasted my whole freshman year was difficult but instantly felt worth it after my feet hit the mat," Vandenkolk said. "I got emotional after seeing that my teammates and coaches were just as happy as I was."
The first 9.900 of her career came at a meet against Arizona, and she matched that score three more times in competitions against Arizona State, Utah, and Oregon State. 
She had seven scores above 9.800 in 2019-20.
"I was proud of my consistency this year in matching my career-high a few times," Vandenkolk said. "Matching my career-high just makes me hungrier for more."
While Vandenkolk specifically focused her training on one event, it didn't necessarily make her practices less challenging. That was especially because the event was the beam, which requires a great amount of psychological attention, a focus on details, and lots of nerves.
"It's extremely difficult to compete in only one event," Ray-Statz said. "There's a lot of self-imposed pressure and the physical and emotional energy has to be smartly managed."
Her impressive scores on the beam not only highlighted her opening season, but were a reward for the dedication and determination she showed during the summer and preseason.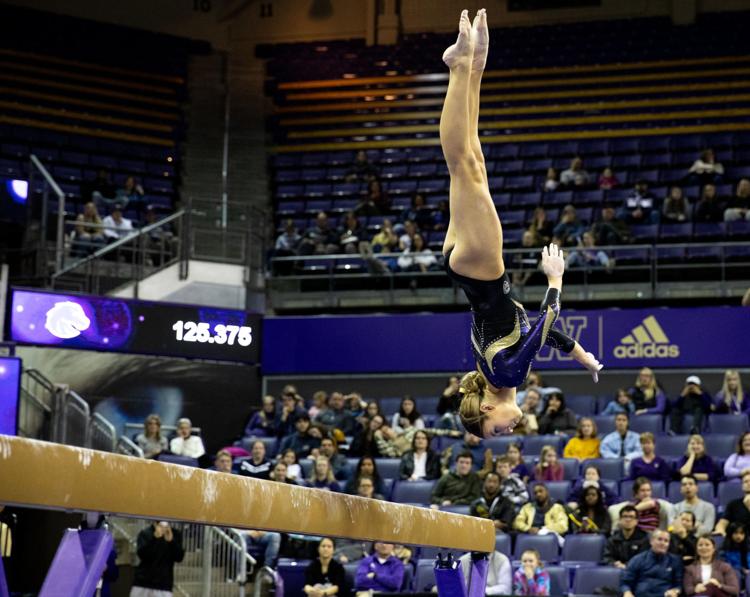 "It felt awesome seeing the work I put in to the small details during practice show up in the competition," she said.
Looking ahead to next season, Vandenkolk hopes to perform on the floor alongside the beam, which is an opportunity for her to conquer a new event and continue showcasing her abilities. 
As Vandenkolk is only a sophomore, she still has two years left of competition and she has some major goals for the 2021 season which include making nationals, earning both All-American and All-Pac-12 honors, and aiming for a perfect 10.000 on the beam. But even if things don't go to plan, Vandenkolk has already proved to herself that she can best any adversity.
"I had to change my mindset from being upset about what I was going through to looking at it as an opportunity to get stronger," Vandenkolk said. "After overcoming this injury I really do feel like I can handle anything life will throw at me in the future."
Reach reporter Monserrat Villaseñor at sports@dailyuw.com. Twitter: @monsevillas 
Like what you're reading? Support high-quality student journalism by donating here.