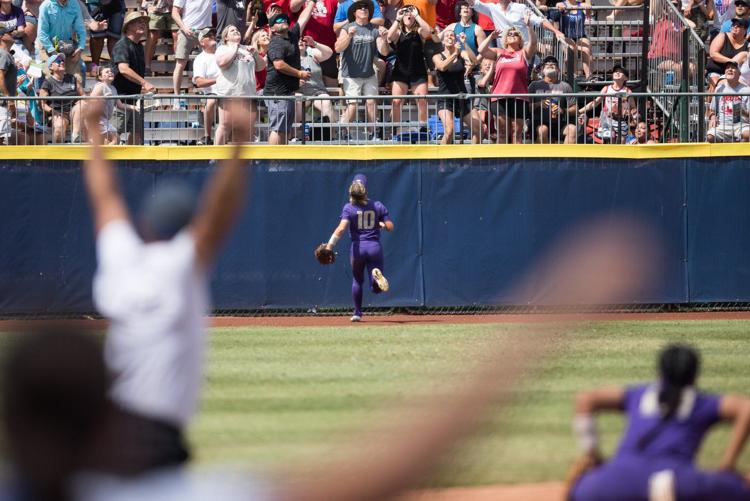 OKLAHOMA CITY — The No. 3 Washington softball team's season came to an end at USA Softball Hall of Fame Stadium Sunday afternoon in dramatic fashion, with the Huskies falling 3-0 to No. 2 UCLA in 10 innings.
The Huskies (52-9, 20-4 Pac-12) reached the semifinals of the Women's College World Series for the third consecutive season, but UCLA star Rachel Garcia was just too much for them to handle. The two-time National Player of the Year put the Bruins (54-6, 20-4 Pac-12) on her back for 10 shutout innings in the circle, then finished the job with her bat, hitting a three-run walk-off home run to end it.
"I think it's incredibly hard because we battled so well," sophomore pitcher Gabbie Plain said. "Everyone did such an amazing job throughout the entire game. Rachel Garcia is just one of those players that will go out there with everything she's got, and you go out there against her as hard as you can."
Plain and senior Taran Alvelo combined to keep the UW in it for over three-and-a-half hours. Plain earned the start and threw six shutout innings, but handed the ball over to Alvelo after issuing a leadoff walk in the seventh.
Alvelo pitched the next three, but the Huskies sent Plain back out to replace her just as the Bruins began their fifth trip through the lineup.
"In the end, they got the timely hit," head coach Heather Tarr said. "I thought Taran and Gabbie threw well enough to keep us in the game to win it. Rachel threw great, and it was a matter of who was going to get the clutch hit and win."
Garcia threw 179 pitches, striking out 16. Plain struck out seven, Alvelo struck out four to give her sole possession of second all-time in UW history in her final UW game.
It's not like the Huskies didn't have any chances. They outhit the Bruins 8-5 in the first nine innings, put runners in scoring position with less than two outs in four frames after the fifth inning, and loaded the bases in the top of the eighth. But each time, Garcia was up to the task. Washington ended up leaving 12 runners on base.
"It doesn't really ever come back to haunt you, it's just a matter of you're not going to win if you don't score runs," Tarr said.
In the end, the Huskies went 1-for-16 with runners on base, and 0-for-10 with runners in scoring position.
Washington's pitchers combined to throw 153 pitches, 75 of which came after the beginning of the bottom of the seventh, when just one mistake would end their season.
And as it turned out, No. 75 did.
Two singles brought Garcia to the plate with two outs and the walk-off run in scoring position for the second time Saturday. In the eighth inning, she lined Alvelo's 3-2 offering to deep left field, but freshman Sami Reynolds was able to jump up and snag it to end the inning.
In the 10th, Plain jumped out ahead 1-2, but hung a changeup that Garcia drove into the left-field bleachers.
"It just takes one pitch in that kind of instance, where we didn't score," senior center fielder Amirah Milloy said. "They had the opportunity, and she took all of it."
The Huskies' year is their third straight 50-win season and the fourth time in program history that they've lost fewer than 10 games.
"I'm just excited for our future and excited to see what's next for Husky softball," Tarr said. "Hope to see you next year."
Reach Sports Editor Josh Kirshenbaum at sports@dailyuw.com. Twitter: @J_Kirshenbaum
Like what you're reading? Support high-quality student journalism by donating here.