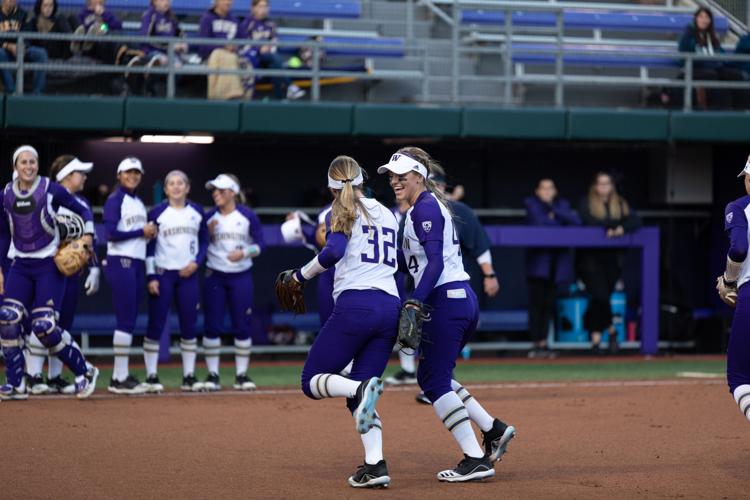 The No. 1 Washington softball team opens its season on Friday in Atlanta when they run out to take the field against Ohio in the Buzz Classic. After coming up just short in three consecutive seasons, does this roster have what it takes to win it all?
Here are five questions fans may be wondering heading into the 2020 season. 
How do the Huskies replace Taran Alvelo in the circle?
Washington graduated power arm Alvelo last season, who finished second in program history with 895 strikeouts.
The Huskies should not be too worried though, as Gabbie Plain returns for her junior season. Selected to Australia's Olympic team, she will prepare for the Olympics by spending her 2020 season in collegiate softball, rather than participating with the national team.
The UW coaching staff fully expects Plain to take on a bigger role in 2020 with an increase in innings. Plain pitched three no-hitters last season, holding opposing hitters to a .149 batting average.
"I'm excited for Gabbie to be in a role that she hasn't been in before," head coach Heather Tarr said. "To be the oldest pitcher on the staff. I'm excited to see how she weathers that and how she's able to perform in a leadership role."
Alongside Plain is junior Pat Moore and freshmen Kelley Lynch and Brooke Nelson.
"I'm hopeful in our future, and the young players that we do have in the circle to support Gabbie Plain," Tarr said. "[Nelson and Lynch] are two completely different types of pitchers, but we're gonna see how this thing goes real quick."
How does Kelley Lynch fit in?
One of the pitchers looking to step in the shoes of Alvelo is the Gatorade National Player of the Year and No. 1 overall recruit. Lynch is expected to pitch and hit for the Huskies, but how her high school performance translates to the collegiate level remains to be seen.
"I think in general the pitching staff has some big shoes to fill," Tarr said. "I also know there are some big shoes to help fill that role. I know [Lynch] is going to go in there and be the gamer that she is. She's going to learn a lot, she's very smart, and it's going to be trial by fire."
Lynch seems likely to start more games at first base early in the season before taking on a larger role in the circle as the year progresses.
Who steps into the 9-hole?
Tarr has a spot in her lineup that seems to matter more than any other: the 9-hole. Last year it was Amirah Milloy, who graduated, leaving Tarr searching for a replacement. A logical fit would be second baseman, Taryn Atlee, who batted .335 in the middle of the lineup last season. Atlee has the ability to get on base via a hit or walk, and her bat and speed on the bases may be just what Tarr is looking for to round out the bottom of the order.
"I think any time you're worried about replacing your No. 9 hitter in your lineup you're in a pretty good spot," Tarr said. "The glue of the team, the continuity of the offense, and that lineup will evolve for us. That person will know how important they are to our lineup."
Which under-the-radar player has the best chance to break out?
Last year it was Sami Reynolds. 
This year the Huskies welcome many new names to the roster. One player who has been overshadowed in the pre-season hype is Texas A&M transfer, Baylee Klingler. In her freshman year with the Aggies, Klingler batted .289, hit five home runs, and had 11 multi-hit games. On the field Klingler started at third base in all 55 games for the Aggies and committed only four errors, helping her earn a spot on the SEC All-Freshman Team.
The coaches are excited about Klingler's potential to play at different spots in the field and potentially produce some power, and she will get the chance to battle with fellow sophomore SilentRain Espinoza at third base for a starting role.
Can Washington win it all?
Washington has its established stars in Sis Bates, Plain, and Morganne Flores, all of whom are on the USA Softball Preseason Player of the Year Watch List. The Huskies return other experienced starters such as Reynolds and Atlee, both of whom batted over .330 last season.
Even with all of its star power, Washington came up short last season, but if there is any year for the Huskies to win it all, this is the year. UCLA stars Rachel Garcia and Bubba Nickles, along with Arizona's Dejah Mulipola all made the U.S. Olympic roster and won't play this season, meaning UW will avoid some of its toughest competition while some stars are away preparing for the Olympics.
What plagued the Huskies last season was their lack of offense in the World Series, managing only seven runs in four games in Oklahoma City.
A decent amount of Washington's offensive success will come down to the performance of its freshmen. Lynch, Nelson, and outfielder Jadelyn Allchin are all expected to see significant playing time, and whether some or all of the group can consistently produce remains to be seen. If the Huskies can ride a dominant year from Plain and put up good offensive numbers, they have as good of a chance as any team in 2020.
Reach reporter Anthony Edwards at sports@dailyuw.com. Twitter: @edwardsanthonyb
Like what you're reading? Support high-quality student journalism by donating here.