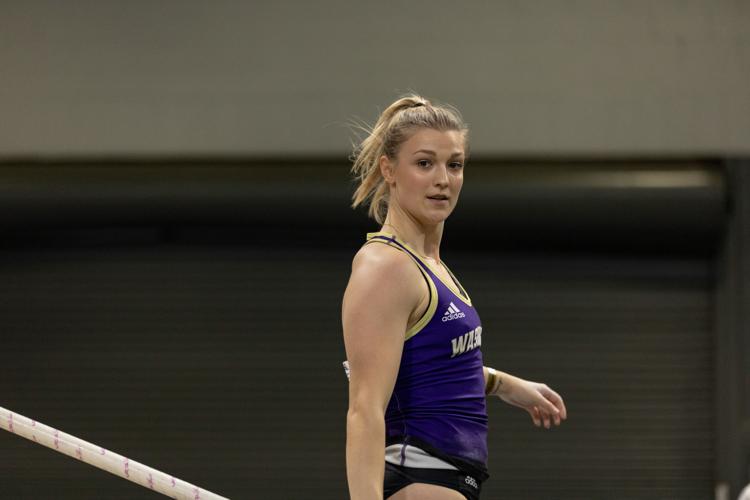 After being unable to compete in the NCAA Indoor Championships, 11 athletes on the Washington track and field team were named All-Americans on Tuesday, May 26 by the U.S. Track and Field and Cross Country Coaches Association for qualifying for the national championships. 
Normally, All-American honors are rewarded based on place in the NCAAs with First Team All-American being rewarded to those that finish in the top eight first-through-eighth and Second Team being rewarded to the next-best eight athletes that finished in ninth-through-16th place.
Due to the cancellation of the NCAAs because of the COVID-19 pandemic, the U.S. Track & Field and Cross Country Coaches Association awarded All-American honors to all the athletes that qualified for the NCAAs.
Seniors Olivia Gruver, Katie Rainsberger, Tanner Anderson, Jack Rowe, Chase Smith, and Mick Stanovsek headlined the group, which came up just short of 2019's 12 All-Americans. Juniors Olivia Ribera, Hannah Rusnak, and Allie Schadler, and freshmen Mel Smart and Carley Thomas also earned All-American honors.  
The distance group was the most represented for the Huskies, as Rainsberger, Schadler, Smart, and Rowe all earned their honors for the 3,000 meters, and Anderson was named an All-American in the 5,000 meters.
Stanovsek was named an All-American for the fifth time , this one for the mile, while Thomas, earning her first, had qualified in the 800 meters. Ribera, Schadler, Thomas, and Rainsberger also earned All-American honors for qualifying for the Distance Medley Relay.
For the field events, Rusnak was the only multies athlete to be named All-American for her efforts in the pentathlon. Gruver's sixth All-American honors and Smith's fourth both came in the pole vault.  
Reach reporter Nick Lombroia at sports@dailyuw.com. Twitter: @lombroia
Like what you're reading? Support high-quality student journalism by donating here