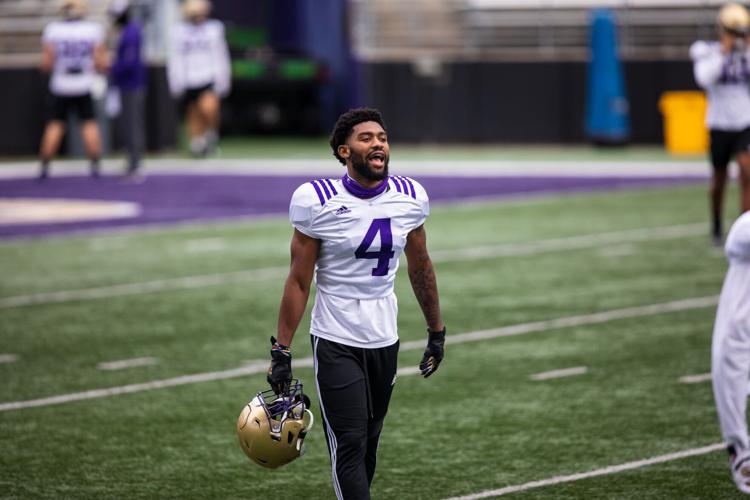 In football, physicality breeds energy, and Washington's first-year offensive coordinator John Donovan wants to bring that mentality with full force. Now, that mindset has trickled down throughout the rest of the offense, reaching — in particular — the guys on the perimeter.
"I can get my daughter to catch a five-yard hitch and fall on the ground," wide receivers coach Junior Adams said in a press conference on Tuesday. "I wanna see guys that are going to catch the football and make a run after the catch. That's the emphasis this week for us — just catch and finish."
The toughness Adams wants to see in his receiving corps, though, starts and ends in the run game. He claims that offensive physicality, while initiated on the offensive line, can only truly have an impact with big downfield blocks from the wide receivers that spring guys for huge runs.
And while it's not entirely clear yet what kind of offense the Huskies will run come November, that outside push in the running game has appeared to be a major emphasis within the Huskies' offensive scheme so far this camp. 
"Today, the first thing we did was hit the two-man sled — just to kind of get that mindset going," Adams said. "We want to be physical, and that's not just talking about up front."
Adams has found buy-in from his receivers across the roster. Sophomore Puka Nacua and junior Terrell Bynum, two of the team's more experienced wideouts, developed a dedicated run-blocking mentality last season. Now, they're taking it to the next level, leading by example for the younger players.
The young guys haven't needed much assistance establishing themselves as crucial members of the Huskies' locker room, though. In fact, the three freshmen wideouts —  Rome Odunze, Sawyer Racanelli, and Jalen McMillan — are fitting in seamlessly.
"They're dynamic and really fast, so they're going to make a lot of plays for us," Bynum said in Tuesday's presser. "And they're cool people, too. It's great to be around them, and I like leading them and teaching them."
Adams also had praise for his young players, both in their play on the field and in their connection off of it.
"Rome, Jalen, and Sawyer, when they got here they got right to the playbook," Adams said. "The cool thing about them is that they're really good dudes. They connect with the group, the group connects with them, and they go out and they play hard."
Defensive backfield stays an unfixed fixture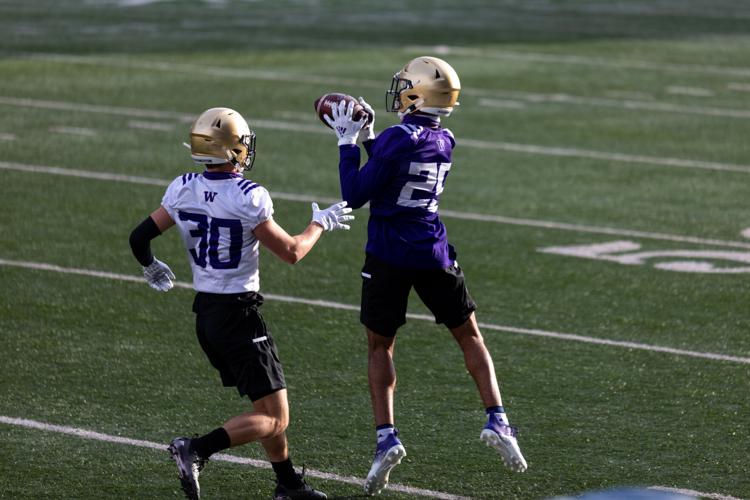 Some time over the past decade, the plumbing at Husky Stadium must have been infused with some sort of secret serum that enhanced coverage techniques, deepened playbook wherewithal, and expedited training procedures for All-Pac-12–level quickness and agility.
Then again, it could've been the prophetic teachings of former defensive backs coach, now–head coach Jimmy Lake, or just talented secondary players giving the fans on Montlake the best of their abilities every gameday. Regardless, the Huskies' defensive backfield has been full of very good players for a very long time.
This season appears no different, with coaches raving about the depth and growth of the Huskies' secondary heading into the 2020 season. Part of that stability, they say, is having guys in the defensive back room who can play any position at any point in the contest.
"Our room is very, very deep, and there's a lot of competition back there right now," defensive backs coach Will Harris said in a press conference on Wednesday. "In the whole back end — all our guys are learning all the positions."
From the cornerbacks to the safeties, the tune doesn't change. Harris, inspired by the size and speed of returning sophomores like Dominique Hampton, Kyler Gordon, and Asa Turner, says he expects all of his players to learn the defense from the nickel, corner, and safety position.
One player who may step into a larger role, though, is another versatile sophomore, Julius Irvin, who missed a large part of the 2019-20 season through injury.
"He's doing great right now," Harris said. "We're moving him all over in the back end. Like I told a couple of the guys before, I think he's going to be special this year. We're going to use him all over the field."
Reach reporter Nick Mendro at sports@dailyuw.com. Twitter: @m_mendro
Like what you're reading? Support high quality student journalism by donating here.