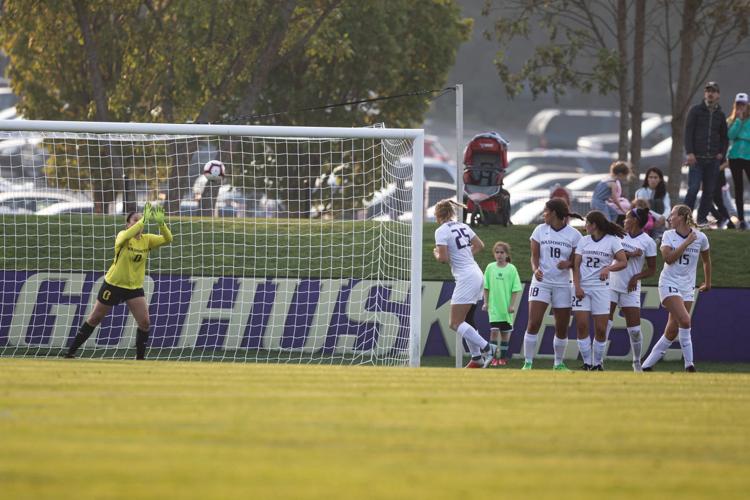 The Dawgs battled for 104 minutes in Boulder, but were unable to outlast the Buffaloes. Washington fell 2-1 for their second loss of the weekend.
The UW women's soccer team (7-5-1, 2-3 Pac-12) faced 20 shots in its matchup against No. 20 Colorado (11-0-3, 3-0-2 Pac-12), but it was Colorado's Jorain Baucom's second goal of the day that put Washington away.
Keeper Siena Ruelas was able to save seven shots for the second time this season, the first coming in the team's season opener at Florida.
The defense even contributed the UW's only goal of the game, when a yellow card on Colorado's Taylor Kornieck created a free kick for Kaylene Pang in the 84th minute. The ball was just inside Colorado's half of the field and Pang rocketed it above all Colorado defenders and the outstretched arms of keeper Jalen Tompkins to even the game at 1-1.
This was Pang's first career goal for Washington.
The UW offense had some trouble getting started in Boulder, it was only able to produce one shot in the first 26 minutes. As the Huskies got into the flow of the game, they were able to string together a slew of shots for the rest of the game. They closed out the match with 17 shots and maintained a good accuracy with 10 being on target. Washington's 58.9% shot-on-goal percentage was its second highest of the season.
The second half turned out to be injury heavy for the Dawgs. Just a minute after halftime, UW's highest goal-scorer Olivia Van der Jagt exited the game, and was not able to return until the 75th minute. Just 15 minutes after Van der Jagt went down, Freshman Summer Yates got her legs tangled up with a Colorado player and had to be carried off the field. Yates did not return to the game.
Today's loss marked the first time the Huskies have lost two games in a row all season, and they will once again try to bounce back when they return home for just one matchup. Washington takes on No. 15 UCLA Friday Oct. 12 at 6 p.m.
Reach contributing writer Josh Eddy at sports@dailyuw.com Twitter: @JoshTreEddy