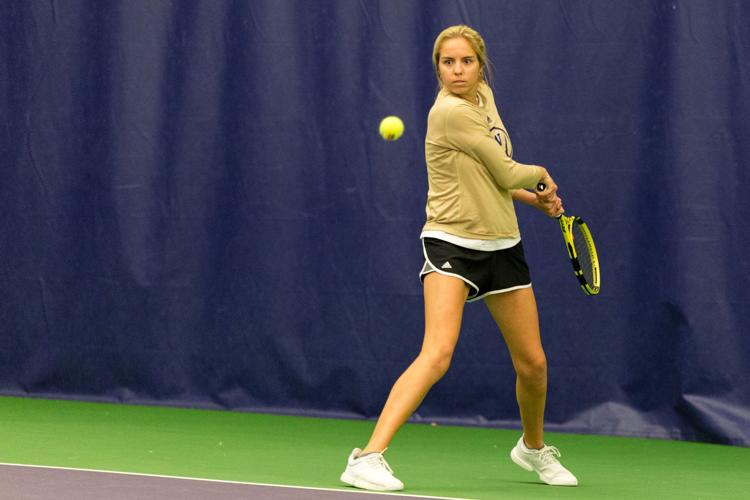 The No. 14 Washington women's tennis team capped off a successful opening weekend with a 7-0 victory over EWU, followed by a 7-0 triumph against Seattle U. 
"Our preparation was pretty much the same," head coach Robin Stephenson said. "These doubleheaders are always tough, playing a couple of matches in a day, but I think the girls did a good job." 
The Huskies (3-0) began the day strongly in their doubles matchups against EWU. Senior Katarina Kopcalic and sophomore Sedona Gallagher won their set 6-1 before a 6-2 victory for the sophomore duo of Nika Zupancic and Zoey Weil clinched the point for the UW. Junior Vanessa Wong and senior Natsuho Arakawa's match was left unfinished.
Then in singles, Washington cruised to victory, highlighted by commanding performances by Kopcalic (6-0, 6-1) and Zupancic (6-0, 6-1). 
The remainder of the singles matches resulted in wins for Gallagher (6-2, 6-0), Wong (6-2, 6-2), Arakawa (6-4, 6-2), and Weil (6-2, 6-1).
UW followed up its earlier performance by winning the doubles point against Seattle U. Kopcalic and Gallagher won 6-1 while Zupancic and Weil handled their matchup 6-2. 
"Playing a doubleheader is different than just just one match," Wong said. "Going into it we want to make sure we're staying focused. We try hard to make sure we're still locked in at the last point of the second match. The hardest part is making sure mentally, we're not taking time off in a match."
The Huskies' strong performance continued in the singles matches, led by a comprehensive performance from Gallagher (6-0, 6-0). 
"I thought I had pretty good consistency and really good depth on the ball," Gallagher said.
Wins for Weil (6-0, 6-1), Arakawa (6-4, 6-2), Wong (6-0, 6-2), Kopcalic (6-1, 6-3) and Abbey Watanabe (6-0, 6-7, 10-7) meant the Huskies finished the doubleheader without dropping a single match.
"The thing that I like the most is that our mindset is in the right place, the girls are competing the right way, and they're all working really hard and really united," Stephenson said.
The Huskies will continue their season on Wednesday, traveling to Honolulu to take on Hawaii at 5 p.m.
Reach reporter Luka Kučan at sports@dailyuw.com. Twitter: @luka_kucan
Like what you're reading? Support high-quality student journalism by donating here.