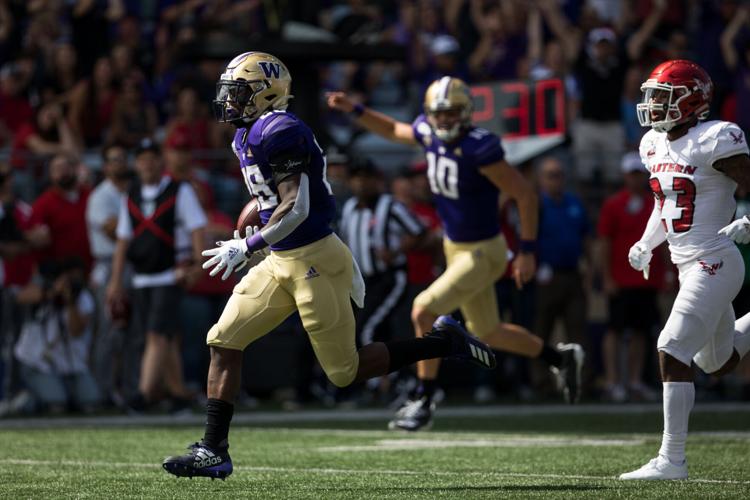 Washington offensive coordinator John Donovan hasn't called plays in over five years.
Add the departures of Jacob Eason, Salvon Ahmed, Aaron Fuller, Hunter Bryant, and three starters on the offensive line, and Donovan arrives at Montlake with a less-than-ideal landing. But while there's no telling what the Huskies offense might look like this season, one thing's for certain: They want to put the ball in the running back's hands.
Welcoming back Sean McGrew and Richard Newton, the Huskies won't be too concerned with their production on the ground this season, but they want to do more with their backs.
Washington coaches have been stressing the goal of getting the ball in the playmakers' hands this season, and it wouldn't be a shock to see the running backs become more of a weapon.
"Catching the ball is part of football; blocking is part of the game; running is part of the game," running backs coach Keith Bhonapha said. "We've been able to help these guys develop their hands, putting them in uncomfortable situations where they have to line up and catch the ball out of the backfield. Something that we try to mimic and we try to do. 
"Now we really gotta force the issue — get these guys working on their hands and catching the ball."
In terms of how the backs might be utilized on the John Donovan offense at the UW, there are still many questions, but some hints can be taken from his time at Penn State in 2015, the last time Donovan called plays.
The former Penn State offensive coordinator utilized lots of pre-snap motion in many of his running plays, especially with the wide receivers. Faking the handoff to a receiver on a motion play and handing the ball off up the middle to the running back was a common play call for Donovan, especially in 2015 with then-freshman Saquon Barkley.
Obviously, Donovan had the luxury of Barkley in his running backs room at Penn State, but at the UW, Newton's downhill running and McGrew's complementary style should give the Huskies a good one-two punch on the ground.
In the passing game, the Huskies have yet to establish either back as much of a threat. 
Last year, McGrew led all returning UW tailbacks in receptions with 10, but those catches only went for 38 yards. Newton had a highlight-real touchdown reception against BYU in the back corner of the endzone, but that was his only positive gain on a passing play all season.
"That's what we've been working on all offseason, all us running backs, just being more of a weapon in the passing game and getting the ball out of the backfield," Newton said.
New head coach Jimmy Lake has been on the defensive side of the ball his whole life, and it shows in his comments about what he wants to do on offense. Throughout fall camp, Lake has emphasized that he wants his offense to be hard to defend, and confusing to the defense. Adding pass-catching skills to McGrew and Newton's game will help in that regard.
"Our running backs are for sure gonna be heavily involved in the passing game, which, really, is hard to defend," Lake said. "You're so worried about those guys running the ball and then all of a sudden it's a drop back pass and those guys are all over the place — swinging behind the line of scrimmage, in front of the line of scrimmage. We're excited. 
"Those guys are talented, and we think that they can all give us something in the passing game."
Asa Turner takes the next step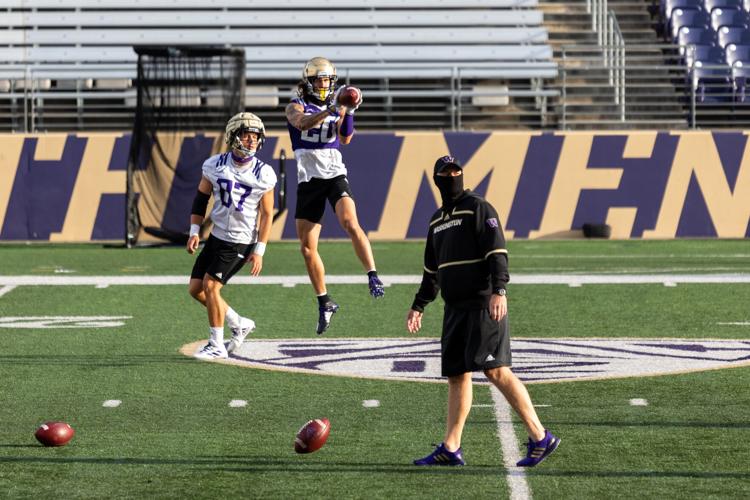 Although Washington loses most of its production on offense, the defensive side of the ball returns most of its experience. One of its biggest losses on defense, though, was safety Myles Bryant.
Sophomore Asa Turner is the likely replacement. The Carlsbad, California native, who was involved in a recruiting battle between Notre Dame and Washington, showed his worth during his true freshman season. While he only recorded 19 tackles, Turner played in 12 games last year, starting five, and recorded an interception against BYU.
"Asa is a good player," assistant defensive backs coach Terrance Brown said. "He's obviously had the opportunity to see the field as a freshman and grown throughout the season. He's taken that step in continuing to grow, continuing to learn in the position that he's in. Ultimately, to be able to help this team be the best that it can be."
Turner has one of the more impressive frames of any Washington player, measuring in at 6-foot-3, the tallest of any defensive back on the Huskies. Likely slotting into a starting role this season, the key for Turner will be to take the next step in his playmaking abilities. And if fall camp is any indication, Jimmy Lake is excited about the upcoming season for Turner.
"It's fun to watch his growth," Lake said. "Knowing the defense, knowing the calls, and being able to teach it to our freshmen — and also he's been able to execute it in practice. I'm excited to see where he makes that next jump here as we go into his sophomore season."
Reach reporter Anthony Edwards at sports@dailyuw.com. Twitter: @edwardsanthonyb
Like what you're reading? Support high-quality student journalism by donating here.