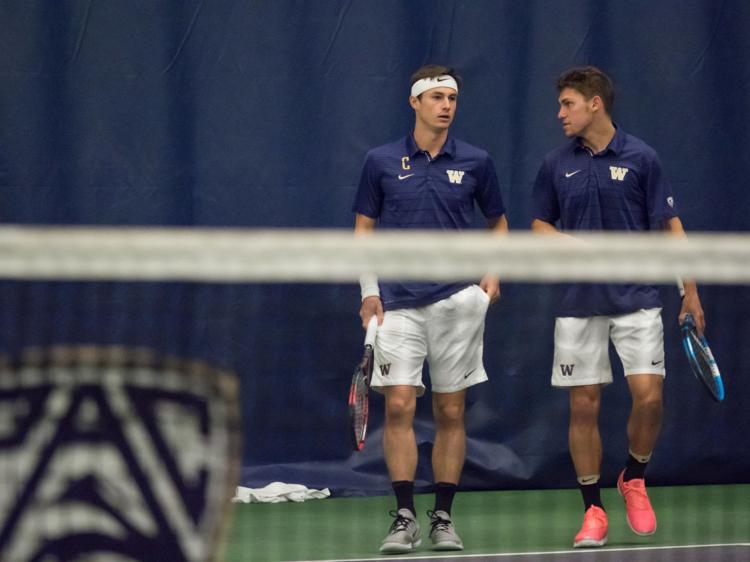 The Washington men's tennis team  were unable to close out Arizona State this afternoon as they lost a heartbreaking 4-3 match to close out the home schedule.
A full house packed the Nordstrom Tennis Center to celebrate seniors No. 90 Jake Douglas, No. 81 Mitch Stewart, and Joao Barra one final time. Barra was not in the lineup, but the duo of Douglas and Stewart did not disappoint.
Douglas fell behind to No. 49 Michael Geerts 5-1 in the first set but was able to creep his way back in. As he grew closer, the crowd came alive and helped carry him to an impressive 7-5 first set victory. He struggled in the second set and fell 6-1. With the match all tied up, Douglas was in a crucial spot, and he came through with a 6-3 third-set victory to win his final home match.
Stewart went up against a ranked opponent as well in No. 66 Benjamin Hannestad. The two played some lengthy points, as is expected any time Stewart is on the court. He was able to battle to a 6-4 first set win before having a little easier second set 6-2.
It was a good way to end their last home matches at Washington.
"Jake and Mitch as a collaboration are our heart and soul right now," head coach Matt Anger said. "We're still in the season [and]  it's just that this is the last home match, but I start thinking about them as seniors, and they are awesome guys, and it has been a privilege and honor having them here as Huskies. What I love about them is that they bleed Purple and they always will."
The Dawgs as a team were unable to get the win. After coming out firing going six-for-six in the first sets, the Huskies (11-10, 1-4 Pac-12) were unable to keep that momentum going. One particularly close match was between sophomore Amit Batta and Tim Ruehl. Batta fought his way to a tiebreaker in the second set but a few points did not go his way, and he dropped the tiebreaker. He was unable to rebound and lost 6-3 in the final set to close out the afternoon.
The Huskies have a different challenge coming up as they go on the road to Utah and are forced to play at altitude.
"It's an immediate adjustment for what you have to do to get the ball down," Anger said. "Some sports like golf and baseball you want the ball to go further, but we want the ball to come down and land; otherwise it's out. We'll get a head start on that and go down there early to get a couple of hits there."
That match against the Utes (19-4, 2-2 Pac-12) is scheduled for Friday at 3 p.m.
Reach reporter Kyle Gehler at sports@dailyuw.com. Twitter: @KyleGehler