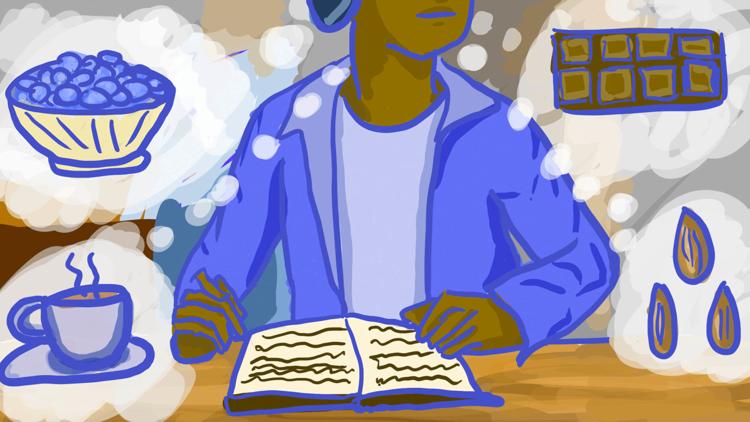 With spring break right around the corner, Instagram feeds are sure to be flooded with gym selfies and pictures of salads as people attempt to look their best for the beach. Often, nutrition is paired with the idea of being fit or weight loss. However, one's diet can impact brain power and even mental health. As finals approach, consciously thinking about what you put in your body can help with managing stress and brain functioning.
With finals now being online due to the novel coronavirus, many students were able to return home early. In terms of nutrition, this means that many are now faced with their parents' stocked fridges and pantries. Michelle Averill, a senior lecturer in environmental and occupational health sciences, explained how to resist the urge for comfort foods. 
"We're going to be in an interesting time because people are going to be home for [their] finals," Averill said. "Not everyone turns to comfort foods when they're stressed, but if a person knows that's who they are, it's good to identify what foods feel comforting and try to find the foods that fit that."
According to Averill, finding things that satisfy cravings "but still [aren't] too overly laden with added sugars" or too much fat is key.
"It could be finding some form of a granola bar versus a cookie," Averill said. "Something that feels like it fits the need but is a little different."
Besides having a plan to combat stress eating, there are specific foods you can have that fuel the brain specifically. The brain has the best functionality on a generally good diet, with a good focus on antioxidants and omega-3 fatty acids. Antioxidants are common in produce, tea, and dark chocolate. Omega-3 fatty acids can be found most prominently in nuts and fish.
While specific foods can help brain functioning, Averill advises to not get bogged down by these specific things only. Instead, she talked about how food can contribute to stress and how one can best combat those feelings.
"[The key is] balancing, not feeling overwhelmed by new information, and stepping back to the basics: fruits, vegetables, whole grains," Averill said. "Just avoid rabbit holes, because that actually will add to the stress."
Focusing on the basics can help someone new to consciously thinking about their nutrition avoid things that can actually impair brain functionality, like highly processed food and refined sugars. Averil says thinking about diets holistically can help one start thinking intuitively about food, which leads to an overall healthier lifestyle.
In addition to balance, Averill stressed mindfulness when approaching food. 
"Stopping for a second longer, pausing, and thinking about how you want your interaction to food to be — how you feel about the food, what you hope to feel after the food ends — that pause makes a huge difference," Averill said. 
But above all, Averill says, food should not be another way for someone to think negatively about themselves. Nutrition is a tool for us to help our bodies feel better. Becoming bogged down in calorie counts and not allowing room for error within diets can lead to even more stress, which is important to recognize. 
When attempting to use food as a tool to reduce stress and fuel your mind, it is important to remain positive toward progress, even if it is imperfect. Averill advised people not to think negatively about themselves based on the food they eat.
"The minute it doesn't have a positive component, let it go," Averill said.
Reach writer McKenna Zacher at wellness@dailyuw.com Twitter: @mckennazacher
Like what you're reading? Support high-quality student journalism by donating here.