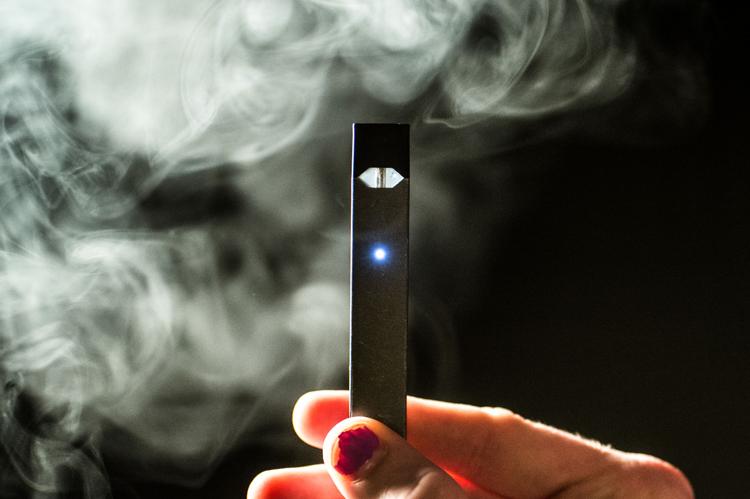 In recent months, vape-related illnesses have begun to dominate headlines, even though the products linked to these illnesses have been on the market for over a decade now.
According to the Centers for Disease Control and Prevention, as of Oct. 1, 2019, 1,080 lung injuries and 18 deaths have been attributed to vaping in the United States, all reported within the past 10 months. 
At this point, there is no conclusive information regarding the time it takes for these illnesses to develop; research into the topic was scant prior to this recent spike of vape-related illnesses.
The sudden rise in such illnesses has naturally led many to question their vaping habits and whether they should continue huffing on chemicals or just enjoy regular air.
"This huge spike in vape-related lung diseases is extremely concerning," Dr. Coralynn Sack, a professor and pulmonologist, said. "It may be a prequel of other health problems that we don't know about."
Though the cause of the recent rise of illnesses is largely unknown, carcinogens have indeed been found in electronic cigarette juices.
"There are a lot of potential ways that the lungs can be damaged, through different combinations of chemicals, additives, contaminants, and so on," Dr. Jeff Duchin, professor of epidemiology and health officer at Seattle and King County Public Health, said.
"Right now, the thing that is at the top of the suspicion list is THC cartridges and the chemicals in them," Duchin said.
The Washington State Board of Health announced a ban on all flavored vape products Oct. 9, including some THC products. 
"In the vitamin E (found in THC cartridges) case, that's a form of lipid, or fat," Sack said. "It's very small particles so they can go throughout the airways and reach the breathing sacs, called alveoli, and there they might precipitate an inflammatory reaction, which causes a pneumonia response called lipoid pneumonia." 
Although there have been studies linking vitamin E acetate in THC cartridges to lung injuries, not all cases of vape-related lung injuries can be directly tied to the use of these products.
"Nothing has pointed to a single cause or a single agent that has been used … but there's definitely adverse health consequences that come from vaping since there are many unknown chemicals in it," Sack said.
Okay, at this point I should come clean. I do vape frequently myself — even as I'm writing this article. I've tried quitting, but I have since gone right back to sucking nicotine and other unknown chemicals into my lungs.
Naturally, I was curious about how the chemicals in vape devices would impact the brain.
"[Nicotine] is highly addictive," Dr. Susan Collins, UW professor at the department of psychiatry and behavioral sciences. "It's one of the most addictive substances we have, on par with opioids like heroin." 
Of course, this sounds scary, but Collins later stated that nicotine itself is relatively harmless; rather, it's the mode of delivery that causes problems. 
"The thing that most people don't know is that in it of itself, beside its addictive properties, nicotine is relatively harmless, kind of like a hopped-up caffeine," Collins said. "It doesn't actually hurt you in it of itself." 
That being said, Collins referred to the many chemical substances found in vaping that can cause issues, so this is not a green light to keep vaping, especially as young, college-aged adults who still have developing brains. 
"Nicotine is such a complex drug that it can change the neural chemical pathways in the brain and make it hard to reverse them — for example, with attention or executive function control," Collins said.
But there is a way to stop this: getting rid of the nicotine addiction itself.
Hall Health Center offers help for UW students, employees, and patients who are looking to quit using nicotine products through their program Tobacco Talk.
"Come in, sit down, and talk about why you're the way you are, and then come up with a game plan by setting up a quit date," Patricia Atwater, director of Hall Health, said. 
Through Tobacco Talk, Hall Health offers one-on-one support, as well as free nicotine replacement therapy products, like patches, gum, or lozenges.
"It's not something you can just walk into," Atwater said. "For people who have never smoked or vaped, they're just like, 'Oh, why don't you just quit today?' It's not that easy." 
After I told Atwater that I myself was an avid user of nicotine and did try to quit, she had kind words to offer to me.
"Wherever you are with your e-cigarette use, we want a place for you," Atwater said. "I want to talk to you and find out how you're doing. The most important thing is that you're doing okay."
Reach reporter Timothy Phung at wellness@dailyuw.com. Twitter: @TimPhung
Like what you're reading? Support high-quality student journalism by donating here.