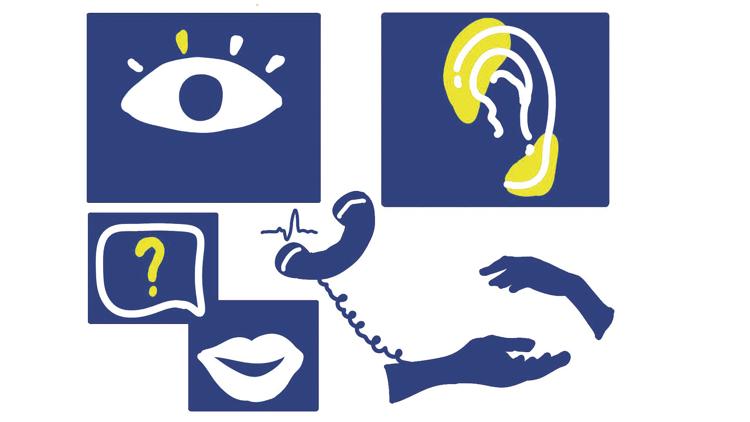 As someone who has experienced suicidal ideation, one of my fears is being in a situation where a loved one is at risk of hurting themselves and not trusting myself to effectively intervene, afraid that I might project my past thoughts onto them.
Suicide remains the second leading cause of death for people aged 15–34 in the United States, according to the Centers for Disease Control and Prevention's 2018 mortality report.
By increasing individual awareness of this issue, anyone can play a role in suicide prevention. Learning intervention methods, such as Forefront Suicide Prevention's LEARN® training model, can empower individuals to help others move in the direction of hope, recovery, and survival. 
LEARN® emphasizes five steps to save lives: look for signs, empathize and listen, ask about suicide, remove the danger, and proceed to next steps.
"The number one reason people don't want to ask about [suicide] is they're afraid they're going to harm someone," Christopher R. DeCou, assistant director for training at Harborview Injury Prevention & Research Center, said.
Although it's not unreasonable to wonder if asking someone about suicide could plant the idea where it otherwise would not have occurred, there is no evidence that you increase someone's thoughts of suicide by asking them about it. Instead, evidence suggests that you can actually decrease indicators of distress by asking directly.
Take 5 to Save Lives offers examples of phrases that can help start the conversation, along with direct questions to ask someone who may be at risk.
"When you ask a direct question about a sensitive topic, people often feel like they finally have permission to say this important thing that they've been thinking about a lot," DeCou said. "It may be distressing to be asked a sensitive or personal question, but it could also be really distressing to not be asked."
What makes LEARN® uniquely helpful is its emphasis on having an empathic style, said DeCou.
"You take someone who often is feeling isolated and disconnected from life, and you're giving permission to them to tell that secret they can't tell anyone," DeCou said. "That engenders connection to someone else and connection back to life."
People do notice what you ask, but they also notice what you do not ask, and that can really perpetuate shame and stigma.
A lot of people might not tell their treatment provider about suicidal ideation (SI) out of fear of being hospitalized or judged, said Kevin S. Kuehn, the principal investigator in Project ARISE, a study aimed at better understanding SI and self-injurious behaviors (SIB).
Keuhn's study administers questionnaires over smartphones to more reliably predict when youth are most at risk for suicide and accordingly tailor treatments aimed at prevention. 
Although technological suicide interventions are still in their infancy, they could be a potential way of reaching individuals at imminent risk who may not otherwise have access to or reach out for help. 
One way passive data monitoring could be useful in addressing barriers to accessing mental health care resources, Kuehn said, is by directing someone experiencing SI or SIB to websites such as NowMattersNow.org, which has been found to reduce the intensity of negative emotions.
There is no empirically supported method to predict someone's ultimate risk for suicide, according to DeCou, but there's a lot of hopefulness in understanding that if suicide is not an impulsive act — if it does unfold over time — there are many opportunities to intervene.
"A caring friend or family member is one of the most powerful tools for preventing suicide," DeCou said. "We know that if we send … an unconditional message of care and concern, and things as simple as 'hope things are going well for you,' 'sending good thoughts your way' … can reduce [one's] risk of dying by suicide or attempting suicide again in the future." 
Another component of LEARN® is means safety, which involves limiting access to potentially lethal methods. You can't get rid of every dangerous thing, but if you increase the amount of time or distance it takes for someone to access lethal means, you can create enough time for that suicide risk to peak and come back down, which could save someone's life. 
After removing the danger, the model recommends calling the National Suicide Prevention Lifeline, ideally along with the person at risk.
In response to the increasing rates of death by suicide, the National Suicide Hotline Designation Act of 2019, a bipartisan bill that would require the Federal Communications Commission to designate 9–8–8 as the universal telephone number for national suicide prevention and mental health crises in the United States, was introduced last year.
The FCC reports that the use of a dedicated three digit dialing code would likely make it easier to access potentially life-saving resources.
If we can engage a person at risk even for a modest period of time, even for 10 or 12 minutes, that's going to help a lot of people, DeCou said.
"For suicidal behavior, it's not about tying people down or locking people up, to keep them safe; it's about engaging people in a human interaction, in a meaningful moment of connection," DeCou said. "Those are the things that hold people to life and save people."
To get immediate help or to find a qualified counselor, the National Suicide Prevention Lifeline toll-free number, 1-800-273-TALK(8255) connects the caller to a certified crisis center near them. Resources for survivors of suicide loss can be found on the Lifeline website.
Information on "How to call a suicide hotline" can be found here.
Reach writer Ragini Gupta at wellness@dailyuw.com. Twitter: @RaginiGupta__
Like what you're reading? Support high-quality student journalism by donating here.