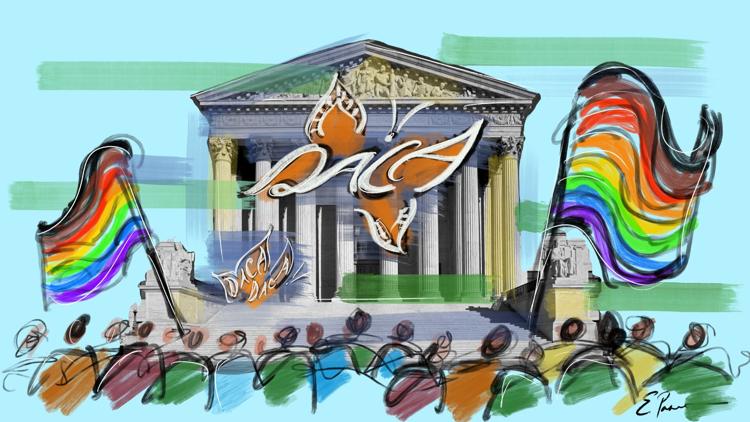 Two noteworthy civil rights decisions from the Supreme Court of the United States (SCOTUS) came out in the past month: one in support of undocumented immigrants, and one in support of the LGBTQIA+ community. Although the United States has made many groups feel like they do not belong here, these decisions are encouraging, and the UW has also made many efforts in countering these messages.  
In a June 15 decision, SCOTUS ruled against employment discrimination based on gender identity and sexual orientation, broadening the definition of the 1964 Civil Rights Act which prohibits workplace inequities based on race, religion, color, national origin, and sex. The Trump administration had sided with employers in three cases before the court.
The UW is ranked second on Campus Pride's 2020 list of "The Best Colleges for LGBTQ+ Students."
The UW scored five out of five on the Campus Pride Index, which is a measure of an institution's commitment to LGBTQ-inclusive policy, programs, and practice and has been tested thoroughly since 2001 by many national organizations and professionals in higher education.
The UW also provides a variety of resources for this community, including the primarily student-run Q Center, which welcomes students, staff, faculty, and alumni into a safe space and also offers student support groups, regular events, a lending library, and a blog.
A few days after the LGBTQIA+ ruling, the SCOTUS also rejected the Trump administration's attempt to end the Deferred Action for Childhood Arrivals (DACA) program — which has allowed 700,000 undocumented immigrants to live and work here without the fear of deportation — citing a paperwork error.
This constant fluctuation is often a huge source of stress and anxiety for those affected by these policies. Hugo Garcia Villa is the coordinator of the UW's Leadership Without Borders (LWB), the only resource center for undocumented students in the state. He was recently granted citizenship and said that not having documents felt like an emotional rollercoaster. The uncertainty of not knowing what is going to happen takes a toll on your mental health, he said. 
Although immigration experts agree that Trump won't have time to terminate DACA before January, the fight for undocumented residents is far from over. Violating the SCOTUS decision, the Trump administration is still not accepting new DACA applicants — only renewals. 
Despite inaction at the governmental level, Garcia Villa has seen a lot of action on the ground as communities come together to support each other. 
After the Trump administration announced its decision, Garcia Villa and his colleagues from several groups in the area — among them the Northwest Immigrant Rights Project and OneAmerica — mobilized in preparation for the SCOTUS ruling and made decisions on how to best support students. 
Across the state, many immigrants in undocumented communities work in agricultural fields, where employers often don't provide enough protective equipment. Workers often have to make the choice between going to work and risking their health, or staying at home and struggling financially. These communities are often ineligible for unemployment benefits or cannot get health insurance to cover coronavirus testing. Many undocumented families did not qualify for the government relief package that so many Americans received earlier this year.
In Washington state, a relief fund for non-citizens, contributed by advocates and nonprofit organizations, raised over 1 million dollars and helped over 600 families.
The UW is leading the way in the support that it gives students, according to Garcia Villa.
"When we say we're here, we support you, we see you, UW is genuinely doing that," he said. Support is coming through President Ana Mari Cauce's commitment to undocumented students, as well as the educational, financial, and emotional support LWB provides.  
Washington is one of the friendlier states to non-citizens, Garcia Villa said. WASFA provides state financial aid for undocumented students, despite the fact that no funds are given at the national level, and the 2003 House Bill 1079 allows non-citizens to pay in-state tuition at state colleges and universities.
Garcia Villa aims to counter the misconception that undocumented students don't contribute anything to society and mooch off of the government. On the contrary, DACA recipients pay $60 billion in taxes yearly.
He also emphasized that we have to make sure to include all undocumented communities and identities in our conversations, taking intersectionality into account. This includes Black, Asian Pacific, queer, and disabled undocumented folks. 
There are over 600,000 Black people that are undocumented and they are at a disproportionately higher risk for deportation, but their data often gets overlooked, according to Garcia Villa.
An ally should inform themselves of the laws and policies that create barriers for students without documents. Documented citizens can help the cause by educating others, donating to relief funds, or volunteering to distribute relief funds. Allies should understand non-citizens' experiences and amplify their voices, which could mean providing access to scholarships or internships. Inclusivity is key — for example, it's imperative to use "undocumented" instead of the xenophobic term "illegal." 
The Undocu Ally training that LWB provides is a great resource for staff and faculty to understand how to best support undocumented students. 
Reach writer Tiasha Datta at wellness@dailyuw.com. Twitter: @TiashaDatta2
Like what you're reading? Support high-quality student journalism by donating here.