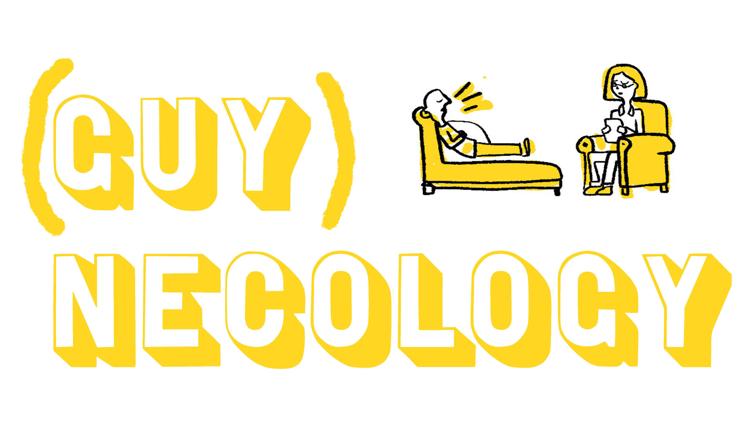 Editor's Note: This article is the third in a three-part series within Thelonious Goerz's weekly (Guy)necology column focusing on incels, their unique threat to women, and the mental health effects on the members of the hate groups. The first article can be found here and the second article here.
Incels take both unrealistic beauty standards and internet hate to the extreme. This, in turn, has a corrosive and dangerous effect on their mental health.
For the final installment of this series, I want to discuss incel mental health, specifically, the way that the incel worldview is a threat to the men that believe it.
In a recent article in The Cut by Alice Hines, she examines the phenomenon of incel plastic surgery. Throughout the article, she catalogs the various journeys of men who seek reconstructive facial surgery to look more like Chad males.
In the article, these stories point to a troubling trend in incels: paying hundreds of thousands of dollars for expensive cosmetic procedures. These motivations seem to be in the pursuit of looking better, however, Hines points out that there is actually a nuance to plastic surgery.
Natalie Wynn of Contrapoints, a YouTube channel devoted to researching and explaining bigotry and transphobia, likens the incel's need for plastic surgery to her own desire to pass as cisgender. On one hand, there is something to be said for the very real human desire to look better.
Living in a society that is so obsessed with looks does not make that easier. But there is a troubling narrative that emerges when incels blame their problems on women and use plastic surgery as a way to counteract that self-perceived inadequacy.
Furthermore, internalizing beauty standards has been shown to increase depression in women, both impacting their physical and mental health. According to a study by researchers at Princeton, Saint Joseph's, and the University of Delaware, children have the same amounts of depression or lack thereof until around 12 years of age, when female children start to see an increase.
However, when we consider these men and their actions it seems quite abnormal and extremely charged compared to women's struggles with beauty standards. Most of the time, women do not turn to violent reaction and retaliation toward men. I think that these actions are the product of male entitlement. Incels are in a more precarious state of mental well-being.
Wynn cites in her analysis that incels, much like trans people, frequently post on forums and subreddits asking to be rated and/or critiqued by other members. For example, Wynn cites her own experience and her increasing deteriorating mental health at that time as being related to a need to be demeaned online, which she calls digital self-harm.
This need for online abuse is not a sign of secure mental health, especially considering that American men exhibit high rates of suicide and poor mental health.
On top of that, there is an extremely troubling trend of dangerous comments posted on incels' forums which are not signs of stable mental health.
An article by We Hunted the Mammoth, a website dedicated to tracking online misogyny, showed that incels celebrated the Las Vegas mass shooting where Stephen Paddock killed over 50 people and injured over 500. Comments about this were vile and were justified by the incels as being worthy of ridicule because "incels will never experience that [a normal life]."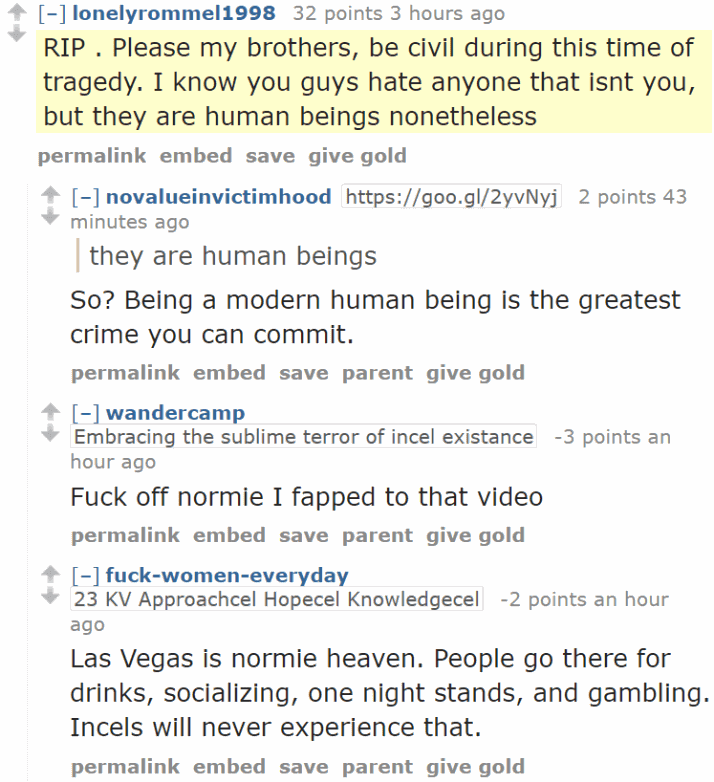 Similarly, Alek Minassian, who killed 10 people in Toronto, has been hailed as an incel after a video surfaced on Facebook praising Elliot Rodger, who killed six people in Isla Vista, California, according to an article in BBC.
The most troubling and sickening material to see is the comments on a Reddit post where one redditor, u/Wandercamp, says that he masturbated to the mass shootings by Paddock.
These types of gross displays of anger and hate seem to be the most vile and least exemplary of stable mental health.
What needs to happen is an increase in awareness of what incels are: a hate group. While many incels hide behind their perceived legitimacy and understanding of a pseudo-social order, in actuality they are entitled men who cannot escape the manosphere.
Incels clearly have an unexamined perspective, the opposite of which is not a political stance but, rather, self-love, reflection, respect for themselves, and eventually, others. Often anger and hatred are masking deeper emotions. For incels, that is deep insecurity.
Reach columnist Thelonious Goerz at wellness@dailyuw.com. Twitter: @TheloniousGoerz
Like what you're reading? Support high-quality student journalism by donating here.