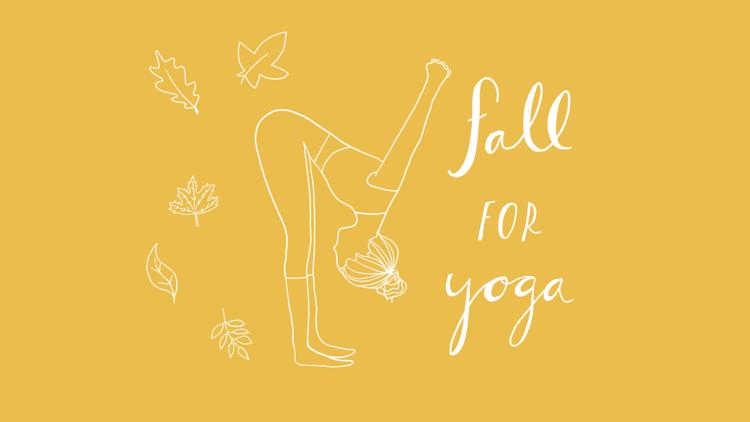 The Whole U, a wellness-focused organization on campus, is celebrating the seventh annual Yoga Month this October with a month's worth of free yoga classes and related programming.
October being Yoga Month is fitting, especially for students. A new school year has started, the common cold is rampant, and seasonal depression is looming. With all that stress on top of tension from hunching over our laptops again, yoga starts looking better and better. 
When I sat in on a yoga class last week, the soft music and popping of joints were occasionally disrupted by the distant sound of dribbling basketballs, but the sense of calm prevailed in the top-floor yoga studio at the Intramural Activities (IMA) Building. The view from the two walls of windows was relaxing enough without the quiet narration and deep stretches: water and mountains in front of me, a wall of trees to my left. 
While growing in popularity, some aspects of yoga can still be confusing. 
"There's a misconception that yoga isn't strength building," Danny Arguetty, mindfulness manager at the IMA, said. "You're using a lot of bodyweight so there's a lot of strength building, particularly around the core." 
Yoga is a unique exercise practice because it also focuses on breathing and awareness. Think of the guided stretches you would do before sports practice or after a Zumba class. Now imagine that for an hour, with meditation mixed in — that's yoga. 
Hatha flow is a style of yoga that moves at a slower pace, which means participants hold poses for several seconds or minutes. Holding these poses is what leads to "heat building," referred to outside of yoga circles as sweating or exertion. Other styles of yoga, like vinyasa, create heat building by moving through more poses faster. 
Flow yoga is a good place for beginners to start, as the poses are relatively basic and easy to try — no sticking your feet in the air or pretzel-folding your limbs. 
Most yoga classes will start and end with deep breathing exercises while the body is relaxed. These moments are designed like meditation and allow students moments to relax and connect with their bodies. 
"It's nice to find a peaceful moment during the week," student Glenys Echávarri said. "It makes me think about my body and how I use it, and just be more mindful of it." 
Echávarri is enrolled in a twice-weekly yoga class at the IMA for the coming quarter. IMA classes are not included in a Class Pass but can be registered for here. 
Before this breathing moment, before class even started, instructor Sami Davies went around to each student and asked about any injuries or tightness that she should know about. This is something Arguetty expects from his staff so that students with disabilities who do not use wheelchairs can participate in yoga. 
For students who use wheelchairs, there is something called wheelchair yoga. The practice has yet to gain traction at the UW, but Arguetty invites anyone interested to email recmind@uw.edu. He hopes that with enough interest, wheelchair yoga could be added to the IMA's already impressive list of mindfulness workshop options for students, like Healing for Disordered Eating, which includes yoga, journaling, and group sharing.
Despite the fall season commonly representing "death" in the yearly cycle, Davies brings the aspect of beginnings to her yoga class. 
"We can always find something new, even in something we've done a million times before," Davies said while explaining "beginner's mind" (a yoga term for the feelings around starting something new) to her class. This is an interesting lesson that students can take well beyond the yoga mat.
Reach writer Miranda Milton at wellness@dailyuw.com. Twitter: @mirandamilton99 
Like what you're reading? Support high-quality journalism by donating here.