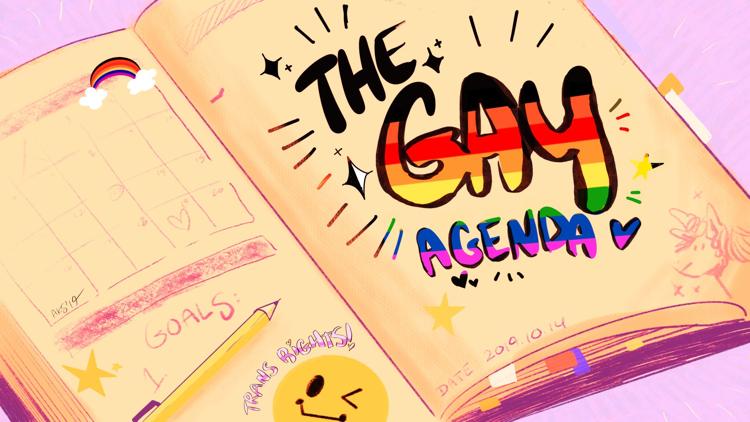 Editor's note: The Gay Agenda is a column about LGBTQ experiences and issues. 
A recent UW study found that LGBTQ Washingtonians have "poorer mental health" than their straight/cisgender counterparts. The study is the first of its kind and has been called groundbreaking.
LGBTQ students at the UW were not surprised by the study's findings. 
"It's obvious," Josue Betancourth, a gay sophomore man, said. 
Betancourth is in the Delta Lambda Phi fraternity: "UW's only fraternity created by gay men, for all men." He guessed that around half of his fraternity members have a mental illness, something he said wasn't prevalent among his straight friends. 
Last year, Betancourth visited the Counseling Center and was diagnosed with an anxiety disorder. He tried medication for a while but now visits a therapist once a week. 
"There's not a perfect solution for everyone," Betancourth said. "But my solution was through therapy and that's definitely helped me a lot."
Therapy was a hard-won solution for Betancourth and his partner. Betancourth came to the UW from out-of-state and from a family that did not support him in the ways he wanted. As a freshman, he felt overwhelmed and had suicidal thoughts. 
Betancourth's partner was the one to go looking for help and directed Betancourth toward the Counseling Center. 
"I owe [the Counseling Center] most of the credit," Betancourth said. The Counseling Center gave him a diagnosis and resources and eventually helped him find a therapist. 
A gay trans man who wished to stay anonymous finds comfort and relief from mental health issues by being surrounded by people like himself. He visits a gender group discussion hosted by the Q Center.
"It's a very secure space to consult with other people on your experience," he said. "It's also a great way to meet other not-quite-cis people." 
Navigating the world, especially health care, as a trans person can be uncomfortable. He reported having a negative experience with Hall Health when trying to get physical therapy. 
"I actually ended up avoiding medical care for about nine months," he said. 
He was also unaware of the UW's options for his health care. After a year of using public transportation to get to Renton for his testosterone check-ups, he discovered that the UW has a trans health care specialist at Hall Health.
"That's one of the things that took me a lot of digging to find," he said, speaking of Dr. Britt Murphy, Hall Health's trans healthcare point provider.
A bisexual sophomore who is not out to her parents and waited until coming to college to see someone about her anxiety. She'd had anxiety for five years but never brought it up because she felt uncomfortable telling her parents about it.
Like Betancourth, she sees a disproportionate amount of anxiety and depression in her LGBTQ friends that she does not see in her straight/cisgender friends. Despite noticing this disparity and being diagnosed with Generalized Anxiety Disorder, she was unaware of UW resources outside of Hall Health, like the Q Center. 
Betancourth also struggled to find resources after being overwhelmed by all the options given to him in his first year. Betancourth wants the UW to target its advertising instead of sending "a flood of information across the entire freshman class."  
"If I was told about the counseling center and told about LGBT resources here on campus, I think I would have avoided a lot of the train wreck that happened," Betancourth said. 
A survey supplementing the research suggested that social activities and community programs act as "buffers against bias and isolation." The UW offers several resources to facilitate this, most at the home of gay/trans dawgs — the Q Center. 
Reach columnist Miranda Milton at wellness@dailyuw.com. Twitter: @mirandamilton99 
Like what you're reading? Support high-quality student journalism by donating here.