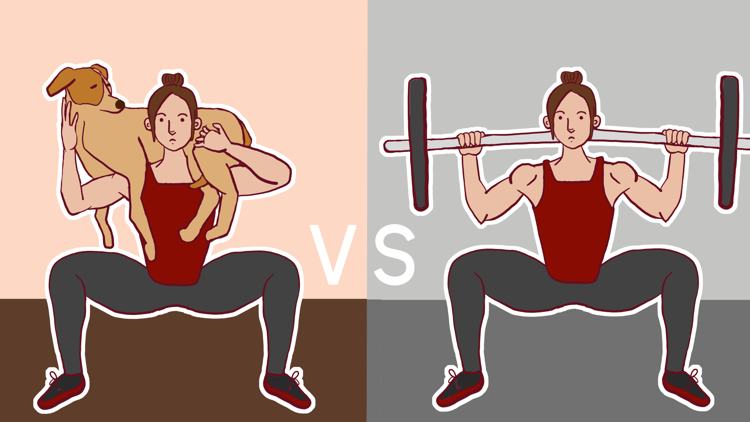 While I never thought I'd be missing the sweaty stench of the IMA, the last month without it has been bleak. In stressful times such as these, I would usually turn to exercise as a way to cope and engage in self-care. With the closure of fitness centers, this has not been possible. 
Now, Gov. Jay Inslee's "Stay Home, Stay Healthy" order is extended to May 4, leaving us to venture into different realms of exercise than we may be used to. 
UW recreation fitness manager Jeff Palmer has begun leading free, online classes open to everyone, especially those who are missing IMA classes. Beyond these, however, Palmer has several recommendations for those who are trying to get creative about their fitness routines.
Without equipment, strength training exercises, such as lifting weights, are unavailable to most while at home. While these workouts cannot necessarily be replicated at home, Palmer advises those used to weight training to use this time to experiment with new exercises. 
"This may be a good time to take a break from your lifting program and work into other aspects that may be missing," Palmer said. "For example, if your goal is to put on muscle mass, you may want to use this time to revamp your programming and look into building muscular endurance, building out your cardio, or becoming more flexible."
Yoga is a great way to build strength and flexibility while incorporating mindfulness into the day. In addition to Palmer's classes, The Whole U is also offering yoga and meditation classes, led by Danny Arguetty, that cater to beginners as well as those with more experience. Beyond these, YouTube offers a variety of home practices to follow.
The "Stay Home, Stay Healthy" mandate still allows us to be outside, making it a great time to incorporate the outdoors into our daily lives. While popular hiking trails are off-limits, running or walking is one way to get active and out of the house while still following social distancing recommendations. 
During this high-stress time, it can be hard to find the motivation to get out of bed and workout. To combat these feelings, Palmer recommends creating and sticking to a routine. 
"Many people need structure during these times," Palmer said. "When we work out in a busy gym, we are oftentimes motivated by watching our peers perform around us. In a quarantine, we lose that. Structure is what is really needed to keep you motivated."
A quick YouTube search can offer hundreds of different bodyweight workouts that one can follow, some even tailored to having little space to utilize. Apps such as Volt or Nike Run Club can help you stick to a program as well. Palmer suggests even doing a workout with friends over Zoom. 
"Having someone or something to check in with makes a drastic impact on motivation," Palmer said. 
Remaining active is important for your physical wellbeing, of course, but it also impacts your mental wellbeing. Building in the time for exercise is an important form of self-care that can be an excellent way to cope with stress. 
"Staying healthy and well during these trying times really helps build mental fortitude," Palmer said. "The current situation with COVID-19 is completely out of our control, but you know what you can control? Your own wellbeing. Stay active, learn something new, and be proud of yourself."
Reach writer McKenna Zacher at wellness@dailyuw.com Twitter: @mckennazacher
Like what you're reading? Support high-quality student journalism by donating here.