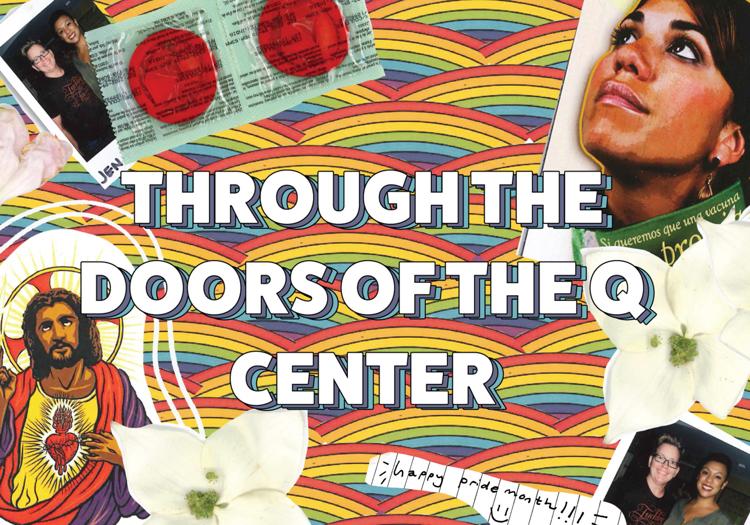 Writer's Note: While The Daily recognizes that the LGBTQIA+ community goes beyond the first four letters of the acronym, there are points in this article where the acronym is shortened and rearranged to reflect the language of the time.
Nestled up on the third floor of the HUB is a room adorned with Black Lives Matter posters, fliers for QTPOC+ support groups, and other messages of inclusivity. Generations of students have walked in and out of the doors of the Q Center for the last 15 years, finding refuge within its walls for however long they need it.
According to its website, "The Q Center is the professionally-supported resource, advocacy, and mentoring center for queer students and concerns at the University of Washington." If it has to do with gender or sexuality in some way, shape, or form, chances are the Q's been involved.
The Q Center operates as a hub for activism and advocacy in many different shapes and sizes. Since its beginnings, the Q Center has pursued avenues for activism and been consulted on topics involving the queer community in education, policy work, and research.
"Gender and racial justice is at the core of everything we do," Q Center director Dr. Jen Self (they/them) said. "So we think of ourselves as a justice center first, and we enter the conversation of justice through the lens of sexuality and gender."
The Q Center further offers advisers that specialize in navigating systems of power that have contributed to the historical marginalization of the queer community. It further emphasizes art as community organizing and cultural healing, partnering with local Seattle artists and on-campus groups like the Ethnic Cultural Center (ECC) to teach students the process of taking something from their own lives and putting it out into the world, creating safe and supportive environments for students to explore their identities through events like Lavish, a QTPOC+ arts showcase in May.
It's exactly the kind of place you'd expect to find in Seattle. But it's also one that took years of arduous struggle and planning to get where it is today.
History
It started with a letter.
The year was 1999, the tail-end of a decade that marked a turning point for LGBT civil rights in the eyes of Ryan Biava (he/him). After the Clinton administration passed the Defense of Marriage Act, Biava, a political science major, spent much of his undergraduate tenure campaigning with fellow UW student activists to extend to queer couples and domestic partners the same access to facilities, housing, and health insurance granted to hetero-married couples.
The concern at the time was that if the support from the student government went away, there would no longer be any institutional support for the UW's queer community. About a year prior to being elected ASUW president for 1999-2000, Biava had worked with the ASUW, the Graduate & Professional Student Senate, and then-UW President Richard McCormick to appoint a committee to address the concerns of the LGBTQIA+ community.
In a letter to President McCormick, Biava, along with three other student government officials, expressed the need for the UW to provide more institutionally-supported safe spaces for queer students, citing the nationally intolerant political climate surrounding LGBT issues, the dearth of on-campus resources, and bias-motivated incidents on-campus.
The Gay, Bisexual, Lesbian, and Transgender (GBLT) Task Force was formed in June of 1999 as President McCormick's response to the letter sent by Biava and his compatriots. This task force conducted surveys, held open forums at the UW's three campuses, and conducted comprehensive reviews, all to provide students an opportunity to voice their thoughts on issues affecting the queer community. After about 20 months of research and deliberation, the task force published a 61-page report of their findings in February of 2001.
In addition to implementing a presidential advisory committee on LGBT issues, devising a queer studies curriculum, granting same-sex domestic partners the same benefits as heterosexual married couples, and expanding on-campus discourse and training concerning diversity to include LGBT issues, the task force most significantly recommended the establishment of a resource center for queer students. In 2004, three years later, staff was officially hired for the UW Queer Center.
The letter, and Biava's role in writing it, is regularly cited by members of the Q Center's staff and on its website as being the spark that eventually led to the Q Center finally opening its doors in 2005. But ask Biava, now an affiliate professor at the iSchool, about that story, and he'll describe his role as fairly minimal, deferring instead to activist and GBLT Task Force Chairman Phil Bereano, who's now professor emeritus in the field of technology and public policy at the UW.
"None of that was really predictable in the beginning," Biava said.
The ever-changing vision of the Q Center
Originally from the Bay Area, Q Center director Self completed their undergraduate degree at Berkeley in the late-'80s and early-'90s before coming to the UW for graduate school. In 2004, they were hired as the founding director of the Q Center, then based in Schmitz Hall.
By nature of its Seattle locale, the UW was already a school that attracted a significant population of queer and trans students from all over the United States. In a country where transgender civil rights are increasingly being encroached, Washington state has emerged as comparatively more gender-affirming in its legislation and political climate.
"It may not have anything to do with the program that they're looking at at the University of Washington, it really has to do with, 'I'm queer, I'm trans, and I can be OK at that university,'" Self said.
Despite Seattle's reputation as a relatively inclusive city, though, Self noted a shift in the wake of the 2016 election. The need for insular spaces heightened considerably, not so much because the election was surprising, but more that the arc of progress shifted so suddenly.
Still, Self finds hope in some of these shifts. Where once flipping through channels on TV was like watching rabbits in a snowstorm (a whole lotta white), the advent of digital platforms have allowed black and brown artists such as Issa Rae and Ramy Youssef to center their own narratives in media and push back against the idea that only white people can have "normal" lives. It's the kind of space Self hopes to create at the Q Center.
"We work to center the experiences of people who are historically and contemporarily marginalized within dominant culture and also within queer culture, knowing that if we do that, we'll do a better job of serving everybody," Self said.
Jaimée Marsh (she/her/they/them) is the second person to be hired on as a professional staff member at the Q Center. Marsh grew up in Spokane, the child of a Black, white, and Native working-class family. A lack of teachers of color, along with things like getting pulled out of class by teachers to be told she was ruining her life by being gay, made Spokane a generally unsupportive environment when she was growing up.
"I felt like I learned a lot more about what my limitations were, 'cause a lot of that was imposed on me through socialization about things that people who are perceived as women don't do, things that people of color don't do," Marsh said.
Marsh was already out by the time she came to the UW almost 15 years ago. When the Q Center first opened its doors in 2005, she was among the first crop of students to walk through.
The Q Center was somewhere Marsh was able to develop skills and tools she could use to navigate her education as a first-generation college student. More than that, though, Marsh found a community, working as a student staff member and frequently seeking counsel from the advisers and friends who were there with her within its walls.
"It was my home away from home, along with the Ethnic Cultural Center," Marsh said.
As all students must, though, there came a time when Marsh had to leave behind the space she made for herself at the Q Center. Graduating from the UW with a bachelor's degree in social welfare, Marsh pursued a masters in social work at the University of Michigan and then spent the next few years traveling the world — teaching in Egypt, living in South Africa, running student affairs back in Michigan, and youth-organizing in the Bay Area.
Marsh realized that she did her best work when she felt a personal passion and love for something. So when the assistant director position opened up at the Q Center five years ago — the second professional staff position ever — Marsh had the rare feeling of knowing exactly what she had to do next.
"I was like, 'Who else has the institutional knowledge for the last 10 years of this place, has been there and connected since the day it opened, who's also currently working in student affairs?'" she said. "Like, I'm pretty sure I'm the only person that fits that bill."
To both directors, the Q Center represents a vibrancy alive in a space that allows their students to express and exist as they truly are. The power systems may continue their oppressive ways, but what has been born and is continuously being born at the Q Center is resistance through community, healing, and collective self-expression.
"It's not the Obama hope. I don't have that kind of hope," Self said. "I don't have hope in that system at all. I have hope in people who are willing to tell their narratives and to tell their stories and push against this shitty system that's never worked for most of the people that live in this country."
Reach Co-Development Editor Shahbaz Ahmed Khan and Managing Editor Mira Petrillo at wellness@dailyuw.com. Twitter: @JadeMoonSpeaks & @mira_petrillo
Like what you're reading? Support high-quality student journalism by donating here.