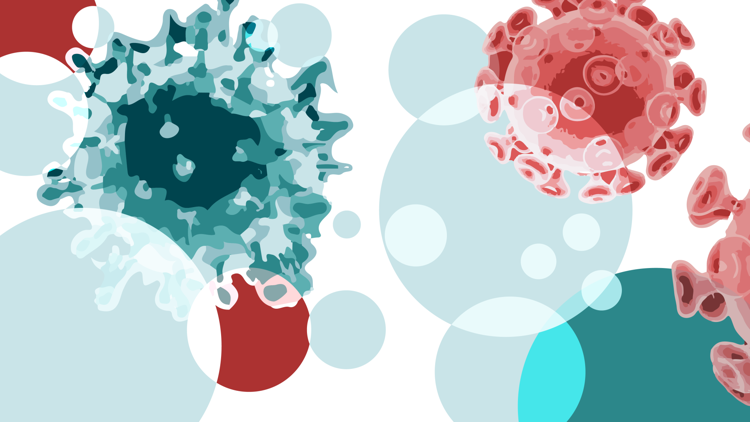 Herpes often bears the brunt of STI jokes.
Sometimes referred to as "the gift that keeps on giving," or "the only thing that doesn't stay in Vegas," the herpes virus gets a good amount of publicity. But in all seriousness, it's time that we better understand this virus.
Herpes is a lot more common than you might think. According to the World Health Organization, more than two-thirds of the world's under-50 population is estimated to be infected with the more prevalent of two herpes viruses.
Herpes can be caused by one of two types of the human herpes simplex virus: herpes simplex type 1 (HSV-1) or herpes simplex type 2 (HSV-2). HSV-1 most commonly causes blisters around the mouth, including what we all know as "cold sores." HSV-2, on the other hand, is usually associated with genital sores or lesions.
While each virus has its infectious preference, both types can affect either area, and are becoming increasingly related to one another.
A new study by the UW School of Medicine published in the Journal of Infectious Diseases reveals a blurring line between the two types of human herpes simplex virus.
Researchers found that HSV-1 and HSV-2 are recombining, forming new versions of the herpes virus. This may have negative implications for the development of an HSV vaccine if the live HSV-2 vaccine recombines with already circulating HSV-1 strains.
"The reason that these viruses can recombine is that they are so similar," Amanda Casto, a researcher in the study and senior fellow in the Division of the Infectious Diseases at the UW School of Medicine, said.
These new findings add a layer of complexity to our discussion about herpes and whether or not your cold sore is something to be worried about.
The best way to advocate for your own sexual health is to get STI tested. Whether you have symptoms or not, it is important that you get tested after every sexual partner. Herpes can be spread asymptomatically, meaning it's contagious even when there are no visible symptoms.
Even so, many college students choose to forgo STI testing as a result of the stigma associated with such infections. However, when it comes to herpes, the shame that comes with the virus is often more damaging than the physical consequences.
"[Herpes] is limited in its implications," Patricia Atwater, director of health promotion at Hall Health, said. "We attach so much stigma to what is really just a virus. We need to process [this stigma] socially, individually, and in our relationships to understand its ramifications on our self-esteem and how we live our lives."
According to Atwater, one of the best ways university students can protect themselves from herpes and other STIs is to have more open, honest conversations with their sexual partners as well as their physicians.
While these conversations may be difficult, they are certainly worthwhile.
If you or your partner have already been diagnosed with herpes, Atwater suggests taking an antiviral suppressant medication. This may decrease viral shedding by 50%, halving your chances of transmission. Secondly, she suggests using a barrier method.
"In general, it is a good idea to use a barrier method when having sex, no matter what kind of sex you may be having," Atwater said. "That could look like using condoms, dental dams, or finger cots."
Taking preventative measures to protect yourself from herpes is important. Once you have it, the virus lives in your system forever, showing symptoms intermittently. However, if you have already been diagnosed with herpes, it doesn't have to stop you from having a healthy sex life.
"There is no reason why someone [diagnosed with herpes] couldn't lead a very happy, healthy sex life that is enjoyable for them or their partner(s)," Atwater expressed.
Finally, Atwater encourages students to take care of their overall physical and mental health. When you take care of your body, your immune system is stronger, and you may be less likely to contract herpes. This could look like practicing good sleep hygiene, eating often and well, keeping your stress levels down, and other self-care measures.
At the end of the day, herpes isn't fun, but it's also not the end of the world.
Reach contributing writer Katie Pattenaude at development@dailyuw.com. Twitter: @KatiePattenaude
Like what you're reading? Support high-quality student journalism by donating here.