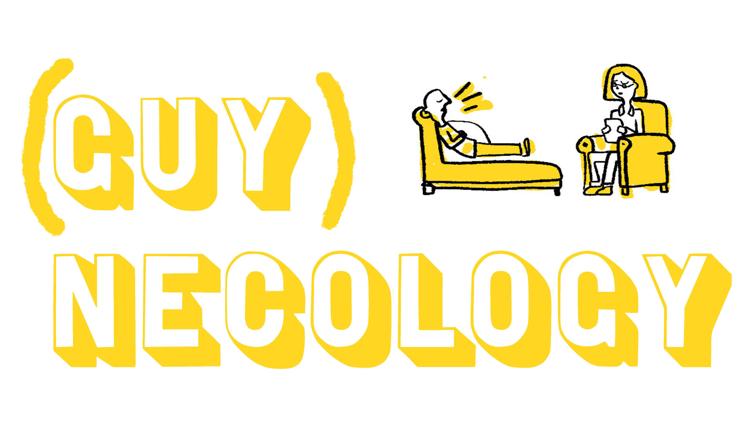 Editor's note: (Guy)necology is a men's health column.
As I have talked about before on (Guy)necology, redefining masculinity on a personal level is a difficult task, especially in regard to larger societal views. When it comes to dating, parsing out what and how to feel in constantly changing situations can at best be a growing experience, and at worst, lead to anger and aggression. 
Recently, I went on a bad date. It was bad in a lot of senses, but what was most difficult for me to process was that it felt uncomfortable and unsafe. 
And, as a man, admitting that can be hard, and I believe the lack of admittance can lead to anger and create distance from real emotions and real people. 
In his video "Men. Abuse. Trauma." Oliver Thorn, former philosophy student and YouTube content creator, talks about his own experiences with being in an abusive relationship as a "big, strong, man." 
It's important to speak up about the fact that I wasn't hurt in a physical way, but the experience was emotionally unsettling and made me question my understanding of my masculine identity and feelings. 
Thorn details the various insecurities associated with admitting that he got hurt, in a world where men are told to be strong and are only supposed to complain about physical pain. 
The process of rethinking how we view masculinity is difficult but imperative to reshaping it on a societal level.
Initially, I shrugged the experience off as meaningless, but as I talked about it more and more, I began to realize how something as simple as having a bad date actually impacted me. 
Dealing with the experience after was deeply concerning, too — second-guessing how I felt and trying to process the situation was something I didn't have the vocabulary to do.
Therein lies the danger: Toxic masculinity hurts men just as much as anyone else. When you base your entire personality around not being emotive and not reasoning with the ambiguity and nebulous emotions that affect every human being, you effectively create a cage for yourself that you deny you're in.
An empirical measure of this is a study from 2011, which showed that men who identified with masculine ideals were half as likely to follow medical advice or seek preventative health care, as compared to other men across a variety of social categories.
Traditionally, being faced with these situations in which men feel uncomfortable, scared, or unnerved and don't turn to others for help, leaves men with few options to cope and process, and these few remaining options end up doing nothing for them emotionally. 
To process, one of the most socially acceptable avenues is to be silent and refuse to talk about feelings. Another is aggression and anger, which is again very common. Unless you seek help and begin to talk about your feelings, these can seem like the only two options. But they're not.
This date and my inability to process the feelings that came out of it served as a wake-up call for feelings that I didn't know I was suppressing. 
Even though it's a long journey to feeling OK with being hurt and reconcile with one's emotions, it is worth it. 
All you need to do is talk to someone. This can be a therapist or a counselor, or someone else — whatever makes you feel the most comfortable. 
At the UW, there's Let's Talk, a counseling drop-in service where any student can come in and talk about anything. For more long-term appointments, there is Hall Health, which can offer referrals and other advice for people seeking counseling or therapy in the area.
Returning to Thorn's video one last time, the importance of having these experiences as a visible reference point can't be understated. 
"If all of human knowledge is like a library, that we can borrow from or add to, then when men don't put these kinds of stories on the shelves, nobody can borrow them," Thorn said. "We all miss out on the intellectual resources to understand and take control of these situations."
Reach Science Editor Thelonious Goerz at wellness@dailyuw.com. Twitter: @theloniousgoerz 
Like what you're reading? Support high-quality student journalism by donating here.