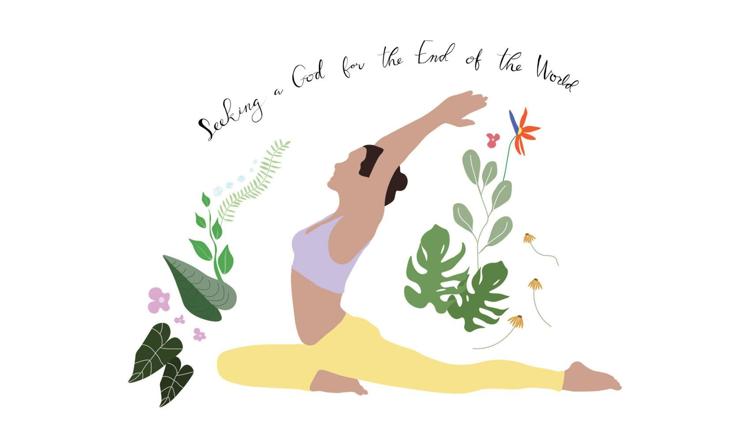 Editor's note: Hannah Krieg is often critical of people who accept the beliefs of their parents, or the first and only option they have explored. When she stepped away from Catholicism, she stepped away from all religion without a second glance. So, Hannah is visiting different places of worship to rectify this hypocrisy and hopefully have a meaningful spiritual experience along the way.
It's funny how no matter how many times I approach an unfamiliar place of worship, I still get scared. It doesn't matter how often you take a fish out of water, it will never grow lungs. Every time, I feel like I might vomit, or I should get right back on the bus and go home. But there's no Panopto for organized religion — part of the deal is being present. 
In the same blue dress as always, I mustered up whatever confidence I could manage to fake and walked into Congregation Beth Shalom. Congregation Beth Shalom is a conservative synagogue, which means it toes the line between Orthodox and reform.
"[In the reform denomination], Jewish law has a vote, but not a veto," associate Rabbi Paula Rose said. "[In the Orthodox denomination], there is more emphasis on taking all of Jewish law as binding."
When I first heard Beth Shalom was a conservative synagogue, I imagined a kind of quiet and formality my footsteps could break like eggshells. Like in most of my assumptions, I was wrong. I would later learn that the crowd for the service I attended was particularly boisterous as they were celebrating the b'nai mitzvah of twins who come from parents and an extended family of rabbis, but initially I was a little taken aback. 
Before the service, the congregation was abuzz with chatter, and this carried on throughout the service as side conversation continued even then. From my Catholic background, where reverence is a fundamental pillar of Mass, this all seemed informal but at the same time so genuine. 
I want to walk in the door and have four plus people call out my name. I want to have my church friend feeding me little snippets of story throughout worship. That kind of community seems to honor a higher being just as greatly as silently bowing your head and exchanging polite "peace-be-with-you"s. 
During the Shabbat, we all had little egg shakers to keep tempo with, which is not a regular practice at Beth Shalom but was a fun one nevertheless. Three young people led the song-dominated service at first, followed by a woman who would later stand facing away from the congregation. 
The young people led us in uptempo songs, beats emphasized by shakers and clapping hands, the congregation adding embellishment and harmony as they saw fit. 
While I was not familiar with any of what they sang, nor could I read Hebrew to make a proper attempt at singing along, the energy in the room was palpable. At one point, the three leaders joined hands with a man sitting in the front row and began a chain of people that lapped around the chairs collecting members, singing with wide smiles. 
I felt my stomach do a flip-flop: the kind of thing that happens when you notice a cute boy noticing you back; the kind of thing when you get a little bit existential and a-lot-a-bit grateful that you and your friends met by some cosmic coincidence; the kind of thing when your heart feels so full you could cry. It was triumphantly joyful, and though it was not my chain to join, I felt my eyes well at the sight. 
Apart from my emotional response, I did not understand much of anything from the Shabbat, so I got in contact with Rabbi Paula Rose to learn a little more about Jewish theology.
"There is theology, but ultimately Jewish life is much more about what you do than what you believe," Rabbi Rose said. 
For Jewish people, there are shared texts, shared calendars, and shared behaviors, but no consensus and certainly no focus on a hallmark of many other religions: an afterlife. 
Judaism also stresses covenant, or a symbiotic relationship with G-d.
"There's a relationship between G-d and the Jewish people," Rose said. "We both have terms and expectations. We certainly have obligations, but I think G-d does also. I think religion is intended to be nourishing."
The kind of effervescence I witnessed at Shabbat definitely seemed like nourishment to me. I'm not sure if I'll spring for a yarmulke and Hebrew lessons, but I will certainly take with me the value of living with a focus on the present and the expectations of our behavior regardless of divine justice. 
Reach writer Hannah Krieg at wellness@dailyuw.com. Twitter: @Hannah_krieg
Like what you're reading? Support high-quality student journalism by donating here.