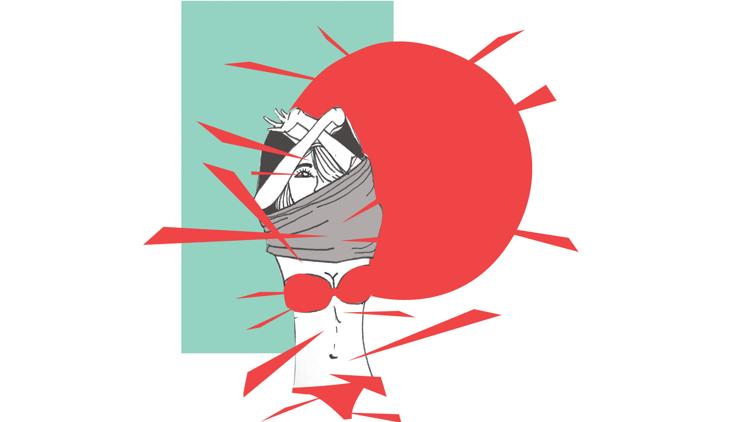 Trigger warning: This article contains explicit references to sexual violence and may be triggering to some readers. 
A year ago, desperate — as a woman, as the Health & Wellness Editor at The Daily, as someone who's heard too many recollections of assault from my friends and relatives, and as someone who's been assaulted herself — to get freshmen to think and talk about the danger associated with their first fall quarter, known as the "red zone," I wrote an article titled 'How to not rape' for the first paper of the year. 
And I didn't know it at the time, but last fall would be especially hard for survivors. 
Dr. Christine Blasey Ford testified before Congress about her allegations of sexual assault against Brett Kavanaugh, and women all across the country were impacted in the most personal ways. 
Closer to home, Washington state found itself launched into the #MeToo conversation when UW lecturer and former State Department and Seattle city official Candace Faber accused then-state Sen. Joe Fain of raping her over a decade ago. She described Fain as a young Brett Kavanaugh in her eyes.
At the same time, in just the first few days of school, our own campus was shaken to its core when a group of fed-up UW students created a website, called Make Them Scared, to gather and post anonymous allegations of sexual assault. It was a radical response to a culture of pain. The moderators of the site were the first to say that in a perfect world, such a website wouldn't exist.
One of the site's moderators wrote to me in October of last year: "I wanted the awareness of the sheer magnitude of unresolved sexual assault experiences that we gained from MeToo to be an impetus for systematic change. I wanted everything that was coming to light not to be buried again. But a year went by, and things faded like they always do. Nothing changed. I knew I'd never forgive myself if I stood by and did nothing while I waited for things to get better." 
Like Ford and Faber, she was tired. 
So our school and our nation were forced to talk about it. Anyone will tell you talking about sexual assault is better than keeping it relegated to the private realms to which it's always been confined. Talk to your friends, talk to your therapist, read about it. 
But that doesn't mean it's easy. It may be liberating, but it f---ing hurts! Women have always talked about these things in private. Whisper networks have always existed. But now, we're shouting from the rooftops about sexual violence. 
Everyone warned me about the "red zone" before I came to college. Has anyone warned you about it yet?
"People are more vulnerable at the beginning of the year," Patricia Atwater, director of health promotion at Hall Health, explained. "They're trying to make friends. They're trying to impress people. And so they may be more vulnerable to somebody who is seeking out someone that they can sexually assault."
As a result, more than 50% of college sexual assaults (that we know about) occur in the first six weeks of fall quarter. This is known as the "red zone," and you're in it right now.
Most "red zone" articles are filled to the brim with tips on how to not get raped, as if the onus is on victims to prevent sexual assault. Albeit well-meaning, this type of language reinforces a culture of victim-blaming. So this, instead, is an article about how to not rape.
"Every drink that someone takes is imbued with all of these cultural expectations and societal attitudes toward women and about power," Atwater told me. Abusers use these expectations and attitudes to manipulate and abuse those who are more vulnerable, like female freshmen.
Atwater heavily stressed that alcohol does not cause sexual assault; the root cause of sexual assault is misogyny.
With the culture of heavy drinking built into the Greek system and college in general, alcohol often becomes a tool that perpetrators use to coerce or exploit their victims.
This happens when perpetrators get potential victims drunk and test their boundaries by saying and doing things that make them uncomfortable to see if they protest or say no.
Atwater said perpetrators of sexual assault intentionally seek out victims that are vulnerable, unsure, and eager to please. Many freshmen are also learning their limits with alcohol for the first time, a fact predators are acutely aware of.
Perpetrators will isolate victims, get them away from their friends, and often use only enough force to get the victim to do what they want, according to Atwater. 
90% of rapes do not occur at gun or knifepoint but rather use pressure and manipulation to push someone's boundaries, according to the Department of Justice. Sexual assault can be violent, but it's usually not. It can be done by strangers, but more often (about 93% of the time), it's done by a boyfriend, friend, or relative.
According to Atwater, half of all sexual assaults involve a romantic partner. She recommended evaluating your own intimate relations, and honestly asking yourself about the level of misogyny you tolerate or support, either from yourself or the person you're involved sexually with.
And perhaps, if you're a man and all of your girlfriend's female friends hate you, you may want to ask yourself why. LiveWell survivor advocate Brittany Bowhall recommends seriously asking yourself and those you engage in relationships with, "How would you know if someone was too drunk or incapacitated to have sex? What would you do to make sure someone is comfortable having sex? How [do you] articulate your boundaries? How do you know if you are respecting the other person's boundaries?" 
Ask yourself: Do you have predatory or misogynistic attitudes toward women? Do you not take "no" for an answer? You might be a misogynist. And you might rape someone.
While respecting someone's "no" is easy, sometimes saying it yourself can be hard, especially because women are often conditioned from birth to appease others before ourselves. 
Unlearning this is possible. 
"If you can start to shrug off all of that shame about your body and about sex that you have swallowed in all your years of being alive, you start to be more vocal about your needs because it's not something to be scared of anymore and you start to feel like you are deserving of pleasure and sex and you start to feel freer about being able to express your sexuality and gender," Atwater said. 
In other words, learn what you want to say an enthusiastic "yes!" to, and maybe learning to say no to the other things will become easier.
Beyond introspection, we can also go outward to purge rape culture from our school and community. We can shrug off shame internally, but we must talk about it with our peers. Go to campus events on sexual health! Talk to your friends! Talk to your health care provider! Talk to everyone about sex, and the conversations about rape culture will come, too. 
I know it's hard and it hurts. But you're not in this alone.
Go to www.washington.edu/sexualassault/ for a list of sexual assault resources in our community. Confidential advocates, like Bowhall or UWPD victim advocate Victoria Adams, are available 24/7 and can be reached at 206-685-7233. SafeCampus can also be reached if you are concerned about a friend or have been impacted yourself at 206-685-7233 or safecampus@uw.edu. All calls are private and you can remain anonymous.
Reach Senior Investigations Reporter Manisha Jha at investigations@dailyuw.com. Twitter: @manishajha_
Like what you're reading? Support high-quality student journalism by donating here.