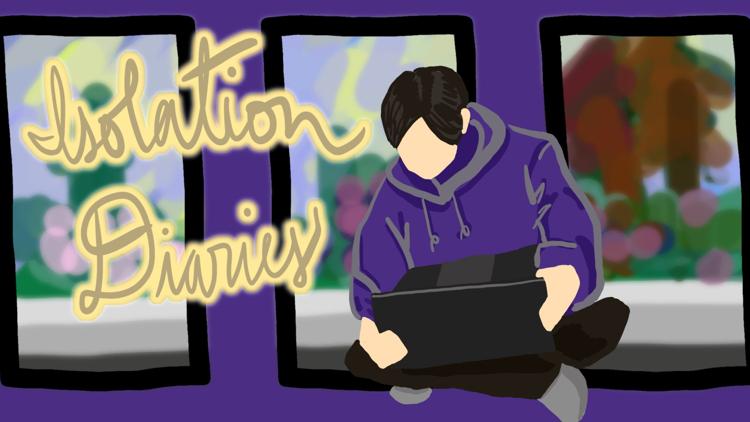 Editor's note: The Isolation Diaries is a Health and Wellness series about living in isolation during the coronavirus pandemic. 
There are some weeks where I don't leave my hotel-room-esque studio apartment for days on end. The only people I interact with are coffee shop baristas every Monday morning and grocery store employees every Friday afternoon. 
I eat the same thing for lunch every day and have two rotating breakfast options. My quarantine life has become very structured, and I like it that way. 
After the clusterf---  that was going from online class to protests to online class to Tacoma to protests to online class, I had two beautiful weeks off in mid-June before starting my virtual internship. I turned 21 right as bars in Pierce County reopened and masked up to go out and celebrate. My mom was on furlough, so we did housework, watched movies, and went for walks along the Tacoma waterfront. 
And then my internship started. I love it, but working eight hours a day is different from taking two 90-minute classes. 
My hips are constantly aching from sitting so much. I tried to use a homemade standing desk, consisting of my dining chair on top of my dining table, but my building's shared Wi-Fi doesn't extend to that part of my apartment, apparently. 
My eyes are always tired and dry from staring at a screen for eight hours straight, my arms fall asleep at my desk, and I'm convinced that my neck is going to be permanently on a slant. 
So what do I do when I can finally log off at 5 p.m. and have some free time to get my body moving? 
I move from my desk to my couch. 
My apartment is already doing double duty as both an office and a living space. I don't need to add gym to the mix. And while it is not very physically demanding, I am still mentally and emotionally drained from a full day of work. Very rarely will I be in the mood to head out to the Quad for a quick workout.
So instead I try to tidy up my apartment every day after work to at least get some blood flowing. And then I'll mess around until Wheel of Fortune and Jeopardy! come on. 
After that, I might do some art or just watch more TV. I have taken up collaging as something to do that doesn't require looking at a screen. If I'm feeling restless, I'll put on some music and dance around, probably to the hatred of my downstairs neighbors. And pretty soon it's nearing 11 p.m. and I get into bed, only to repeat it all the next day. 
It does get boring at times — OK, most of the time. But I still enjoy having a routine. I'll take a boring routine over the stress I experienced in spring quarter any day. 
A routine helps me to feel productive even on days when I might not have much energy. I am susceptible to bouts of depression, and sticking to scheduled segments of work, creativity, physicality, and rest keeps me from a downward spiral. 
I talk to my friends every day, even though I haven't seen them in months. Digital human connection is better than nothing. We talk about the news a lot: COVID-19, Black Lives Matter, the election. The world seems to be ending, yet there's no actual end in sight. So for the time being, I stay distanced, mask up, and watch TV. 
Reach writer Eddie Milton at wellness@dailyuw.com. Twitter: @eddiemilton253
Like what you're reading? Support high-quality student journalism by donating here.