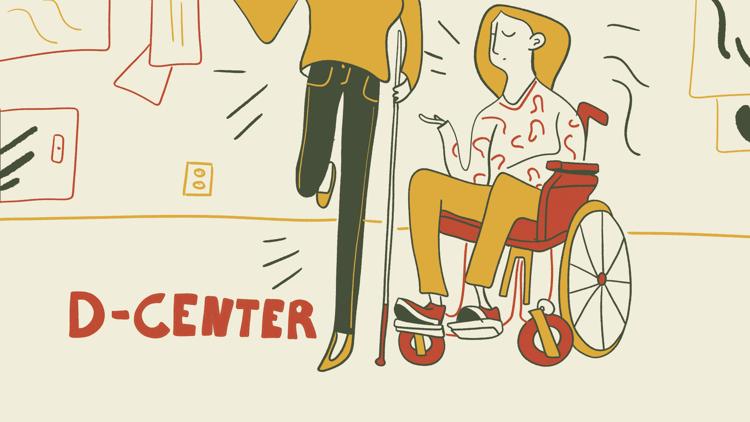 Even in the most progressive cities in the United States, the word "disabled" is still taboo in many conversations.
"There is a stigma, a fear, of what words we use to describe disability," Lesley Ellis, an advisor at the D Center, said. "To a lot of people, 'disabled' is still an offensive word." 
Historically, Ellis explained, people with disabilities have been oppressed by the idea of "normality," which is a social construct that constitutes how the body and the mind should act, think, and move.
"We haven't accepted the fact that normality is a completely false concept," Ellis said. "Disability is only one part of human diversity."
For this reason, many people with disabilities are not commonly engaged in digital and physical environments because these environments are not built to meet their needs — this is known as non-universal design.
"When I say I'm disabled, what I mean is that I'm disabled by the external environment that I navigate as regards to the impairment that I have," Ellis said. "The disability comes when I try to access the world that is not designed for me."
On a social level, disability is still left behind in conversations, despite progress for other identities such as gender and race. Even the most progressive people avoid addressing disability by replacing it with euphemisms, such as "special" or "differently-abled," or turning disability into inspiration porn which has the potential to be insulting rather than supportive.
"We watched the Democratic presidential candidates do an LGBT town hall," marketing coordinator of the D Center Camille Bishop said. "That's amazing, but most of them don't say the word 'disabled.'" 
The Daily previously reported that the dropout rates for students with disabilities in college are higher than those without; the barriers to finishing higher education are usually due to the lack of support and accessibility from the university and professors.
"I spent most of my first year struggling," an informatics junior, who wished to remain anonymous, said. "I came to UW wanting to be a computer science major, but those classes are generally weed-out classes. With ADHD, it's hard for me to reach out and be open about it. I would suffer internally because it feels like shame seeking out for help." 
The interviewed student recalled her struggle to find study groups because she feared that other people would judge her for falling behind in class.
"When you're reviewing, it feels weird being the person who needs more explanation," she said.
Recently moved to HUB 327, the D Center is a student-led disability and D/deaf cultural center that focuses on fostering a community of disability and creating an inclusive environment.
To create a more visible culture, the D center partners with communities on campus to host events that advocate for disability arts and culture. In the past, the center hosted a keynote address by Haben Girma, the first Deafblind graduate from Harvard Law School, disability open-mic nights, and an all bodies dance workshop.
On a micro-level, the center provides peer support for students by offering a social space to meet new people and develop friendships. The low light and quiet design accommodate students who don't engage socially in neurotypical ways or don't feel comfortable being in highly stimulating areas, Ellis explained.
According to a newsletter from the D center, the room is also mobility aid accessible and scent-reduced.
"Students coming into this space can feel recognized and acknowledged," Ellis said. "My goal is to have people come to the D Center, let down their guards, and be themselves without judgment."
This year, one of the center's missions is finding employment for students with disabilities, because having work experience during college can be a vital difference between employment and non-employment after graduation.
The D Center also helps students who are abled by providing allyship training to challenge the social construct of an ableist society.
The D Center will be hosting an open house Nov. 14 at 2 p.m. in HUB 327 for visitors to enjoy a beverage and get to know what the center has to offer.
"The fact that disabled students are at university now is because of 40 years of direct activism and advocacy across the country," Ellis said.
Reach contributing writer Anh Nguyen at wellness@dailyuw.com. Twitter: @thedailyanh
Like what you're reading? Support high-quality student journalism by donating here.