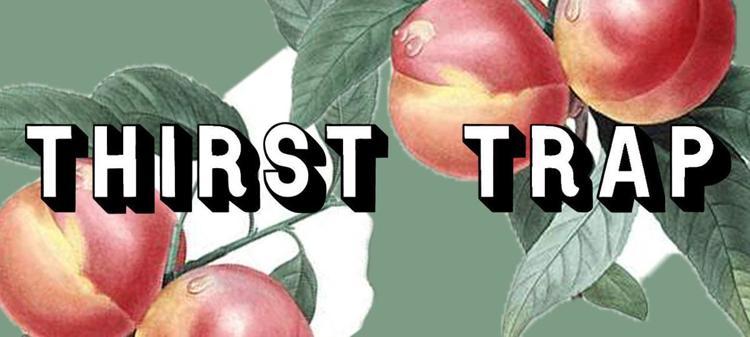 Editor's Note: Thirst Trap is a weekly column on dating and relationships in college.
I am no stranger to slipping out of my day-to-day wear in favor of something a little less comfortable and a lot more sexy to do a mini photoshoot for my Snapchat story. I would be a dirty, dirty liar if I said I hadn't kept a little too close of an eye to see if a certain someone had seen it. This is a thirst trap. 
By definition, a thirst trap is when someone posts on social media with the intention of attracting sexual attention, especially from a particular target. This can be on Instagram, Snapchat, or even Facebook if you are especially freaky. 
The main thing is, thirst traps are public. The goal is to not appear desperate for attention while still being very much desperate for attention. This is a line I toe often. 
You want to post it where the object of your horniness can see it, but so can all of your other followers. That way you look effortlessly sexy unlike in a direct message, where the sexiness might be misconstrued as putting effort into interaction. How embarrassing would it be to appear genuinely interested in someone without any games? Direct communication is deadly, avoid it at all costs.
Ideally, a thirst trap would lead to your target engaging with you in some way. They will most likely not swipe up on your story, because that would be direct, and of course, being clear with intentions is for weirdos. 
If your target responds at all, it will be on an entirely different platform, as though your popping booty did not promptly remind them of your (very hot) existence.
Thirst traps are not exactly a unique phenomenon. There are a lot of totally thirsty things we do online without showing any skin. 
Whether this is done consciously or not, almost everything we post on the internet is to establish our personal branding. This is clear when you consider the differences in someone's online presence across platforms. 
The kinds of pictures we post on Instagram are usually more polished and our feeds more curated than what ends up on our Snapchat. What we post on Tumblr is much different — and probably much sadder — than what we post on Twitter. Branding can even shift within platforms with the popularity of second-level social media accounts such as finstas, alt twitters, and private Snapchat stories. 
We use our social media to communicate who we are indirectly, and sometimes, we can purposely manipulate that image to send a message to a specific person. If someone blows you off, you might hit Snapchat and have an obnoxiously inflated presence to show the other person how much fun you are to be around. If you want to date someone, you might share all the cute love songs you've been bopping to via your Instagram story. If someone pisses you off, you really have no other choice but to subtweet them. 
Branding is fun. Managing the aesthetic of your Instagram feed and establishing a consistent voice for your Twitter personality is admittedly a good time. We have the ability to market ourselves in certain ways to tweak our audience's perception, but you should not treat people you are interested in as a target demographic you hope to hit with subliminal messaging. If you want someone to talk to you, don't bother looking up how to manifest a direct message, just talk to them. 
Post your sexy picture and feel hot when you do it, but please don't thirst trap. If you want to talk to someone, just do it. I know it can be difficult, especially as a woman pursuing a man and battling the expectations that a man must initiate interaction at every step of the way, but using social media to attract someone's attention will never be as mature, sexy, or powerful as just sending a damn DM. 
Reach columnist Hannah Krieg at wellness@dailyuw.com. Twitter: @Hannah_krieg
Like what you're reading? Support high-quality student journalism by donating here.