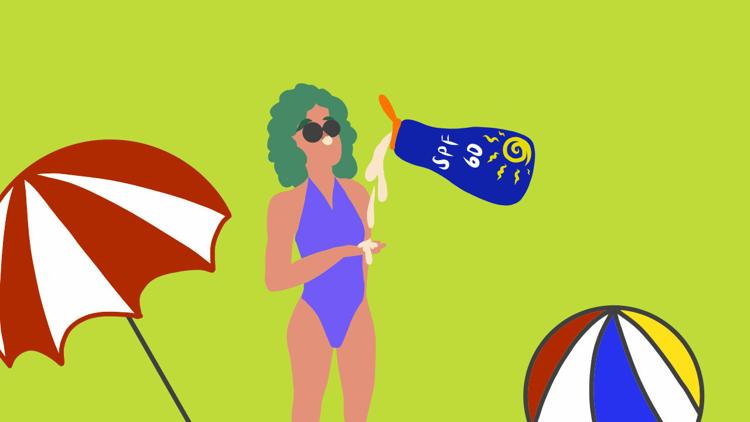 We're all familiar with the dangers of staying out too long in the sun without protection. Sunburns, skin cancer, aging — the list goes on. But as I sit in the Quad writing this piece, enjoying some much-needed sunshine after a gray Seattle winter, it can be hard to remind myself that these UV rays are a double-edged sword.
Seattle summers are increasing in length and intensity, so it is important to understand the effects of prolonged sun exposure and how to protect yourself accordingly.
"What might be a concern for people to think about, especially in the Northwest … is the relationship between climate change and UV radiation, and our vulnerability," Patricia Atwater, director of health promotion at Hall Health, said. "The World Health Organization is expecting that prevalence in skin cancer is going to increase by 10% by 2050, and it's already increased in huge amounts in 25 years … It stands to reason that when your ozone layer is shrinking … there's probably going to be more UV radiation."
The health effects of staying in the sun for long periods of time without protection are serious.
"When your body is exposed to UV radiation, it … changes the way your cells function," Atwater said. "After repeated exposure … it can cause your cells to go wild."
Atwater pointed out that skin cancer is not just an "old white people disease," citing that it is one of the most common cancers among young people. She also stressed that damage from UV radiation can occur even during overcast days.
The best way to look out for your skin while you're in the sun is to both apply sunscreen and wear protective clothing every day. Atwater recommended for most people to use sunscreen between 30 and 50 SPF, and to buy special-made SPF clothing if possible. The Environmental Working Group's sunscreen guide is a great resource for finding healthy and environmentally-friendly sunscreens.
Still, sunscreen should not be your only method to protect yourself from the sun. If you can, avoid peak sunlight hours between 10 a.m. and 4 p.m. when UV radiation is at its strongest. And if you're going to be out in the sun all day, try to seek shade as much as possible.
It can be easy to forget about the risks of being out in the sun for too long, especially after a long and gray winter. But as our summers get longer and hotter each year, this complacency is dangerous. Find a method to protect your skin from the sun this summer and stick with it.
Reach contributing writer Collin Chung at development@dailyuw.com. Twitter: @collinchung
Like what you're reading? Support high-quality student journalism by donating here.