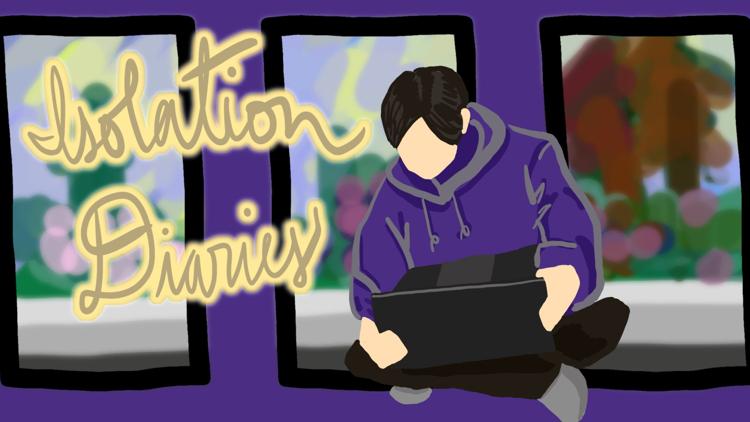 Editor's note: The Isolation Diaries is a Health & Wellness series about living in isolation during the coronavirus pandemic.
In my last isolation diary entry, I ended the article on the note of radical acceptance and finding "OK-ness in the chaos of everything." With who knows how many days of quarantine behind me, I would like to supplement this with the necessity of positive thinking and laughter.
I easily fall down a news and social media spiral, intaking hours of endless information. Balancing this consumption with self-care, however, is crucial to maintaining some semblance of mental well-being in quarantine. For me, this balance comes when I actively choose to make space and time in my day to laugh and smile. 
Global pandemic or not, the art of comedic relief belongs in our lives as much as it does in "Last Week Tonight with John Oliver."
Finding humor in this dystopian reality may feel nearly impossible — especially if pre-quarantine sources of entertainment and comedy now seem inaccessible or drowned out. I remember the days when I could hang out with my best friend in person, which inevitably brought laughter and parking lot therapy sessions.
Now, I find comedy, more often than not, online. Whether by watching the wholesome "Some Good News with John Krasinski" or swiping through art on Instagram or binging Cyanide and Happiness compilations, I take time to navigate the internet with the intention to laugh and smile.
I write this not to discourage anyone from using the internet as a tool of education and self-reflection. Staying informed and practicing critical awareness of the realities around us fundamentally revolve around the mass communication technology we have today.
However, with quarantine and the coronavirus pandemic worsening this nation's mental health crisis, self-care and self-compassion are necessary on the individual level as we navigate isolated living and social distancing. We must strike a balance between growth and recovery as we adapt, practicing emotional resilience and making space for one of the best forms of self-care: laughter.
One mental health benefit of laughter includes disrupting cycles of negative thinking, a habit I personally work every day to break. Sensational news, triggering posts, and fear-mongering on the internet certainly encourage the negative thinking patterns I harbor, but through a little comedic relief, I can recenter myself and stay present.
Of course, I try to look for laughter in my home as much as on my feed. Whether baking with my siblings or running a family Dungeons & Dragons campaign, it's the little things that brighten an otherwise gray quarantine life.
Encouraging a positive outlook is about the difference between asking "How are you?" and "What made you smile today?" It's reckoning with the challenging and depressing realities before us, while intentionally remembering and cherishing any moment that brought out a laugh regardless.
Reach writer Tatum Lindquist at wellness@dailyuw.com. Twitter: @TatumLindquist
Like what you're reading? Support high-quality student journalism by donating here.