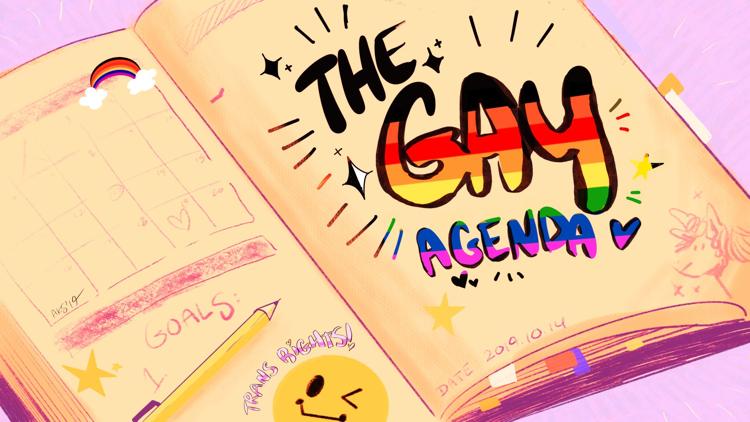 Editor's note: The Gay Agenda is a column about LGBTQ experiences and issues. 
When coming to a college as big as the University of Washington, many people feel isolated and alone. This reality can be even harsher for trans students. Trans individuals experience microaggressions, harassment, and added barriers in everyday life, even in a liberal city like Seattle. So with all this added stress, where can trans students turn for a helping hand?  
There are two main trans resources at the UW: one for community and one for health. Hall Health offers physical and mental support while the Q Center is a safe space for trans students to relax, unwind, and meet other trans or queer students. 
"I think [the Q Center] is one of the better places on campus for trans students," Q Center outreach coordinator Jace Reyes said. "[It's] a space for students to decompress and just get away from the stressors of constantly being seen from a strictly heteronormative and cissexist society." 
Anyone who walks into the Q Center is welcomed with a chorus of "Hello" and "Welcome in" from staff and students alike. The space is on the smaller side and packed with seating, books, and fun posters, but it has a comforting lived-in quality. The UW's bright colors and uncomfortable chairs (think Odegaard and the West Campus dorms) can be jarring or unsettling. The brown Q Center couches are a welcome change of pace. 
The Q Center has great items for your everyday visit, like seasonal affective disorder therapy lamps, snacks, and weighted blankets. But the center also offers events and programs to help students connect with others in the community. A popular one is the weekly gender discussion group, held every Tuesday at 4 p.m. 
The Q Center will soon be branching out with new discussion groups focused on queer and trans people of color. These groups will be created by Notae, the Q Center's recently hired QTPOC advisor.
The Q Center aims to keep most of its resources gender-neutral. For instance, the resource table has a variety of condoms, including what the Q Center calls "internal condoms," which are often known as female condoms. 
"All body types can use internal condoms," Reyes said. 
The Q Center also has free pads and tampons. The UW does offer free pads and tampons in several bathrooms across campus, but only seven of the locations are gender-neutral, and none are men's restrooms. 
For the medical side of existing as a trans student, Hall Health has you covered. From mental health therapists on the third floor to hormone replacement therapy (HRT) providers on the first, the Gender-Affirming Care team is a team of several health practitioners dedicated to making the UW health system more accessible and welcoming to all students. It even has its own section on the new UW wellbeing website. 
"I think it's pretty common for students to feel a lot of frustration at how they're being treated in the medical system," team co-founder Kate Fredenberg said. 
The team helps students with individual things like navigating insurance, but it is also tackling systemic issues. It will soon be implementing a building-wide "Trans 101" training so that students will feel safe and welcome from the check-in desk to the exam room. 
Several providers at Hall Health can prescribe HRT to patients. Interested students can read up on the different primary care staff members and pick the one they would like to work with. 
Fredenberg is also a mental health therapist at Hall Health and runs Let's Talk at the Q Center every Wednesday. Let's Talk is an informal and confidential meeting between students and a trained mental health professional. The sessions are free and no appointment is needed. 
"If it feels intimidating to just come [to Hall Health], I think Let's Talk is a really good place to start," she said. "We've created that intentionally as a way for there to be a really low barrier access point for students." 
Healthcare has a history of being uncomfortable or downright hostile towards trans people, so doing anything with gender healthcare can feel intimidating. That fear, on top of everyday occurrences of misgendering or transphobia, can make it hard for students to seek out resources, but the UW does have people and places ready to welcome and support any and all students. 
Reach columnist Miranda Milton at wellness@dailyuw.com. Twitter: @mirandamilton99
Like what you're reading? Support high-quality student journalism by donating here.