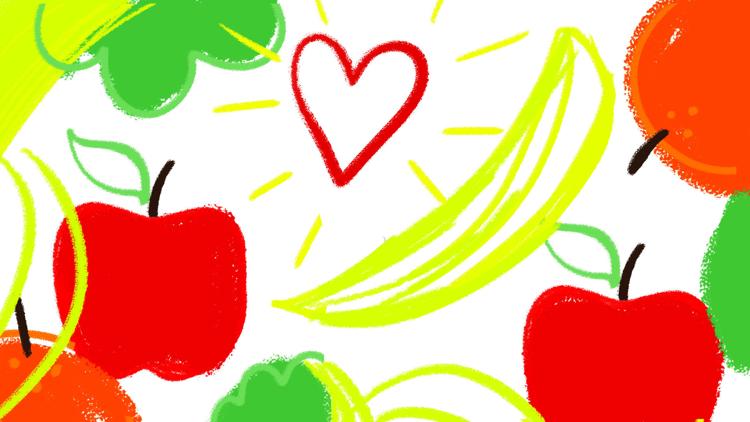 With all the memes poking fun at the influx of gym-goers, Pinteresters curating juice-cleanse diet boards, and carbs of all varieties remaining untouched in grocery stores around the world, it is clear as the bright New Year's Day that resolution season is upon us. 
We don't need a countdown or a ball drop to signal the calendar change — just listen to all the unhappy people resolving to get "healthier" by picking up disordered eating habits disguised as wellness.
The beginning of a new year can be a troubling time for body positivity. We are asked to evaluate our current selves and strive for a better (read: thinner) version. 
Our bodies are added to a list of our personal shortcomings. If you're always late, you resolve to manage your time better. If you're a negligent friend, you resolve to stay in closer contact. If you don't measure up to the standard of beauty brought to you by the male gaze and a dash of FaceTune, you resolve to lose weight.
This is upsetting. Our bodies, big, small, whatever, do not sway the scales of good and bad. Body fat is not a character flaw, a bad habit, or a moral wrong.
In the new year, take a more positive approach. Resolve to improve health rather than perceived aesthetic appeal — two separate matters that are often conflated. 
Health goals come in a wide variety. For example, sophomore Jack Morgan actually plans on eating more in 2020. 
"I wasn't taking care of myself last year," Morgan said. "This year, I'm really trying to eat every meal." 
With the stress of classwork and life more broadly, it's easy to fall out of healthy eating habits. Certainly, iced coffee cannot fuel your body the same way a balanced meal can; therefore, it should not be a replacement. 
Along with their focus on the aesthetic, wellness resolutions are often general and grand, their details nebulous and their goals remote. The ambition to eat healthier is all good and well, but ambiguity can render your resolution unrealized. 
Freshman Andy Duong expressed the desire to revamp his diet, but with a specific approach in mind.
"I want to try and drink less soda," Duong said. "My goal is to not drink soda at least three days a week."
Drinking less soda can contribute to a reduction in sugar cravings, can lower your risk of diabetes, and can even prevent osteoporosis. These are serious issues, and if you want to avoid them, you need serious (specific and attainable) goals to do so. 
Health goals do not always have to be about nutrition or avoiding disease. For sophomore Rit Shah, his wellness resolution has less to do with his own well-being and more to do with the well-being of our four-legged friends. 
"My religion [Jainism] is very big on non-violence, and one way we do that is through our diet," Shah said. "I have been vegetarian from birth … but I hope to become more attuned to my religion by slowly incorporating vegan values in my diet." 
Much like Duong, Shah is keeping his goal specific and attainable. 
"My goal is to start by eating a 'midweek vegan' diet, where on Tuesday, Wednesday, and Thursday, I eat vegan," Shah said. 
Besides diet choice, which can often be the focus this time of year, there are plenty of other areas of health to improve on. 
Senior Yu-Won Youn has made a point to find time to reflect by keeping a journal to better process her day-to-day.
"Some days it's just a bunch of doodles of what I bought, other days it's word vomit about whatever I'm thinking about," Youn said. "It's also fun to look through after you fill it, too."
Senior Courtney Chang was concerned with her screen time and how the use of social media affects her mental health.
"[I want to] spend less time on social media and read at least 10 books this year," said Chang.
As for me, to contribute to an overall more positive state of mind and lessen my need for external validation, I have decided to write down one thing I like about myself every day for the whole year. 
There are so many more productive ways to better your health than skipping meals or losing weight to better fit some made-up standard of beauty. Make healthy, sustainable changes that better you for you. 
Reach writer Hannah Krieg at wellness@dailyuw.com. Twitter: @Hannah_krieg
Like what you're reading? Support high-quality student journalism by donating here.