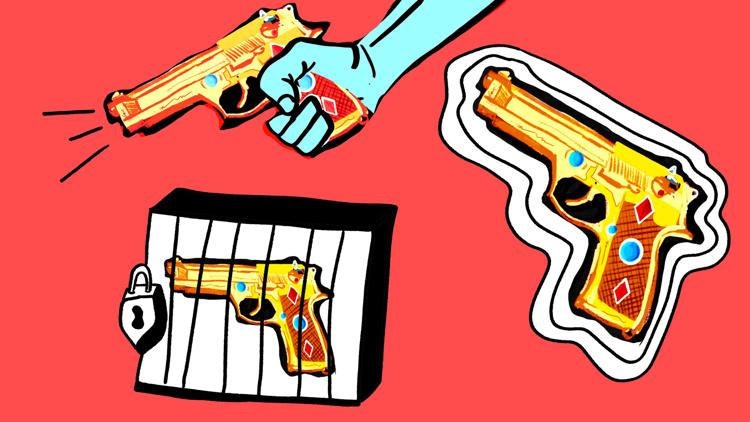 A study funded by Grandmothers Against Gun Violence was conducted at the UW School of Public Health and examined risks associated with firearm storage in the households of adults 65 years and older who have dementia. The study analyzed one of the largest health surveys in the world.
This nationwide over-the-phone survey is conducted annually by the Behavioral Risk Factor Surveillance System and contacted nearly 12,000 residents in Washington state alone.
Erin Morgan, a Ph.D. candidate in the UW department of epidemiology, was the lead author of the study published in April in the Annals of Internal Medicine.
"I was really interested in older adults because this is a group with a higher risk for suicide," Morgan said when asked why older adults were specifically studied. "We know, at least anecdotally, there are stories of accidental shootings in this group."
Morgan and other investigators analyzed nearly 4,500 survey responses and estimate that 410,000 firearms were in Washington homes. Key statistics were identified: 38.6% of households had a firearm and 23.5% of households had a gun both unlocked and loaded.
After specifically investigating how many older people with mental illnesses had firearms — stored and unstored — there was a clear result. The percentage of those practicing safe firearm storage was nearly the same for those with and without mental health issues.
Due to these key findings, researchers concluded that action should be taken in order to save lives. Whether it is through active communication about the topic with healthcare providers or addressing gun ownership policies, one thing is clear:
"If you can separate the lock from the key, the more steps that someone has to go through to make a firearm operable in the case of suicide, that's more time that they might have to reconsider," Morgan said. "Anything that's one more barrier is something we consider to be a good thing."
Beyond having providers start a gun-safety discourse with older patients, new gun-safety policies are already beginning to address the issue at hand.
Morgan's research on gun violence was cited by Seattle officials and Washington lawmakers in passing Initiative 1639. The new initiative went partially into effect in January 2019. It addressed many aspects of previous firearms laws.
Grandmothers Against Gun Violence, the grassroots organization that funded the research study, also advocated heavily for the gun initiative.
The provisions already in effect mostly address age requirements for certain actions relating to buying and selling firearms.
Some provisions are waiting to take effect July 1, 2019, including safe storage requirements. Safe storage refers to a locked storage system of some sort –– a locked box or a gun safe for example –– and also keeping the firearm unloaded.
Additional safe firearm storage enforcement is going to happen through firearms dealers, who may face a civil infraction if they fail to either offer or sell a form of gun storage.
These policies are important because they are taking direct action in preventing suicide in this age group.
According to Frederick Rivara, a co-author on the study, beyond the issue of gun safety, it is important to address both sides of the problem. Mental health stigmas may be preventing family members from talking to older relatives soon enough about gun safety.
"For those with dementia, it is the whole issue of losing the ability to make decisions like giving up your car keys," Rivara said of the barriers surrounding mental health. "For those with depression, it may be family members who are not aware of how serious it is, don't know how to help, don't understand the risks of having a gun in the home, and don't know what to do."
Even if it is unclear whether or not mental health stigmas play a role, the study made it clear that talking to older adults about gun storage is crucial in preventing suicide and saving a life.
"The move to improve on safe storage is growing," Rivara said. "It will require laws, education and implementation by physicians and others."
Reach contributing writer Abby Alishio at wellness@dailyuw.com. Twitter: @AbbsAlishio
Like what you're reading? Support high-quality student journalism by donating here.