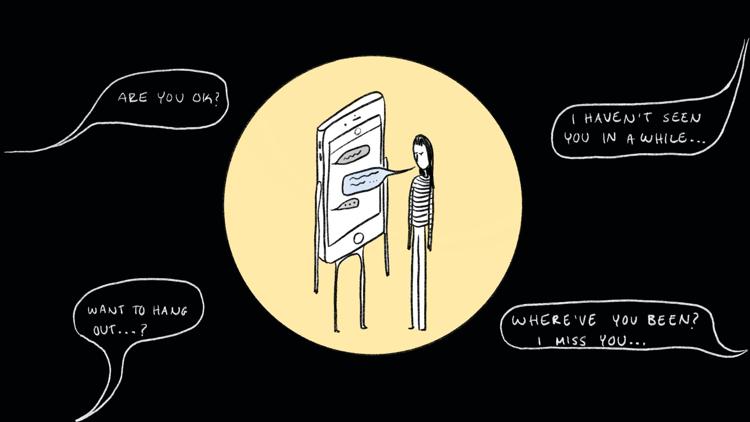 For mental health conditions such as schizophrenia whose symptoms worsen with social isolation, preventing relapse can be challenging due to a health care provider's lack of accessibility in consistently monitoring a patient's shifts in behavior.
But with advancements made in digital phenotyping, "moment-by-moment" data collection through personal devices, our smartphones could potentially play an important role in overcoming this challenge by gathering information that signifies changes in mental health.
The UW department of psychiatry and behavioral sciences collaborated with computer science researchers from Cornell and Dartmouth at Zucker Hillside Hospital  to understand how passive sensors can predict relapse in schizophrenia.
Sixty-one individuals who showed an elevated risk for relapse were given smartphones installed with CrossCheck, a behavioral sensing system that tracked social activity through call and text messaging logs.
Rather than requiring participants to manually input information, CrossCheck is a passive sensor that documents the frequency of smartphone-related social behavior without recording actual conversations, thereby protecting its user's privacy.
The study found that a decrease in the number of outgoing calls and text messages was associated with relapse events, which included psychiatric hospitalizations, suicidal ideation, and significant psychiatric symptom exacerbations.
Dr. Benjamin Buck, a senior fellow at the UW School of Public Health and researcher from the study, explained that "passive sensors allow for ongoing continuous data collection."
In contrast to a traditional clinical setting, where a mental health provider may not get information from their patient rapidly enough for an effective response to prevent relapse, CrossCheck overcomes the barrier of infrequent data collection, Buck explained.
In current practices, healthcare providers have to rely on their judgment and in-person self-reported assessments to determine whether their patient's functioning or symptoms have worsened. But "technology allows new opportunities to complete more assessments, to gather data that might be useful," Buck said.
Software like CrossCheck could potentially allow doctors to identify if patients are at risk at any given moment through remote monitoring and continuous tracking.
Although there's a lot to learn about what the data means and how to use it, Buck said that mindful use of software such as smartphone pedometers could be beneficial in anyone's daily life.
"You might look and say, 'Huh, I haven't been that social, I haven't been traveling that much,' or 'I've been staying home a lot.' And some of that information might be useful to help you adjust your behavior in ways that help you stay healthy," Buck said.
But at the same time, Buck emphasized that the study is preliminary –– an early step toward understanding the role of sensors in what is a "likely long trajectory of developing improved mobile assessment for wellness."
Patricia Atwater, director of health promotion at Hall Health Center, provided further insight on this use of biotechnology in monitoring our daily and bodily functions by saying that it can be overwhelming for students to navigate such data.
According to the National Institute of Mental Health, nearly one in five U.S. adults lives with a mental illness. The 2017 National Survey on Drug Use and Health points that young adults age 18 to 25 had a higher prevalence of both Any Mental Illness (AMI) and Serious Mental Illness (SMI) as compared to adults above the age of 25.
Furthermore, the percentage of young adults who received mental health services was 38.4% for AMI and 57.4% for SMI and was lower than adults from higher age ranges. Given these statistics, mental health apps may portray a promising and accessible method to alleviate symptoms.
But Atwater said that apps can often be unregulated. Some are carefully rooted in evidence-based practices such as cognitive behavioral therapy, but many haven't been extensively evaluated on how they work and oftentimes "the review system in the app store has no correlation, no connection to the actual quality of the app."
"The first place to start is working with the health care provider, especially if you are in a place where you're dealing with either moderate or severe symptoms," Atwater explained.
It can be helpful to use technology to track your health in collaboration with a doctor (as was done in the clinical trial), but trying to self-monitor symptoms without professional help has not been shown to be very effective, according to Atwater.
For someone who's experiencing mild symptoms of mental illness and does not have access to a medical provider, online sources such as the Anxiety and Depression Association of America or the UW Counseling Center website can be helpful sources to find apps that have been professionally evaluated.
However, Atwater emphasizes that "if your symptoms are starting to become unmanageable, an app, unfortunately, is not going to be the place to start feeling better."
The UW counseling website can serve as a resource to finding mental health care on and off campus.
Reach contributing writer Ragini Gupta at development@dailyuw.com. Twitter: @raginigupta__
Like what you're reading? Support high-quality student journalism by donating here.