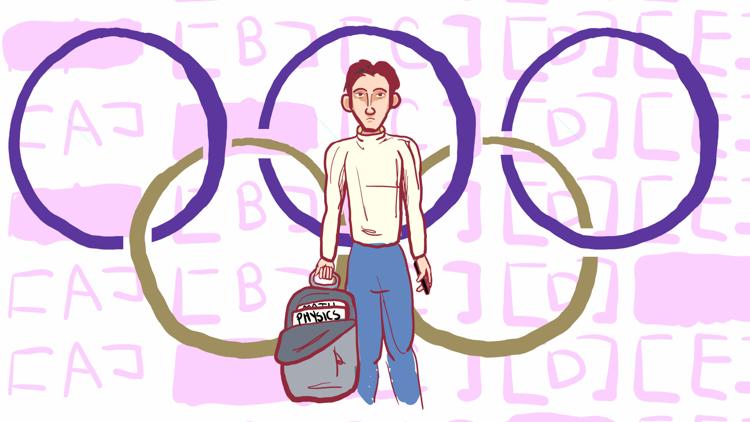 As finals are creeping closer, stress oozes out of many students, and the stress Olympics begins. Statements like, "Oh, you have a final tomorrow? At least you don't have two!" run rampant around campus.
This leads to a feeling of invalidation and separation. As we continue to compare our stress, we create this idea that you shouldn't feel stress because someone has it harder than you.
But why are we doing this?
Students are prepared to compete against each other to have the best grades and win competitions against each other in other areas. Scholarships, spots in our majors, and internships are all things we compete against one another for, leading us also to compare stress levels. 
"Something I notice now that it is my third year here, people try to qualify their intelligence through their stress, and we all know it's impossible to quantify intelligence, and stress is a super subjective thing to measure," junior Anna Dong said.
Dong is the social media coordinator at UW LiveWell, an organization on campus that aims to support and teach students and community members about mental health.
"[The stress Olympics act] in one of two ways: one of them is truly invaliding the other person by saying at least you're not in my hard classes," Dong said. "Another motivation for saying 'at least' is trying to silver-line the situation … but people don't always want to look at the bright side."
Dong shared that students are 75% more likely to talk to other students before anyone else. She highlighted that because of our experience as college students, it's easier to turn toward each other for help than to non-university students.
That's why the goal of peer educators at LiveWell is to teach students the proper language to help combat stress culture on campus. Working with the mental health counselors at the UW, the educators have created a training which breaks down and analyzes the importance of mental health on campus.
Dong describes this process as an hour-long presentation where the educators ask open-ended questions regarding where stress comes from, healthy ways to deal with it, and examples of positive and negative responses. 
In the presentation, LiveWell breaks down the interactive online wellness wheel and asks students to categorize stress. Following this, the group will share their past experiences with stress and techniques they have used.
Lastly, in training, LiveWell highlights the resources on campus for mental wellness. LiveWell provides trained and confidential advocates who can guide you to the right resources. Confidential advocates can guide you to next steps: where to find therapists who take your insurance, anonymous helplines, or even legal advocates. 
Beyond the confidential advocates, LiveWell also offers online resources.
Whatever is affecting your mental health, LiveWell aims to arm you with the tools to make the overwhelming feeling manageable.
This finals season, I challenge you to take "at least" out of your vocab. Sometimes, instead of hearing the silver lining, you want to hear, "sometimes life sucks, and just know I am here for you and I see you." 
It's time to cancel stress culture. Life is already stressful — why compete to have the most stress?
Reach contributing writer Rochelle Bowyer at development@dailyuw.com. Twitter: @ rw_bow
Like what you're reading? Support high-quality student journalism by donating here.