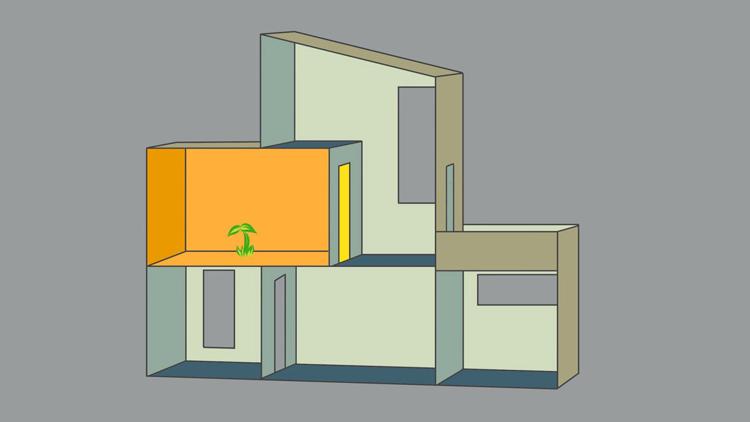 Quarantine surely is a past wet dream of mine —  living out my days like an influencer, sitting in sweats all day, exploring my multimedia collage skills, waking up without a time crunch, setting my own "routine" — but now it's simply a long list of talking points for me and my therapist. 
Working from home can be difficult enough without getting distracted by the clothes that could be donated to Goodwill or the way my room could be rearranged. Quarantine requires more than just turning your house into a classroom, workspace, and/or daycare. Oh, and if you're not already at capacity, let's throw in a global pandemic running rampant just outside the front door. 
This takes immense self-discipline. While most of us are learning the intricate skill of homeschooling ourselves, if you're quarantined with family or roommates, you're also adapting to being around the same people constantly. 
Mental and emotional health is crucial in this time, and the usual self-care methods don't always suffice. A face mask after a fight with your mom just doesn't hit. Quarantine means reminding yourself you're a multifaceted human with needs and anxieties, while also coexisting with the reality that your housemates are too.
That being said, discourse between yourself and your fellow cohabitants is normal — healthy even — but can be difficult and completely frustrating.
Experiencing a shelter-in-place order feels like you're living in the movie "Room." Combine that with frustration amongst housemates, and now your life is like the movie "IT." Your emotions are the children and you're the clown. 
You either let these emotions take you over, or you find a way to overtake them. 
"Suddenly we have to change because we are not used to having to be so intentional and thoughtful about how we're impacting each other," Dr. Jonathan Kanter, a licensed clinical psychologist and UW research associate professor, said. "I think this crisis is bringing us back to some of those fundamentals of relationships that we now have to get right that we could get away with previously." 
Communicate your feelings, not your emotions. If you thought you were adulting before, you're about to be put to the test. Your roommate ignoring your request to hang up the bath mat after their shower makes you angry. Remember, anger is a secondary emotion. You're not mad about the bath mat; you're upset you're not being heard and feel unimportant.
Pick your battles. It can be unsettling to process situations without leaving the space they happened in, especially when you have to cope without the IMA or coffee shops. The natural response is to find a way to release the pent up feelings rather than bury them.  
Make a conscious effort to assess whether this argument will be productive to your needs and theirs. One time my roommate and I argued about whether to sweep or vacuum. We both had the same goal in mind, yet we initially could not agree on how to get there. 
Disagreements vary, and strong emotions can be embedded in them. From "Netflix or Hulu" to "Bernie should have won," there needs to be a second where you ask yourself two basic questions: "What am I trying to communicate?" and "Am I being heard?" 
If the answers to both these questions are not clear, you should temporarily separate, giving yourself and the opposing party some space. 
"There's a really basic psychological move which I think is the most fundamental thing: breathing and accepting whatever you're feeling in your body and not running from it, not trying to avoid it," Kanter said.
This practice can be applied to severe problems like poverty and hunger, but it can also be used when you're stuck at home with your whole family and two dogs during a pandemic. 
Space varies across the dimensions of "home." Sometimes physical space genuinely isn't available so remains the struggle of creating space without the means. 
Whether you have a desk or you're locking yourself in the bathroom, find ways to facilitate privacy so that your needs can be met.
You might try what I call creating space through headphones and good vibes. We've all done it. It's just like sitting in Starbucks, drowning out the noise with Frank Ocean. Get the coffee pot fired up and hit that Spotify lo-fi beats playlist: you're in a coffee shop, but in your mind. 
If you're more of an extrovert like me, Zoom is a great resource for creating a safe space —  otherwise known as wine night with the girls (if you're of age, of course). Martinelli's sparkling cider can be substituted. 
If video calls aren't your thing, start a group chat specifically for memes and pictures of baby animals. Set up phone call dates with your grandma, and put it on the calendar to have something to look forward to. 
People are going to have different ways of coping right now. Find like people to cope together with.
Maybe you're not getting along with your roommate like you usually are. Being distant with someone you're not social distancing from imposes more feelings of isolation. Just like everything else going on right now, take the dynamic of your relationships at this time as nothing personal, but simply as a sign of the current times. 
Remember that your body knows you best: Check in with it and fulfill its needs so that you can come back to the interaction and negotiate what you need in ways that create minimal damage.
"In any crisis this is the go-to for those with acceptance, and compassion can keep this distress from turning into disorder," Kanter said. "Such that in the morning the next day, even if it feels overwhelming and you're feeling a lot of despair, you can still do everything you can to solve problems, put one foot forward and do the best we can. This is how we overcome major crises without slipping into depression that paralyzes us."
Reach writer Beth Cassidy at wellness@dailyuw.com. Twitter: @serotoninprince
Like what you're reading? Support high-quality student journalism by donating here.