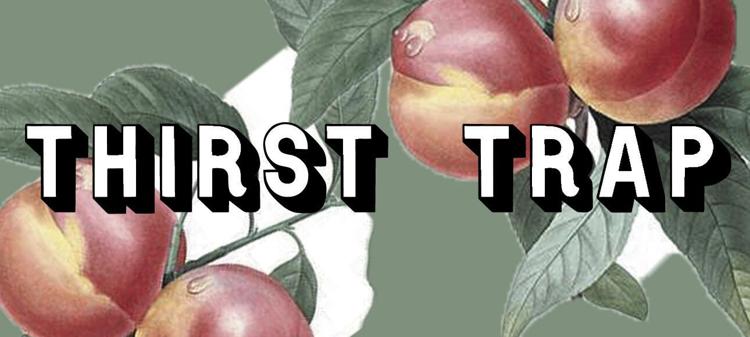 Editor's Note: Thirst Trap is a weekly column on dating and relationships in college.
Sex has been sort of difficult this year. For one, the pandemic: Miss 'rona has definitely been a cock block. But even if you are fortunate enough to have Fauci-approved, quarantine-compliant intercourse, who among us can fully enjoy this primal pleasure when it seems the only immediate defense we have against impending fascism is a neoliberal who smells the hair of unsuspecting women? These are difficult conditions in which to maintain an erection. 
Risk is a major turn-on. Thankfully for those of us with uteruses, the confirmation of Supreme Court Justice Amy Coney Barrett (ACB) could make sex a whole lot more exciting! Who knows how long abortion will be legal?
It's sort of like choking. The threat of death by asphyxiation makes you feel all the more alive. Not that ACB or the rest of the conservative justices view a possible overturn of landmark case Roe v. Wade as a death sentence for those of us able to conceive. No, no, no. Surely it is God's work to criminalize the safe alternative to a coat hanger without addressing the material conditions that necessitate abortion: poor access to contraception, pitiful sex education, and poverty. 
ACB also gave us a super cute date idea! After doom scrolling on Twitter with your partner, head to the severely underfunded Planned Parenthood in your neighborhood! The one in my area is run largely by queer people who fear they may lose their civil rights under the new conservative majority on the court. Take your partner on a romantic getaway to equip all the uteruses within your relationship with an IUD.
If you're a real thrill-seeker, stay on your daily pill and live in constant fear that Hobby Lobby will get their way and employers will be allowed to deny coverage of birth control in your health insurance. Call me kinky, but that's my plan!
To celebrate all the cool, freaky, "will-I-conceive-a-child-I-cannot-remove?" sex you'll be having, make a fun meal full of at-home abortives. That's right. ACB is not a misogynist with an obsession with controlling your body (though that is sort of hot) — she just believes women can do it on their own! ACB is the girl boss we need to kickstart a feminist utopia where you don't need a man or a doctor! Even a girl doctor! 
Pour yourself a nice cold glass of water, play that song from Ratatouille for ambience, and pop 12 Misoprostol pills. Next time your girl can't decide where she wants to get dinner, just head to Walgreens for some pharmacy take-out with a side of Vitamin C, cinnamon, and pomegranate. You might have to make an extra trip for the pomegranate, but she's worth it. 
Despite her spicing things up in bedrooms across the country, personally, I wouldn't want to date ACB (I would, however, let her step on me like she plans to step on my reproductive rights). Regardless of Twitter claims that she is thicc, thicc-ness does not a good girlfriend make. I should know. 
Sorry, I sexualize to cope. If you see me thirsting for Joe Biden on the timeline, know I'm going through something. 
In seriousness (to be clear, I was not being serious up until this point), this is bad. Abortion is already incredibly difficult to access in this country. With a conservative majority on the court, there's no telling what could happen or what rights are at stake: reproductive health care, marriage equality, voting rights. I don't have any solutions, because I am just a dork journalist typing into the void waiting to be called a bad feminist online. Most Washington state politicians have been vocal about their concerns over the new associate justice. Hopefully that puts you at ease: knowing local officials will work to protect your right to choose.
Be safe and respectful in all your sexual encounters. 
Reach Engagement Editor Hannah Krieg at wellness@dailyuw.com. Twitter: @Hannahkrieg
Like what you're reading? Support high-quality student journalism by donating here.