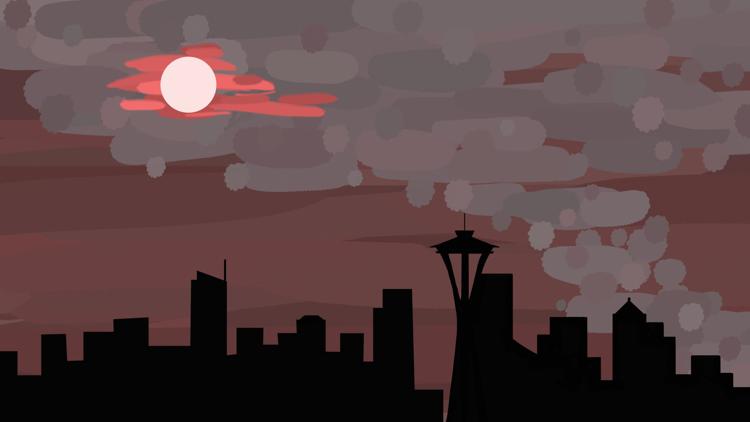 When we think of summer, we often think of sunny days outside with friends and family. But this summer, many may be confined indoors as the annual smoke season approaches.   
"We love summer, and summer's short and precious in the Pacific Northwest," Susan Prichard, a UW research scientist, said. "So there's this grieving that we experience about this loss of summer and needing to stay indoors and shut the doors and windows [because of smoke]."  
Being cooped up inside can also be harmful, as spending time outside has several mental and physical benefits, like a reduction in stress levels, anxiety, and depression rates, improved birth outcomes and eyesight, reduced rates of diabetes, and an increase in the rates of healing after surgery or trauma, Josh Lawler, a professor of environmental and forest sciences and the director of the Nature and Health Initiative, said.   
But with the smoke season — which wasn't always annual — approaching, many may be missing out on these natural benefits.
"It's safe to say that Seattle and eastern Washington used to have smoky summers, but we enjoyed a long hiatus," Prichard said.   
According to Prichard, Washington state's warmer, longer, and drier summers cause more frequent and intense fires, which increase the smoke output during this season.  
"It was rare to have large wildfires," Prichard said. "It's mostly because the climate [in earlier decades] was a little bit — well a lot — milder. There's certainly a climate change signal to that, but it's not as simple as that story," she said.
The drier climate has resulted in forest vegetation becoming fuel for fires. A recent environmental plan proposed by the Trump administration calls for the removal of this fuel by bulldozing and removing vegetation from large areas in Idaho, Oregon, Washington, California, Nevada, and Utah, states where fires have been especially bad in recent years. 
In a report from Seattle Mayor Jenny Durkan, Washingtonians during last year's smoke season experienced poor air quality for 24 days, with nine of those deemed especially bad. And this year, Washington state is expected to experience a record high number of fires. 
"It's a crapshoot," Prichard said. "It was not looking good because we had low snow pact and early warm spring. And that meant that we were heading into what could be a long and worrisome fire season. But, as we said that, we also acknowledged [that] it would take lightning strikes and summer drought conditions and wind to really fuel big wildfire[s]."   
Due to the appearance of rain this year, the fire season is currently much milder than expected, according to Prichard.   
"Things are looking good for the short term in terms of us not having big fires around us for the first time in a number of years," she said. "It could still heat up, but for now, it's hard to tell what's happening."  
Prichard said this process of heating up could take as short as a few weeks of hot weather and lightning strikes to bring bad smoke conditions back to the area. 
"I think that the idea that western Washington is not fire-prone has changed," Prichard said. "We can expect fire events in western Washington and also smoke to come from neighboring regions."
Besides focusing efforts on fire deterrence, Prichard emphasized the idea of preparation. 
"Much like we get prepared for hurricanes and earthquakes, we need to prepare for [smoke season]," Prichard said. "I think that that emphasis on preparation rather than prevention is pretty key because I can't promise that we're gonna prevent these smoke events."
For more resources on smoke preparation in Seattle, click here.
Reach writer Madison Morgan at wellness@dailyuw.com. Twitter: @madiannemorgan
Like what you're reading? Support high-quality student journalism by donating here.