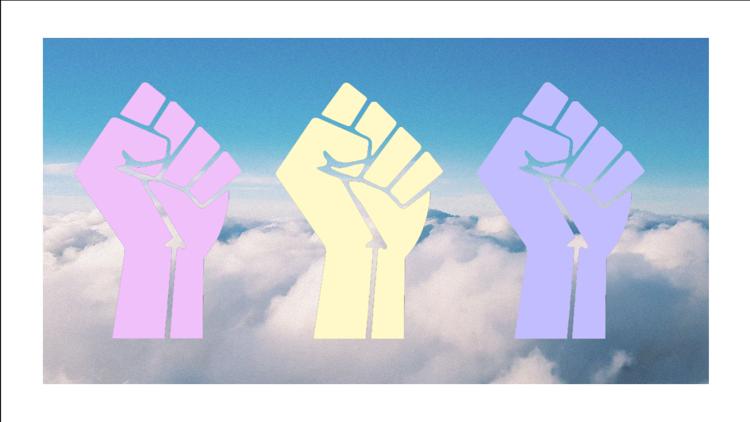 "Don't touch her!" I heard myself shout over the chaos of the protest. It was early June, at a demonstration against police brutality in University Village. Tensions were rising and a cop had just pushed one of my classmates. 
Seattle Police Department (SPD) officers had formed their bike barricade and were advancing, ordering us to move back. Though our ensemble was small, composed of mainly UW students, we held our ground and continued chanting the names of Black Seattleites killed by SPD. 
The sound of the flash bang exploding inches away left me jumping out of my skin. One moment we were standing together, and the next, in a frenzy of surprise and disorientation, we were running — I heard a shrill cry of, "I need water!" from a classmate whose eyes were red and swollen. The scent of pepper spray stung my nose.
Before the current Black Lives Matter movement, my witness to police brutality existed solely on my phone screen, as it did for the vast majority of my white peers. That being said, we have all seen the videos that constantly remind us of the dangers of being Black in the United States. 
Elizabeth Alexander's recent story in The New Yorker calls us "The Trayvon Generation."
"They always knew these stories." Alexander wrote. "These stories formed their world view. These stories helped instruct young African-Americans about their embodiment and their vulnerability. These stories instructed them that anti-black hatred and violence were never far."
Her essay shares the account of Darnella Frazier. The 17-year-old, on her way to the corner store, witnessed the murder of George Floyd and made a videorecording that would have worldwide impact. 
"She returned the following day to the scene of the crime," Alexander wrote. "She possessed the language to say, precisely, through tears, 'It's so traumatizing.'"
How she gathered the ability to go back to that spot is beyond me. Simply living through the last four weeks, experiencing an international movement for racial equality intertwined within a global pandemic, has been trauma in itself.
In the face of this overwhelming reality, I found solace at protests: any pent up emotion, whether it was anxiety, frustration, or anger, could be carried away into the energy of the crowd. But after a while I started just getting sad. Really sad.
I am familiar with trauma, but this feels even more stifling: It's a collective trauma. 
Frazier's short, strained attempt to articulate what she witnessed speaks to the reality that unbridled police brutality is killing Black Americans, but the trauma inflicted by racism is even more deadly. The scope and scale of the problem seems so large that it feels overwhelming to think about how we might approach it.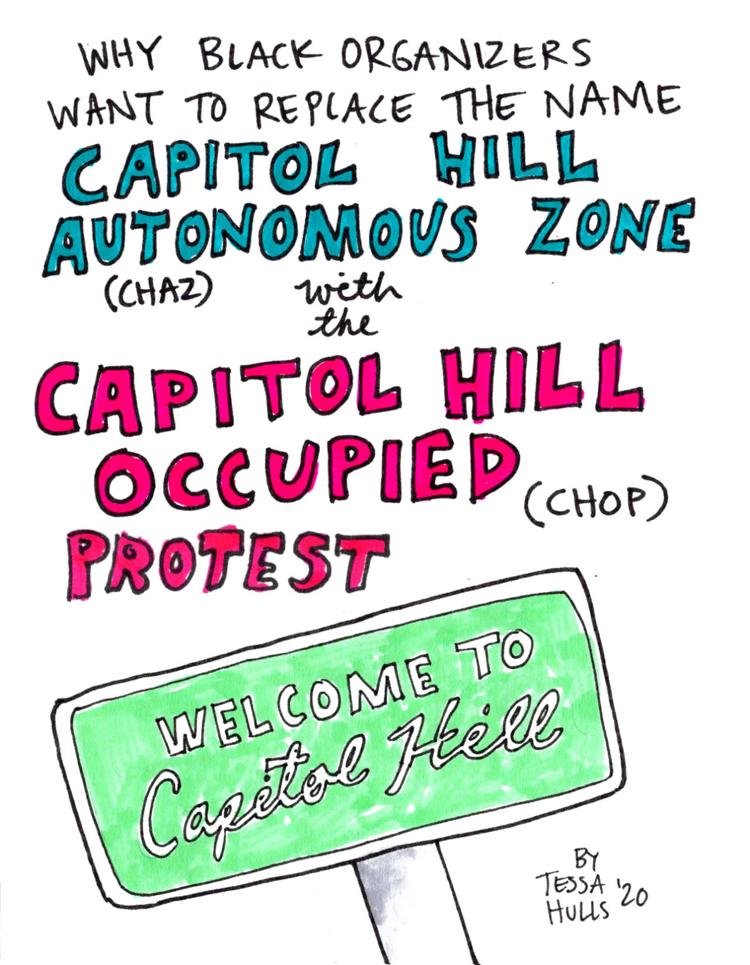 I want to constantly be doing something to help the cause, but as a white person, finding a voice in social justice beyond posting on BLM is like entering the deep end. 
Luckily, we have a network of information at our fingertips. In pursuit of answers, I began following activists, organizers, and journalists — specifically Black or POC creators — on Instagram. I came upon Tessa Hulls, a freelance journalist who stepped into her activist position at the newly created Capitol Hill Organized Protest (CHOP) zone by using her skills as a comicstorian. By using hand drawn pictures, word bubbles, and descriptions, Hulls creates interactive news updates on events at the protest.
"If you're wondering how to effect change, f--- social media," Hulls said. "Particularly, for white allies who are newer to this conversation, it's really hard to find a way to be sincere and not come across performative. Real value happens in person-to-person conversations where there is actually mutual trust to be able to talk about things with complexity, and that is how compassionate learning and education can best happen."
Social media is helpful for spreading information, but at the end of the day, an Instagram story only lasts 24 hours. 
Hulls suggests that if you come across something you find interesting, don't "share" it in a post: text it to five friends and discuss it with them. 
"It's great to see a new generation step into its voice as an activist community," Hulls said.
"But try and take it off social media and talk to people who are asking a similar set of questions." 
This can be beneficial for a few reasons. Firstly, having positive interactions by sharing and conversing with friends, family members, or your peers is not just good for learning, it's also good for your mental health.
Secondly, having a positive connection with someone over a topic is validating. Sensitive conversations with people who think like you can facilitate a safe place to share feelings and process information. That warm and fuzzy feeling after coming to a conclusion together just can't be beat. 
Finally, by having these conversations in person, we learn how to navigate tense, awkward, and at times incredibly painful moments so that we are better prepared to share our knowledge with others in the future. 
If you do not have anyone to discuss with, write it down, think about it, research it, read on it. Whatever you do, don't ignore it. 
As a country and as a community, we have a duty to continue to disrupt the narrative that this conversation is a trend. Protesting is all about disruption to create change and form new habits. Disrupt your thoughts, your implicit biases. Continue to disrupt the algorithms of your social media feeds — but more importantly, disrupt your racist dad.
"There is so much acrimony and tensions are running so high, it's really easy to cut others down, and people can't learn from a place of shame, anger, and fear," Hulls said. "I'm pretty willing to go into the trenches of actually having real conversations because I'm really committed to the idea of education."
We are all curious about the ways our identities interact with each other; it's human nature. Having an open mind, listening, asking questions, and seeking answers is the recipe for facilitating a better understanding of someone else's point of view. 
Keep the momentum going, because whether you're on the front lines, fundraising, donating, and/or signing petitions, there is a place for everyone — there has to be for equality to occur. 
Most of all, have compassion for yourself. You can't help anyone put their oxygen mask on without having yours on first. Be gentle with yourself and remember that the only way to learn how to swim in the deep end is by diving in. 
Take care. Black Lives Matter. 
Reach writer Beth Cassidy at wellness@dailyuw.com. Twitter: @serotoninprince
Like what you're reading? Support high-quality student journalism by donating here.