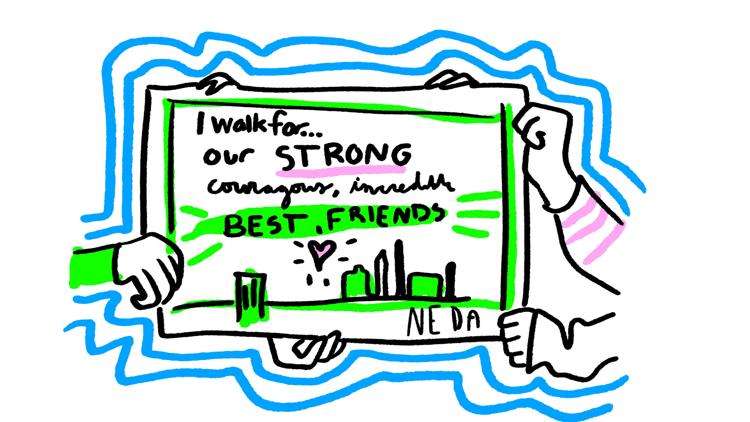 The National Eating Disorders Association (NEDA) held its annual walk in Seattle in late May, during which hundreds of current patients, providers, loved ones, and those in recovery like myself showed up at Seattle Center to walk a short lap around the International Fountain and the Armory.
"We want to make it accessible to everybody," Christine Byrd, who organizes the Seattle NEDA Walk with her daughter Pepper, an eating disorder survivor, said. "It's not about how far we walk, it's about coming together and feeling that support." 
Both Christine and Pepper started out as speakers at a NEDA Walk. Today, they are working to become licensed mental health counselors so they can reach a hand back to the community.
Christine describes the event as a grassroots effort to bring together the eating disorder community as one way to break the stigma causing people to suffer in silence.
"The more we speak about it, the more we are going to break the stigma," Byrd said. "Because the more we speak about it, the more we allow others to speak. 
The speakers at the event echoed this sentiment.
"Today, we celebrate the community around us. It can be really hard to build that community around you when you're struggling," Nicole Griswold, a national recovery advocate, said. "I think it's important to honor and appreciate that we have this whole village — all these people around us today that believe in the same thing."
Griswold also brought photos of friends she has lost to this disease, providing a space for everyone to honor the memories of their own loved ones.
Eating disorders have some of the highest mortality rates of any mental health disorder. Among those struggling with anorexia, one in five of those deaths is by suicide.
Despite the shared pain of this community, the key message of the event was hope.
"I truly believe that if you can survive the pain and the hell of an eating disorder, you can do anything," Caley Featherstone, a licensed counselor in Boise, Idaho, said. "It has been the greatest privilege in my life to stand here today as a therapist working in the field."
Featherstone began and ended her speech with the message that we are all strong, resilient, and most importantly, we all have hope.
Walking with the crowd that day, I felt hopeful. I felt like part of a diverse group of people turning their pain into progress.
I consider myself to have been a somewhat stereotypical eating disorder patient. I was a young, white woman, an athlete, and an academic perfectionist. I had an undiagnosed anxiety and was learning to handle the stigma of a bisexual identity.
But the thing that most people don't know about eating disorders is that they don't discriminate. An eating disorder is not a moral failing, nor is it a choice. It is a psychiatric disorder impacting people of all genders, races, ages, incomes, and sexual orientations. Eating disorders can harm bodies of all shapes and sizes.
Eating disorders are not simply a sum of behaviors or weight change. They constitute the mindset developed around these. Featherstone described her eating disorder as a mental prison of numbers, a constant awareness of her calories and movement.
I can tell you that it's not just what and how much you eat, but also the fear and shame informing those choices. It's not just exercising a lot, it's the compulsion to repeat specific routines because you can't concentrate on anything except your body anxiety. It's a calculator in your head determining the "goodness" or "badness" of food (and by extension, yourself), all day, every day.
In cases of restriction and/or purging when weight loss does occur, we can enter a vicious cycle of unhealthy behavior validation because of people complimenting us on our "improved" health and appearance. If we are not clinically underweight or if an obvious physical change is not visible, we are often not believed when we have the courage to ask for help.
Recovery is possible, and completely worth the fight. 
Lauren Donelson, a milieu therapist who supports clients during meals, co-facilitates group therapy, and leads body-trust yoga at Opal Food + Body Wisdom, spoke with me about her own recovery from an eating disorder.
"It's not a linear process. You don't just go from having one to not having one. Especially at the beginning, it can be two steps forward, one step back. I still have to practice attunement every day, otherwise, I can get pulled back into diet culture," Donelson said.
Donelson emphasized that everyone dealing with disordered eating deserves help, regardless of whether they meet the current Diagnostic and Statistical Manual of Mental Disorders (DSM-V) criteria required for insurance coverage. Treatment for eating disorders is only covered if the person shows the symptoms of a specific disorder classified in the DSM-V. But Donelson explained that subthreshold disordered eating, and even newly identified disorders like orthorexia, do not meet requirements for insurance coverage. She had to pay for her own treatment out-of-pocket.
"I want people to know that they are not the problem, it is the culture of disordered eating that is problematic," Donelson said. 
When it comes to the complex causes, behaviors, and impacts of eating disorders, there is no single problem to solve.
The problem is diet culture, which causes us to police our own and each other's eating behavior based on the societally-ascribed meaning of a "healthy" body size. The problem is stigma, leading us to isolate ourselves and avoid treatment or eating disorders and co-occurring mental health issues. The problem is finding appropriate care, then overcoming structural barriers to accessing that care. The problem is an overwhelming need to control and punish ourselves for never being enough.
But these problems are not your fault, and asking for help is the first step.
You are strong. You are resilient. You are hope.
You are enough.
If you are in need of help, contact the NEDA helpline at 1-800-931-2237 or online here.
Reach writer Claire Summa at wellness@dailyuw.com. Twitter: @sumclairvoyance
Like what you're reading? Support high-quality student journalism by donating here.